US majors including United and Delta cite sustained demand as 3Q2012 comes to a close
Behind the perpetual headlines of economic uncertainty in Europe, the intensifying presidential race in the US and concerns over the US economy, US major network carriers are presenting a positive demand outlook as 3Q2012 comes to an end and remain cautiously optimistic heading into the last three months of 2012. Most of the confidence stems from the industry at large continuing to practice capacity discipline and overall steady pricing traction. While concerns about the global economy at large continue to linger, for now the three large US major airlines see no major erosion in their business fundamentals.
Delta Air Lines recorded a 4% rise in unit revenue for Aug-2012, and during a 06-Sep-2012 investor conference carrier president Ed Bastian explained that the airline during the month lapped a 1.5ppt "good guy" in Aug-2011 driven by the suspension of ticket taxes collected by the US FAA as the country's Congress reached a stalemate over the agency's funding.
Mr Bastian said looking at year-over-year comparisons for Aug-2012 without the tax collection gains, Delta grew its same store sales by about 5.5%, which he considers "not bad for any consumer business in this economic climate".
Looking into Sep-2012 Mr Bastian predicts unit revenue growth for Delta of 1%-3%, noting some last minute business bookings could still drive a bit of volatility into the revenue projections. He also highlighted a calendar shift in Sep-2012 versus the year prior that includes five Saturdays featured in Sep-2012 and an earlier US Labour Day holiday that pulled forward some holiday bookings from September into August. He estimates the calendar effects of Sep-2012 should affect the month's unit revenues by roughly 1ppt.
Steady prospects through the remainder of 2012
Delta's president characterised the outlook for Sep-2012 and into 4Q2012 as solid, and generally consistent with trends the carrier is seeing during 3Q2012. However, he stressed the carrier was cautious regarding its supply in the market place.
Delta expects its 3Q2012 system capacity to decrease by 1%-3%, while its target operating margin of 9%-11% is a single ppt lower than previous guidance due to the run-up in fuel prices during the course of the quarter. Mr Bastian stated that in Jul-2012 Delta estimated fuel prices per gallon for 3Q2012 of USD3.09 per gallon, and in a short period of time those costs increased to USD3.23 per gallon, which made it challenging to capture the rise in cost through increased revenue.
See related article: Delta's cost pressures mount as revenue growth remains solid
United has taken a more reserved view of economic uncertainty than Delta, as reflected in United's decision to further reduce its capacity for full year 2012 after revising its supply guidance downward on two previous occasions. The carrier now expects its system capacity during 2012 to fall 0.75% to 1.75% year-over-year. For the Sep-2012 to Dec-2012 time period, United expects system capacity to decrease 2%-3% compared to the same four months in 2011.
United Airlines system capacity projections: Sep-2012 to Dec-2012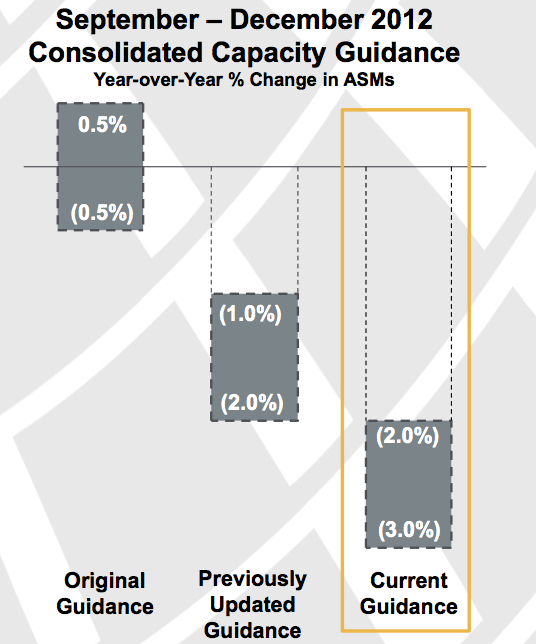 United CFO John Rainey concluded in a 05-Sep-2012 presentation to investors that the airline was beginning to see some modest slowness in its economic outlook and is responding accordingly. Noting that capacity discipline is good for business, United CEO Jeff Smisek stated that the carrier expects system capacity to fall by 1% in 2013 as prudent capacity management allows for compensatory pricing.
United's monthly unit revenue performance has lagged behind its peers and the industry at large for most of 2012. The carrier has yet to report its Aug-2012 unit revenue performance but in Jul-2012 its unit revenue growth was flat compared to 4.5% growth at Delta, 1% growth at US Airways and 4.7% growth at American.
See related article: Integration challenges continue to plague United's financial performance
Mr Smisek concluded some industry observers get "a little over-focussed" on monthly year-over-year unit revenue performance and stated United concentrates of making sure it delivers industry-leading unit revenues over the long-term, and the carrier's CEO declared United is achieving that objective. By the carrier's own estimates, United's USD13.12 cent revenue per available seat mile for the 12 months 2Q2012 was the highest among its industry peers.
United PRASM versus industry peers: 12 months 2Q2012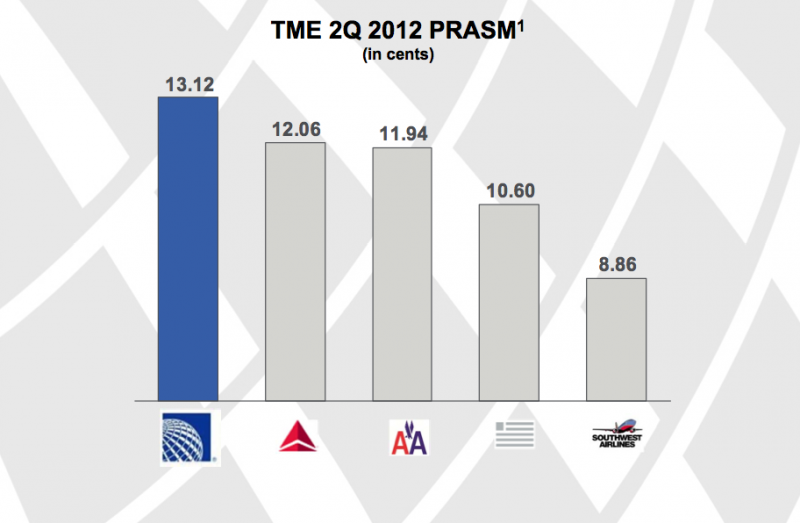 United's chief executive is not alone in his judgment that too much emphasis is placed on scrutinising monthly unit revenue performance. "Unfortunately the industry trades on monthly RASM [revenue per available seat mile] figures," declared US Airways president Scott Kirby in his own presentation to investors on 05-Sep-2012, which results in stock price volatility and airlines operating in a "prove it" mode for investors.
US Airways has a more positive outlook for the remainder of 2012 as Mr Kirby stated the carrier remains cautiously optimistic even as business demand has softened slightly compared with the Mar/Apr-2012 timeframe. He believes businesses are still engaging in their core travel; but there is some pullback in attending conferences and conventions driven by macro-economic headlines over uncertainty in Europe and the US presidential election.
He stated leisure demand still remains strong, and in his opinion leisure travellers were the best proxy to gauge the underlying economy as demand among those customers is less susceptible to headlines. Mr Kirby also concluded the current pricing environment remains strong even as the monthly unit revenue comparisons continue to become more difficult throughout the remainder of the year. US Airways recorded record unit revenue and yield growth during each month of 2011. The carrier expects its Sep-2012 unit revenue growth will be flat to up 2%.
US Airways year-over-year unit revenue growth: May-2011 to Sep-2012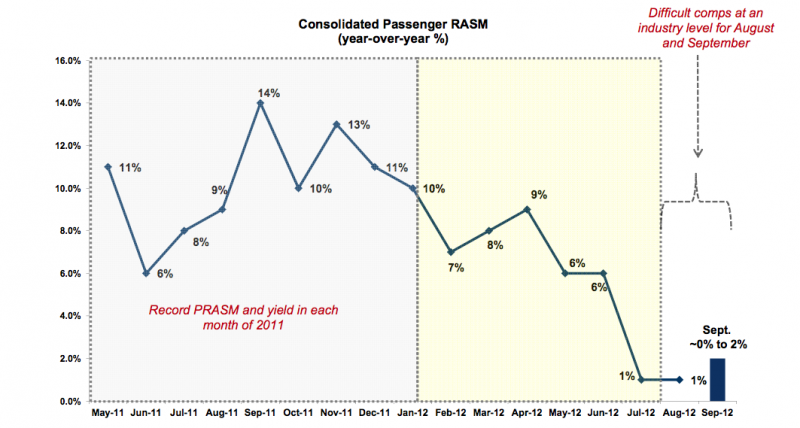 Delta remains bullish on corporate demand, sees no fallout from FedEx weakness
Delta's corporate demand outlook remains a bit more robust than some of its industry peers. Mr Bastian estimated the carrier's booked corporate revenue should rise 9% during 3Q2012, citing strong gains in the automotive sector and banking. He concludes transportation is the only real weak corporate sector, which is being driven by cuts in spending at FedEx.
Delta projected corporate revenue breakdown: 3Q2012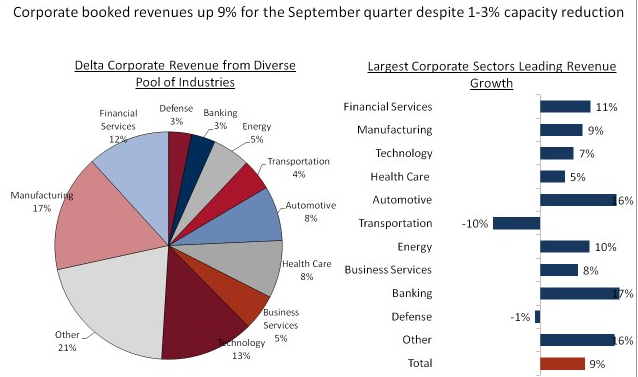 Despite some of the decrease in corporate bookings in the transportation sector being driven by FedEx, Delta is unconcerned over the transportation company's recent warnings that its profits would be pressured as manufacturing declines, particularly in China, were impacting the global economy. Mr Bastian stated the premise that cargo traffic was a bellwether for passenger traffic performance was an old algorithm, remarking he was not sure the correlation between the two metrics was as strong as it has been historically.
Mr Bastian believes the weakness in China is not necessarily a global issue. Less than 5% of Delta's revenue is sourced out of China, said Mr Bastian, who also stressed that Delta's cargo business is actually improving year-over-year. However, Delta's aircraft belly business differs from FedEx's dedicated cargo operations.
The largest carrier operating between the US and China in terms of seat capacity (a 38% share for the week of 02-Sep-2012 to 08-Sep-2012), United Airlines, also does not appear overly concerned over China's weakness. Mr Smisek stated United's operations to China remain profitable, and explained there is a differentiation between the passenger and cargo markets.
While it is clear China is slowing a bit, said Mr Smisek, it remains a good market for United. During 2Q2012 United recorded 6.6% unit revenue growth in its Pacific network on yield growth of 5%.
United States to China capacity by carrier (seats per week, one way):19-Sep-2011 to 24-Feb-2013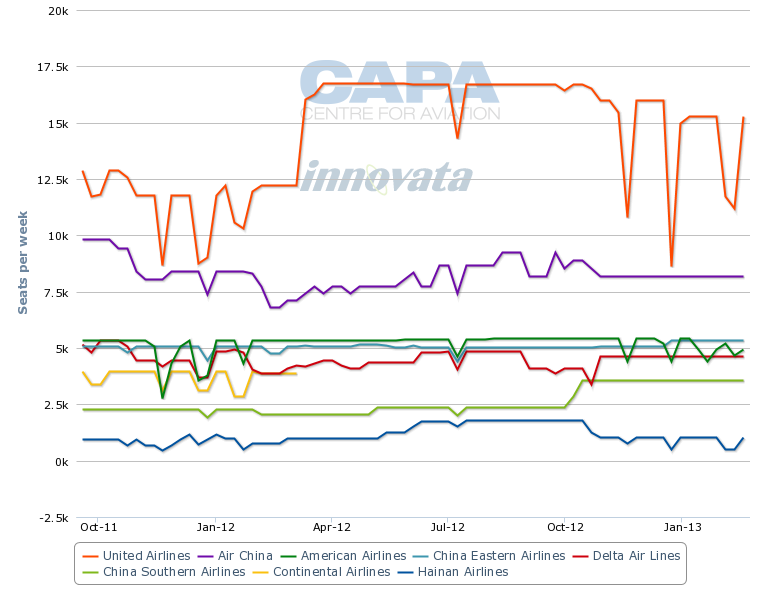 US Airways continues to see strong corporate trends in Europe
Although US Airways saw some sequential weakness in the trans-Atlantic market during the summer season in the Northern Hemisphere relative to US domestic performance, Mr Kirby stated the industry has responded by being more aggressive in taking capacity out of the market.
Delta has aggressively managed its supply in trans-Atlantic markets, reflected in the 5.4% decrease of supply year-over-year during Aug-2012 in those markets. During the first eight months of 2012 the airline's trans-Atlantic capacity fell 7.5%. The airline also experienced a 5% decline in trans-Atlantic traffic during Aug-22012 and a 4% fall during the eights months ending in August.
Reiterating previous comments, Mr Kirby of US Airways stated the carrier continues to see strong business demand in European markets, noting some of the strength is a result of the airline stealing corporate share from other carriers, as during the last year US Airways has made a push in focusing on corporate customers originating in Europe. A large portion of the carrier's European traffic is based in the continent's northern tier countries, remarked Mr Kirby, who said the only southern tier country showing pronounced weakness is Greece. He explained Italy, Spain, Portugal and Ireland are performing much like the rest of Europe for the carrier, noting leisure demand from the US to Europe remains relatively strong.
Despite some weakness cited by United Airlines, US major carriers overall appear to be retaining the confidence they've held throughout 2012 that demand is remaining steady. With United already pledging to cut capacity in 2013, it is likely the carrier's peers will follow suit in order to keep the supply-demand balance in check as the industry attempts to sustain the transformation it has undergone during the last few years to build sustained profitability. For the moment they believe the pricing traction fostered by capacity discipline will continue as solid demand trends remain in place.