US investment grade airlines deliver consistent returns, and pledge to continue full steam ahead
Analysis
It is no surprise that the two US investment grade airlines have recorded the most consistent shareholder returns during the past few years. Neither Alaska Air Group nor Southwest Airlines shows signs of slowing their shareholder reward schemes, reflected in Southwest doubling its dividend in May-2014 and Alaska's consistent share repurchases and dividend pay-outs in 2013 and 2014.

The two other US hybrid airlines Hawaiian and JetBlue have less definitive plans for the form their shareholder returns will take. But reflecting the increasingly vocal base of US airline shareholders, Hawaiian has declared it would outline some form of capital allocation by YE2014.

JetBlue appears to be the one US airline furthest away from offering a timeframe and structure of its shareholder rewards; but it is likely to be top of the airline's agenda as a new CEO takes the helm in Feb-2015.
This is Part 2 of a two-part series examining US airline shareholder returns.
See related report: US airlines create a framework for consistent shareholder returns as investors grow more vocal
| | |
| --- | --- |
| | CAPA's first America Aviation Summit will he held at the HILTON LAKE LAS VEGAS RESORT & SPA on 27/28 April 2015. to experience CAPA's unique aviation conference format and to meet the movers and shakers in the Americas and worldwide and to meet 20+ airline CEOs, click here: CAPA Americas Aviation Summit |
Southwest Airlines has returned nearly USD2 billion to shareholders since 2011
Southwest was the only US airline to hold the distinctive investment grade label for many years until Alaska Air Group also won that distinction earlier this year from ratings agency Fitch.

See related report: Alaska Air Group reaches investment grade as Delta Air Lines' full assault in Seattle gets underway

Accompanying Southwest's investment grade status has been various forms of shareholder rewards culminating in the distribution of USD42 million in dividend payments in 2Q2014, the airline's 151st consecutive quarterly dividend.

The airline recently launched a USD200 million accelerated share repurchase programme, which increases the total value of stock buy-backs during 2014 to USD755 million, while dividend payments have reached USD97 million. During 2Q2014 the airline increased its dividend by 50%, after raising it from USD0.01 to USD0.04 in May-2013, following Delta Air Lines' declaration to issue a USD0.06 dividend.

See related reports:

Since Aug-2011 Southwest has returned roughly USD1.9 billion to shareholders, and has USD780 million remaining under a USD1 billion share repurchase authorisation tabled in May-2014.
Southwest shareholder returns are underpinned by two important stockholder equity metrics – retained earnings and paid-in returns. During 1Q2014 Southwest's retained earnings increased approximately 15% to USD6.5 billion. Retained earnings are essentially the net income shareholders still have invested in the company, and can be used to finance operations or parcelled out as dividends.
Southwest Airlines retained capital: 2010 to 1Q2014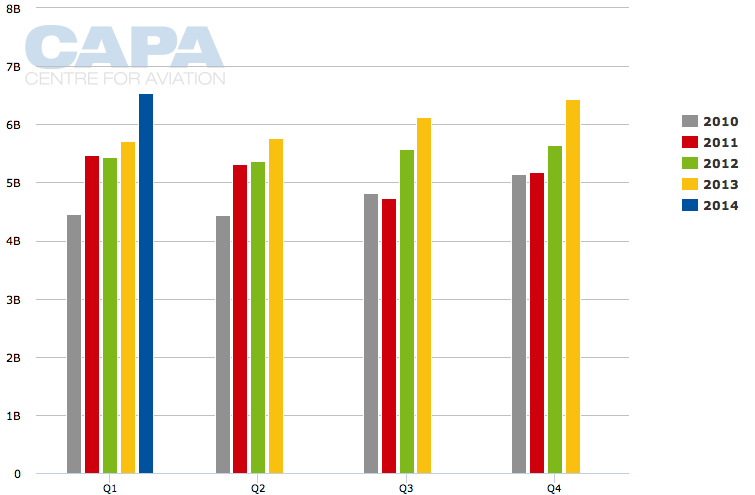 Southwest's paid-in capital – a measure of the amount stock holders have paid for issued shares – increased 2% in 1Q2014 to USD2 billion.
The airline's paid-in capital has remained at roughly USD2 billion for the past four years, and that consistency along with the increase in retained earnings show Southwest still has room to contemplate further shareholder rewards.
Southwest Airlines total paid-in capital: 2010 to 1Q2014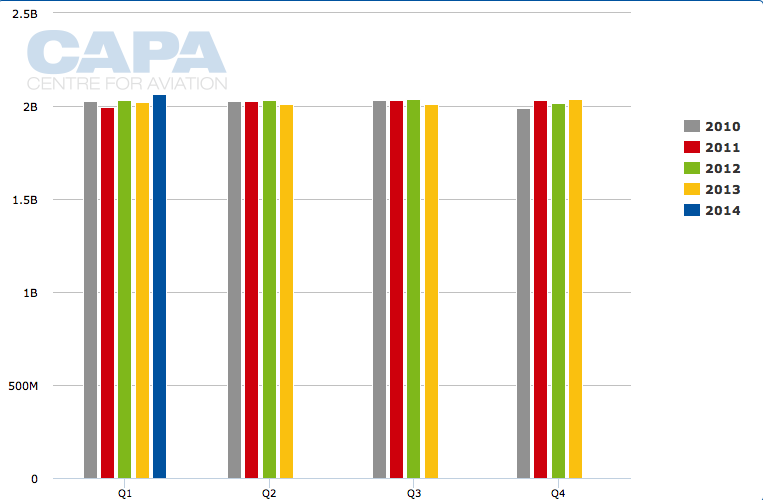 After missing its target of a 15% pre-tax return on invested capital during the past couple of years, Southwest is confident of achieving its return goals during CY2014, and its bullishness about reaching that target has generated questions about lifting its ROIC goals in the future. The airline is taking a cautious approach to outlining any future targets; but has assured that 15% is a baseline, and it is eyeing higher returns.
Alaska Air declares its shareholder returns will be industry leading
Alaska Air Group is a pioneer in setting and exceeding return on invested capital goals, reflected in its healthy after-tax 16% ROIC, for the 12M ending 30-Jun-2014.

Retained earnings at Alaska jumped nearly 100% year-on-year in 1Q2014 to USD1.6 billion, and its paid-in capital increased 2.6% to USD716 million. As is the case with Southwest, Alaska's strong performance in both metrics shows upside for additional returns. Alaska also has the benefit of zero net debt, which is an added benefit as it examines possibly increasing its shareholder rewards.
Alaska Air Group retained earnings: 2010 to 1Q2014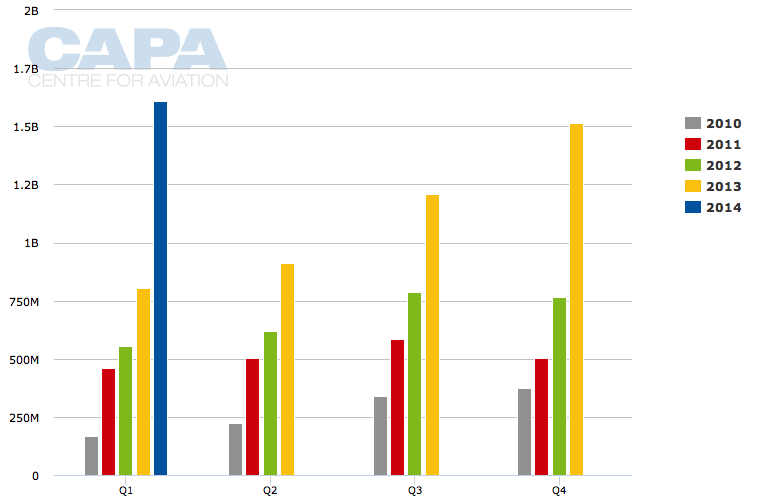 Alaska Air Group paid-in capital: 2010 to 1Q2014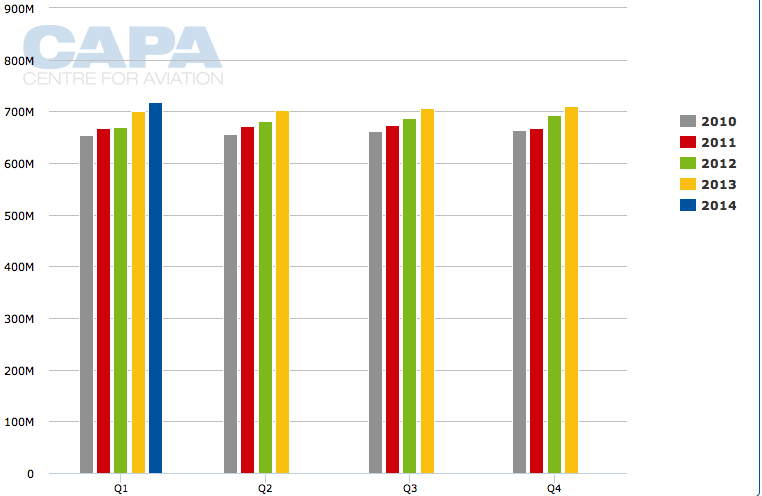 During 1H2014 Alaska Air Group paid USD34 million in dividends and repurchased 1.8 million shares of its common stock for USD83 million. During May-2014 it initiated a new share repurchase programme of USD650 million, and overall aims to return roughly USD350 million to USD400 million to shareholders in CY2014.

Alaska has boldly declared that viewed through the lens of percentage of free cash flow or net income, its planned shareholder returns for CY2014 should be industry leading. The company estimates that its annual operating cash flow is roughly USD800 million to USD900 million, with roughly USD500 million dedicated to aircraft capital expenditures. "We've got USD300 million or USD400 million that we have do something with", Alaska Air Group CEO Brad Tilden recently declared, noting the company's commitment to creating appropriate returns.
Hawaiian Airlines turns its attention to shareholder returns after long-haul expansion
Hawaiian Airlines' capacity growth is slowing significantly in CY2014 after the company's massive and complex long-haul expansion during the past few years. Its capacity growth for CY2014 is projected at 1% to 3% after growth of roughly 14% in CY2013.

Hawaiian's retained earnings grew 48% during 1Q2014 to USD335 million while paid-in capital has remained negative during the past four years.
Hawaiian Airlines retained earnings: 2010 to 1Q2014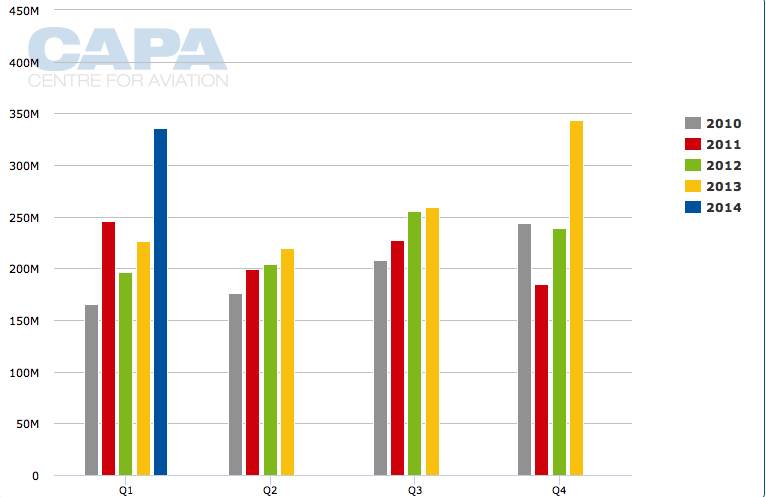 Hawaiian Airlines paid-in capital: 2010 to 1Q2014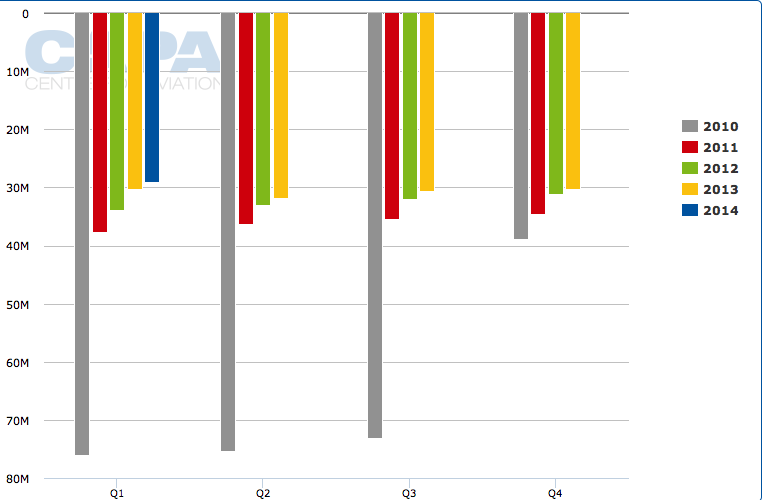 The airline is forecasting positive free cash flow during CY2015 after posting a negative performance in that metric for CY2013 and CY2014. Its negative free cash flow in CY2013 was in the range of USD300 million to USD310 million, and Hawaiian also believes its balance sheet leverage will begin to improve.

Hawaiian aims to outline a shareholder return strategy by YE2014 as queries from shareholders and analysts about cash deployment continue to increase. Its after tax ROIC for the 12M ending 30-Jun-2014 was 8%.

Given Hawaiian's higher leverage – an 85% debt to capital ratio for the 12M ending 2Q2013 – its reward to shareholders is likely to be smaller than its other US airline peers. But the fact that a thorough examination of how to reward shareholders is underway underscores the rising importance all airlines are placing on how to view cash and capital deployment for the long haul.

See related report: Hawaiian outlines 2014 goals: mature long-haul markets and begin work to shore-up its balance sheet
Shareholder returns are likely top of the agenda for JetBlue's new CEO
JetBlue is targeting a ROIC of 7% in CY2014 after missing its return goals in CY2013. It has received some criticism that its return targets are too low as it aims to grow its ROIC by 1ppt annually.

JetBlue's retained earnings increased nearly 38% in 1Q2014 to USD602 million, and its paid-in capital also grew 1.6% to USD1.6 billion. JetBlue estimates that it reduced cash on hand by USD600 million from YE2011 to YE2013, and liquidity ratio (cash and equivalents as a percentage of trailing 12M revenue) was 12% at YE2013.
JetBlue Airways retained earnings: 2010 to 1Q2014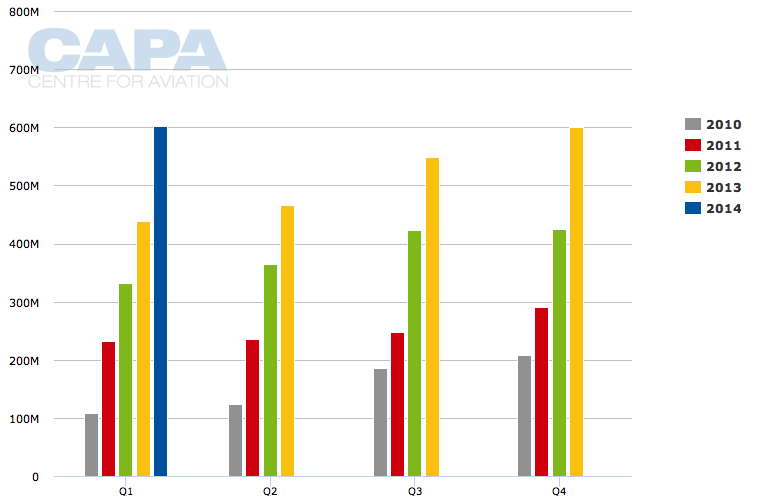 JetBlue Airways paid-in capital: 2010 to 1Q2014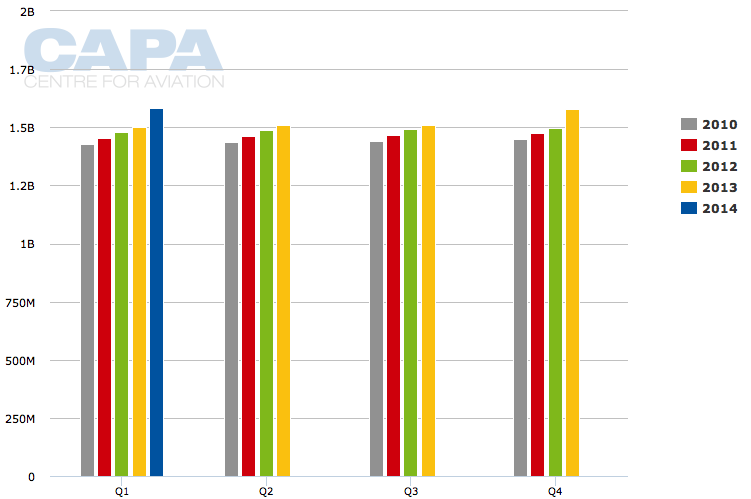 The airline used some of the cash to increase its number of unencumbered aircraft from one to 23 during that time, and kept its net debt flat at USD2.8 billion during that time period.

But shareholders believe that, despite (or because of) where it may be going with a product that is different, JetBlue is underperforming relative to its peers, and their disappointment has provoked a leadership change, to occur during Feb-2015 when current CEO Dave Barger retires and airline president Robin Hayes is elevated to chief executive.
In its 12 years as a publicly traded company, JetBlue has engaged in stock repurchases; but has never issued a dividend. It appears shareholders believe that is too long to wait for consistent returns. There is no doubt that Mr Hayes and his management team are contemplating the timing and framework for shareholder benefits.

See related report: JetBlue Airways against the analysts as CEO Dave Barger pursues a customer friendly hybrid strategy
Shareholder returns are now an obligatory part of an airline's business strategy
Obviously the yields from dividends issued by Alaska, American, Southwest and Delta are far lower than other industries; but dividend payments by some of the largest US airlines is a feat in and of itself, and does reflect the work those airlines (some with the benefit of Chapter 11 restructuring) have done to strengthen the fundamentals of their respective businesses.
The declaration by Hawaiian of its work to define shareholder returns and the changes occurring within JetBlue's management structure reflect the new reality that shareholder returns will now be as essential an ingredient in airline strategy discussions as optimal aircraft types and route profitability.
As shareholder voices get stronger, so will airline declarations of shareholder value and returns.