US demand and yield weakness continues; Pacific sectors lead the declines
Analysis
Latest traffic and yield data from the US Air Transport Association (ATA) for Jun-2009 revealed the despite extreme price discounting, which has resulted in severe yield deterioration, demand for air travel continues to remain weak, as the US and global aviation industry continues to suffer at the hands of a weak global economy, worsened by the impact of the swine flu outbreak.
According to ATA, soft passenger demand continued in Jun-2009, with a 8.6% year-on-year reduction in passenger numbers in the month, with negative growth across all regions, led by a 13.2% reduction on the Pacific. Domestic passenger reductions were the next hardest hit, down 9.0%. However, the reductions do represent a slight uptick in demand from the lows witnessed in May-2009, but it is probably too early to call a bottoming of the market.
ATA members' passenger number growth by region: Apr-2007 to Jun-2009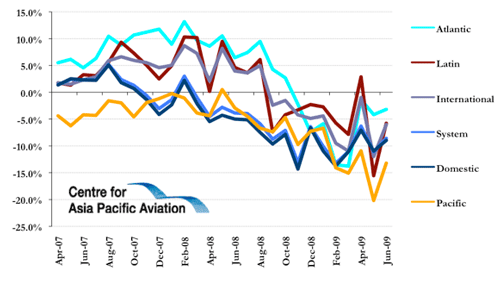 Traffic volatile and unpredictable
Looking at the Jun-2009 figures, a key concern for the US carriers is the volatility of traffic (RPM), reflecting economic uncertainty. Carrier capacity (ASMs) reductions have been more consistent, with now deep reductions across all regions. Domestic capacity was reduced from Mar-2008, while Pacific capacity reductions occurred from Jul-2008, with Atlantic capacity contracting from Feb-2009.
ATA members' ASM growth by region: Jan-2008 to Jun-2009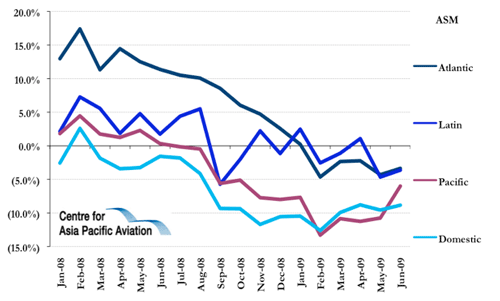 ATA members' RPM growth by region: Mar-2006 to Jun-2009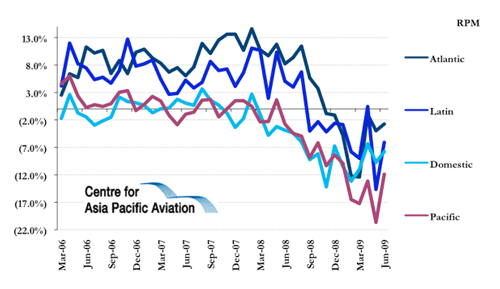 No reprieve expected in cargo traffic
Compounding the softening demand for passenger travel is continued weakness in cargo traffic, which declined 20% year-on-year in May-2009 for the tenth consecutive monthly contraction. Pacific demand was weaker than the average, falling 26%. While Jun-2009 cargo data has not yet been released, the weakness will no doubt continue.
Yields continue to deteriorate at alarming and unprecedented levels
In addition to the softening demand for passenger traffic, is continuing and sharp reductions in passenger yield. Domestic airline yields slumped 18.9% last month, while Atlantic yields fell a massive 25.2%. The decline in yield has surpassed even those witnessed during the 2001 recession and post-9/11 terrorist attacks, according to the ATA.
Despite some optimism among US carriers upon the release of 2Q2009 financial results last week, the signs suggest that there still remains a long and bumpy road to full recovery for the US carriers.