US bailout brings world economy back from the brink - Asian airlines
Analysis
US Congress is set to approve a phased emergency bailout of Wall St this week that will help ease the fears of a global economic meltdown - or so it hopes. The proof will be in Wall Street's response tonight. But the bailout will probably not stop the US from entering recession and much of Europe is set to join it, as the excesses of the credit boom/bust play out. This will have major implications for premium air travel demand. The financial sector will never be the same again and airlines with a big exposure to travel from this segment will have to adapt to change.
The financial sector turmoil is playing out in aviation markets, progressively affecting demand and yields.
Latest data from the Association of Asia Pacific Airlines (AAPA) for Aug-08 show a flag carrier sector (which primarily focuses on premium demand) in sharp decline. Passenger numbers fell 3.7% in Aug-08 year-on-year, RPKs dipped 1.2%, although airlines still grew their capacity (ASKs +2.4%), leading to a sharp drop-off in load factor (-2.8 ppts year-on-year to 76.7%).
Traffic into the red: AAPA member airlines international passenger traffic (RPK) vs capacity growth (ASK) (% change year-on-year): Sep-07 to Aug-08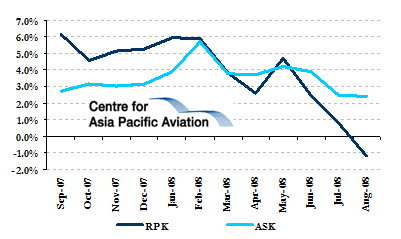 August was the second consecutive month of load factor declines, indicating airlines are adding too much capacity in this environment.
AAPA member airlines international passenger numbers growth and passenger load factor: Sep-07 to Aug-08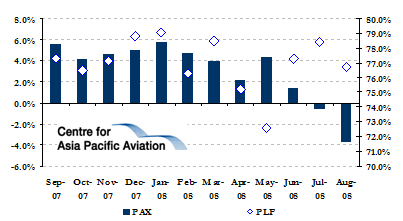 More worryingly, AAPA members' freight traffic fell sharply again in Aug-08 (FTKs down 6%). Air cargo traffic for June, July and August showed a 5.3% decline compared to the same period last year, according to AAPA, although airlines have met the weaker traffic with strict capacity controls (for example, by removing older freighters), leading to slightly higher freight load factors.
AAPA member airlines international cargo volume (FTK) growth vs cargo capacity growth (FATK): Sep-07 to Aug-08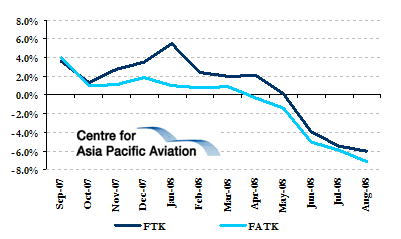 Anecdotal evidence suggests freight yields for some Asian carriers have stabilised in recent months as airlines have brought capacity levels more in line with market demand. The same action might need to be taken on the passenger side too, but this appears unlikely, as new deliveries arrive.
AAPA Director General, Andrew Herdman, added his voice to the chorus of commentators predicting more airlines will not survive the current combination of high oil prices and a slowing global economy.
The gloom is expected to continue into next year, with Mr Herdman stating the Association "remains cautious about industry prospects for the rest of this year and 2009". But he added Asian airlines are "better placed than many others to cope with current difficulties, and are still investing to take advantage of future growth opportunities".