24-Jul-2009 4:20 PM
US Airways, Alaska Air and JetBlue up following a positive day in trading and financial results
US Airways (+12.2%) made the biggest headway yesterday, after reporting a net profit of USD58 million for 2Q2009, while Alaska Airlines (+6.2%) and JetBlue (+2.9%) also improved after reporting positive 2Q2009 results.
Meanwhile, Air Canada (-2.8%) was the only carrier of the Americas to fall, following a positive day on the share market, due to an improvement in the Dow (+2.12%) and positive US housing data.
North & South America selected airlines daily share price movements (% change): 23-Jul-09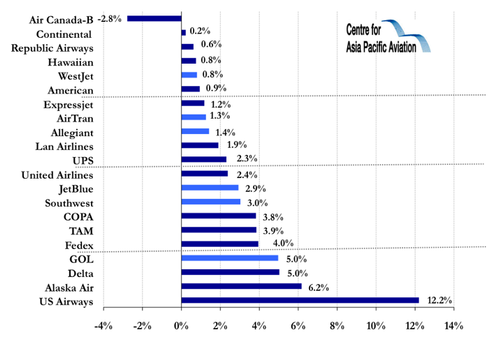 US Airways: better fuel hedging, but capacity, yields down. PRASM off 17.6%
US Airways attributed its improved 2Q2009 results to an increased understanding of the impact of its fuel hedging on financial results. The carrier reported a 58.9% decrease in fuel expenses, resulting in a 33.2% decline in overall costs. Despite the positive result, US Airways reported an 18.4% decline year-on-year in revenues, due to a 5.6% decline in capacity (ASMs), lower leisure yields as a result of fare sales to stimulate demand, and the reduction in business demand resulting from the global economic recession, while PRASM reduced 17.6% to 9.42 cents.
In projecting outcomes for the remainder of the year, US Airways CEO, Doug Parker stated, "the revenue environment continues to be difficult to forecast. We have seen an encouraging, though modest improvement in revenues over the past several weeks, but we are not counting on a quick recovery. Instead, we are preparing for a continued difficult environment and believe the steps we have taken and the outstanding work of our team have us extremely well positioned to meet the challenges ahead."
Alaska Airlines: balance sheet solid and profitable
Alaska Airlines reported a USD26.5 million net income (excluding special items) for 2Q2009, attributing its earnings over the period to declined fuel prices and network adjustments. The carrier's fuel expenses were down 29.5% year-on-year for the quarter.
According to Chairman and CEO, Bill Ayer, "While there's more to do, we're seeing clear signs that what we're doing is working", adding that he expects the economy to be "very challenging for the foreseeable future". As a result, the Group stated plans to maintain a healthy level of cash with a continued focus on improving revenues and reducing costs. Alaska Airlines had USD1.1 billion in unrestricted cash and marketable securities as of 30-Jun-09.