US airlines shrug off deflation - fares power on in Oct-08, but Asian yield growth softens
Analysis
US airlines reported a 7.4% increase in domestic yields in Oct-08 - a month which saw the biggest fall in consumer prices in the wider US economy in 61 years, stoking fears of a deep recession. Consumer prices in the US fell 1% in Oct-08 - the biggest fall since 1947 - and much deeper than analysts had been expecting, driven by lower energy prices.
But airline fares keep rising, helped by strict capacity controls by US carriers this Winter. The biggest US carrier, Delta, has foreshadowed even further cuts next year as bookings continue to soften.
Domestic fares have risen by 7.5% in the first ten months of 2008.

International fares are rising even faster, with yields on the Pacific in the year-to-date up 9.2%, while yields on the Atlantic have risen 8.1% (despite significant extra capacity). Latin American yields are up a very solid 10.4% this year, including a massive 19.4% increase in Oct-08 alone (following a 23.2% increase in Sep-08).

But US carrier yield growth on the Pacific is slowing, rising by just 5% in Oct-08 - the slowest pace of growth since Feb-07, as the Asia Pacific region's economies cool. Singapore and Hong Kong are now officially in recession.
ATA yield growth on Asia Pacific services (% change year-on-year): Oct-03 to Oct-08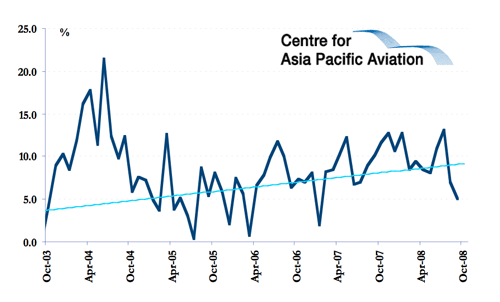 Atlantic yields continue to accelerate for the US carriers however, surging 9.6% in Oct-08, following 9.1% increase in Sep-08. IATA recently reported that premium traffic on North Atlantic markets markets (all carriers, including European, US and other carriers) fell 2% in Sep-08, "reflecting the sharp economic downturn on both ends of this market". Fares seem to be holding up - at least for the US carriers.
ATA yield growth on Atlantic services (% change year-on-year): Oct-03 to Oct-08