US airline industry unit costs have become highly competitive post-Chapter 11 bankruptcy
Analysis
Measured by cost per available seat kilometre (CASK), the unit cost gap between low-cost carriers (LCCs) and full service carriers (FSCs) is narrower in the Americas than in any other major world region, particularly in the US.
US FSCs also have the lowest average CASK among global groupings in CAPA's CASK-RASK database.
The US airlines have spent time in Chapter 11 bankruptcy and many have evolved from a low cost culture. But there is a risk for major incumbents in focusing on their own domestic and intra-regional markets. Airlines too focussed on these markets have conceded a big head start to airlines in other regions in the race for global pre-eminence.
The narrow gap and lower FSC CASK reflect two main factors
First, the major US FSCs have all been through a process of cost reduction, including time in Chapter 11 bankruptcy protection, which helped them to restructure labour costs in particular. They were the first to face LCC competition and the first to respond to it.
The second factor is that a number of LCCs, such as Southwest, have evolved from the purist low-cost model to take on some of the product and service features of FSCs – as well as accumulating some of the unwelcome features of age. This has led to some cost creep in a few cases.
The relative cost efficiency of airlines, as measured by CASK, is a key competitive dynamic in the aviation industry. However, a direct comparison of CASK, or unit cost, for different airlines is not straightforward as it varies with the average distance flown. The CASK levels contained in this report are taken from CAPA's CASK-RASK Database.
In general, the cost of producing a seat kilometre falls as average sector length increases
This occurs since the fixed costs are amortised over more seat kilometres and variable costs such as fuel are more efficiently consumed in longer flights. Plotting CASK versus average trip length reveals much about the competitive positioning of airlines and airline groups.
The following chart plots CASK in USD cents (vertical axis) against average trip length1 in km (horizontal axis) for many of the leading airlines in the Americas region and separates the data points into low-cost carriers and full service carriers, each with its own line of best fit.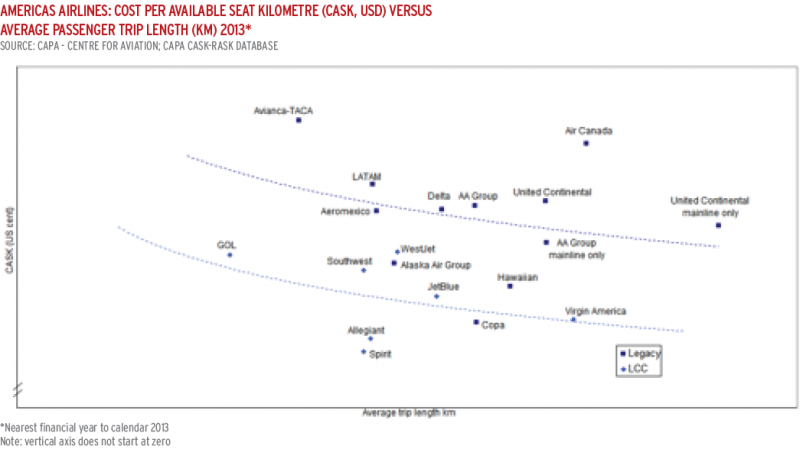 The narrowing of the CASK gap between FSCs and LCCs in the US has facilitated the development of the ultra low-cost carriers (ULCCs), such as Allegiant and Spirit. These two have levels of unit cost significantly lower than that of Southwest, which was the pioneer of the low cost concept.
Indeed, Southwest and Canadian LCC WestJet have unit costs that group them with some of the more cost efficient FSCs such as Alaska Air Group and Hawaiian. Even the ultra-LCCs of the US have unit costs that are noticeably higher than the lowest cost operators in other regions.
Just as low-cost competition forces cost discipline on incumbents, the lack of it can cause legacy carrier unit costs to remain high
Looking outside the US market, two legacy airline groups stand out on the chart with CASK levels that are higher than might be expected from their average trip length, namely Avianca-TACA (Avianca Holdings) and Air Canada.
This may reflect the lesser degree of low-cost competition faced by these two groups compared with the US, particularly in Avianca's principal markets Colombia, Peru and El Salvador. In addition, Avianca has a relatively high proportion of non-passenger revenues, which do not generate ASKs, but do generate costs (and revenues).
Among the Latin American FSCs on the chart, Avianca may look relatively high cost, but Copa would not look out of place among the LCCs in terms of its level of CASK.
A chart comparing CASK levels in the Americas with other global regions can also be revealing. More than in other parts of the world, the airlines of the Americas operate mainly within their own region, with no long-haul specialists. This shows itself in the relatively tight distribution of average trip lengths, with the majority of airlines on the chart packed in between 1,000km and around 2,500km.
By contrast, there are a number of airlines in Asia and the Middle East that have much longer average trip lengths. Many of these also have relatively efficient CASK levels and growing reputations for product quality.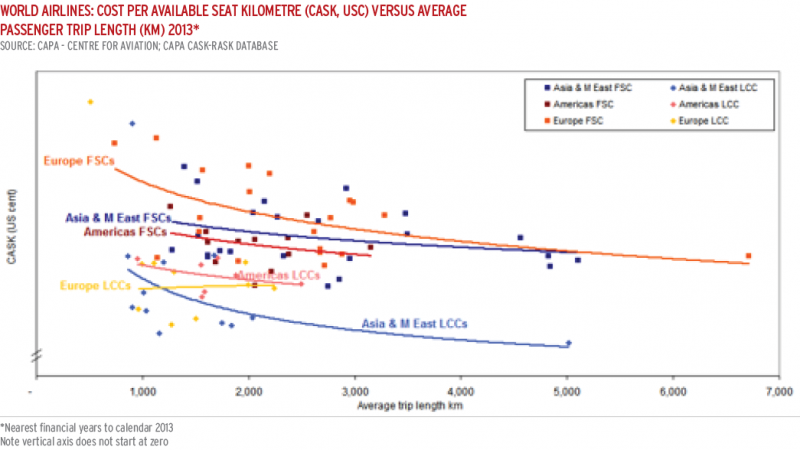 The US airlines' focus on protected markets is leaving them behind in the long term race

It is the long-haul markets that are the battleground for the growing global competition between airlines of different regions. By focusing on their own domestic and intra-regional markets, airlines from the Americas have conceded a big head start to airlines in other regions in the race for global pre-eminence.
This approach risks forcing the American airlines into ever-decreasing circles where they attempt to raise protectionist barriers around their own territory. They would arguably be better advised looking for ways to lower their unit cost and to improve their product quality, giving themselves the means to go on the offensive against the rest of the world.
The consequential likeliest scenario is instead for costs to creep up inside the US in particular, while foreign international operators are being forced to continue with cost reductions in order to remain competitive. Instead of capitalising on their cost-base strength in other words, they will slide backwards in competitiveness.