US airline fares tumble in April, United Airlines leads capacity pull-back
US airlines are plunging deeply into crisis again, as the weak US economy hits fares and demand for air travel, particularly on international routes. US domestic yields slumped 10.7% in Apr-2009, according to the Air Transport Association of America (ATA), while yields on the Atlantic and Pacific dropped an unprecedented 21.9% and 17.3%, respectively.
ATA passenger yield growth: Jan-2008 to Apr-2009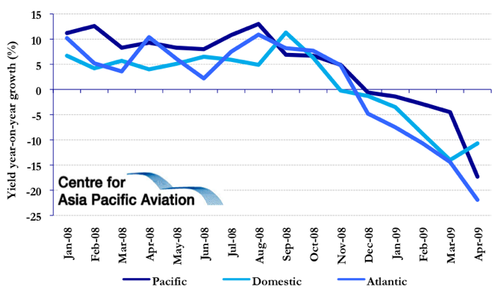 The Pacific is marginally higher yielding than the Atlantic in the current environment, at USD 10.28 cents per RPM vs USD 9.93 cents, respectively. NB: Daily strategic developments from the American aviation market are covered in America Airline Daily.
ATA passenger yield (US cents per RPM): Jan-2008 to Apr-2009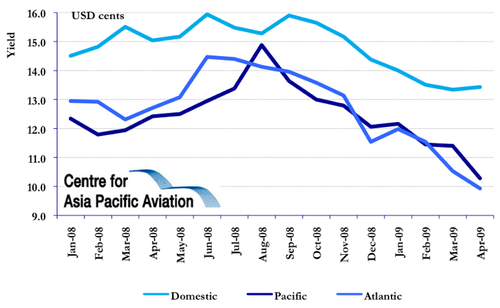 International yield plunge worse than September-11
In the aftermath of the September-11 terrorist attacks, domestic, Atlantic and Pacific yields were down 17.5%, 13.5% and 11.4% in Oct-2001 and were back into positive territory by Sep-2002.
Capacity cutbacks
The reduction in yield comes despite massive cutbacks in capacity by the US carriers. In the domestic market, the US majors' capacity cuts were led last month by United Airlines and American. Even Southwest contracted, while Allegiant expanded its ASMs by almost 30%.
North American carriers' domestic passenger capacity growth (% change year-on-year, bubble size reflects the relative amount of capacity offered): Apr-2009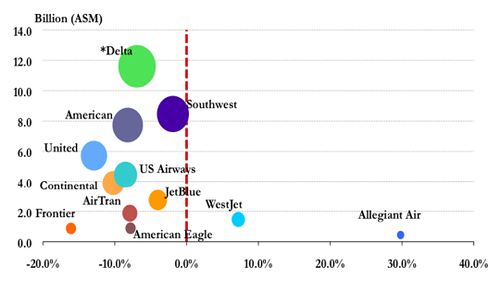 The year-to-date figures show United again leading the capacity reductions.
North American carriers' domestic passenger capacity growth (% change year-on-year): Year-to-Apr-2009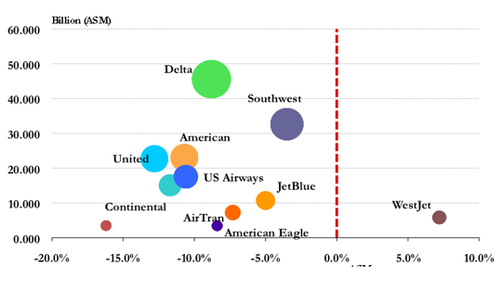 Load factors still falling for the majority
A key factor behind the yield reductions is the load factor reductions still being experienced by the majority of North American carriers. Only Allegiant, Continental, United, American, JetBlue, AirTran and Southwest reported improvements in load factor last month. The remainder are still providing too many seats, which is placing downward pressure on industry pricing levels.
Selected North American airlines' load factors (%) and load factor growth (year-on-year change): Apr-2009
Outlook: More cuts needed
Just like their European counterparts, North American carriers still have more work to do to bring significantly weakened demand back in balance with supply.
The ATA forecasts 7% fewer passengers (150,000 per day) will travel from 01-Jun-2009 to 31-Aug-2009, compared to the same period in 2008. ATA is projecting that 7% fewer passengers (171 million versus 183 million) will travel domestically, and 6% fewer passengers (24 million versus 26 million) will travel internationally. Industry capacity levels must come in significantly below these levels if North American carriers have any hope of stemming the discounting that is ruining their chances of a return to profitabilty this year.