US Air and United Airlines slammed, Delta and American fall. Republic snaps up Midwest/Frontier
Shares in US Airways and United Airlines slumped 12.2% and 10.4%, respectively, yesterday, as the airline sector came in for more heavy selling on the back of higher oil prices and lingering concerns about the state of the US economy.
US Airways and United were hit hardest, as Frontier Airlines' sale to Republic Airlines (see below) raised the spectre of the continuation of competitive pressure in core domestic markets for both carriers. US Air and United stock have plunged over 70% since the start of 2009.
NB: America Airline Daily is now ON SALE! Buy an annual subscription by the 4th of July for just USD395 p/a!
United Airlines and US Airways share price index: Jan-2009 to Jun-2009
Republic spree
Republic Airways' shares gained 46% yesterday – the biggest daily increase since its IPO in May-2004 – as the carrier followed up its Frontier purchase with a deal to acquire Midwest Airlines from TPG Capital (see below). Investors obviously believe Frontier and Midwest have been acquired at bargain basement prices and both carriers offer a range of opportunities for Republic.
FedEx added 1.4% after JPMorgan Chase & Co raised its rating on the stock from "neutral" to "overweight", citing FedEx's "strong operating leverage should drive performance for the stock when there is improvement in the economy".
North & South America selected airlines daily share price movements (% change): 23-Jun-09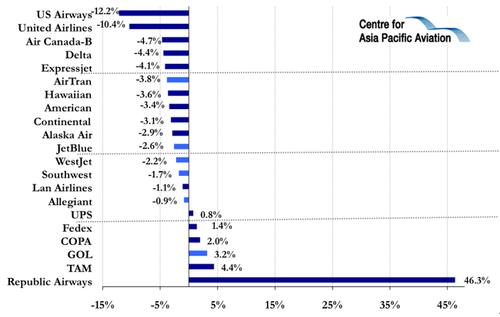 Republic Airways Holdings announced (23-Jun-09) it is acquiring Milwaukee-based Midwest Airlines from TPG Capital, a Fort Worth, Texas-based private equity firm. The transaction is subject to customary regulatory approvals and is expected to close in four to six weeks.
Republic will acquire 100% of the equity of Midwest and TPG's USD31 million secured note from Midwest. Consideration will be USD6 million in cash and a USD25 million, five-year note, which may be converted to RJET stock at USD10 per share. In addition, TPG will have the right to nominate a member to the Republic Board of Directors.
Chairman, President and CEO of Republic Airways, Bryan Bedford stated, "this acquisition will enhance the strategic positioning of Republic Airways. Midwest has built a strong brand, a loyal base of customers and dedicated team of employees. We look forward to welcoming them to the Republic family and continuing the Midwest tradition of excellent customer care."
Under the agreement, Midwest will become a wholly owned subsidiary of Republic Airways, with the Midwest brand continuing. Midwest's Boeing 717s will be replaced with Embraer 190 aircraft, enhancing Midwest's ability to offer nonstop service to key destinations important to its frequent flyers.
Republic Airways to serve as equity sponsor for Frontier's exit from bankruptcy – edited press release
Republic Airways Holdings agreed (22-Jun-09) to be the equity sponsor of Frontier Airlines' plan of reorganization. The plan, which is subject to bankruptcy court approval and various conditions, would allow Republic to purchase 100% of the equity in the reorganised company for USD108.75 million.
If approved and completed, the plan will result in Frontier's successful exit from Chapter 11, at which point it would become a wholly-owned subsidiary of Republic Airways.
Mr Bedford stated, "thanks to the hard work of its employees, Frontier has made tremendous strides during its restructuring process, recently posting its sixth straight monthly operating profit despite challenging economic conditions. Adding Frontier to the Republic portfolio of operating companies is an opportunity for both companies to build on recent successes and strengthen the Republic organization for the benefit of all stakeholders."
Frontier's proposed plan of reorganization was filed on 22-Jun-09 with the US Bankruptcy Court for the Southern District of New York. Frontier has also filed a motion to approve the investment agreement with Republic, which is subject to higher and better proposals under a court-supervised auction. A hearing at which Frontier will seek court approval of the investment agreement and proposed auction procedures has been scheduled for 13-July-2009. Frontier currently expects to conclude the auction process and emerge from Chapter 11 during the fall of 2009.
The proposed plan of reorganisation provides for general unsecured creditors to receive USD28.75 million in cash. An additional USD40 million of the sale proceeds would be applied as repayment of the outstanding DIP loan.
See related article: Frontier Airlines lines up bankruptcy exit financing
Republic Airways Holdings, based in Indianapolis, Indiana is an airline holding company that owns Chautauqua Airlines, Republic Airlines and Shuttle America. The airlines offer scheduled passenger service on approximately 1,200 flights daily to 101 cities in 37 states, Canada and Mexico through airline services agreements with seven U.S. airlines. All of the airlines' flights are operated under their airline partner brand, such as AmericanConnection, Continental Express, Delta Connection, United Express, Midwest Connect, Mokulele Airlines and US Airways Express. The airlines currently employ approximately 4,500 aviation professionals and operate 212 regional jets.