United-Continental merger; higher fares and reduced service?
Analysis
"…The combination could lead to reduced service and increased prices for travelers" - Washington Post
Merriam-Webster defines hyperbole as an "extravagant exaggeration". Using the word to describe some of the press coverage of the newly-announced United/Continental merger might itself be a "slight exaggeration", but it works.
Assumption #1; Fares will rise
A stock response to such combinations always raises the spectre of higher fares. The assumption is, of course, that fewer players put the consumer at a disadvantage. One such route, repeatedly mentioned in numerous articles, cites New York-Chicago as ripe for price increases. Does this speculation have credibility?
New York-Chicago is a complex and varied market: diversity rules!
First, the New York-Chicago market is a fairly complex market. It encompasses various flight combinations between no less than five airports: JFK, Newark, LaGuardia and Westchester on the New York end and O'Hare and Midway in Chicago. That is far from a monolithic operation, unlikely to be upended by two (albeit significant) participants, even if United is based in Chicago.
Newark Liberty Airport to Chicago O'Hare Airport: Capacity share by carrier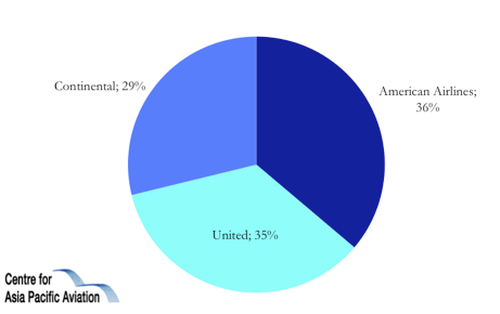 New York La Guardia Airport to Chicago O'Hare Airport: Capacity share by carrier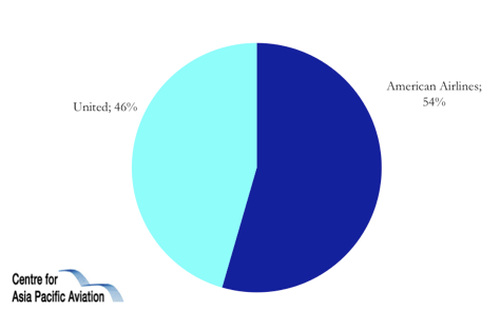 New York La Guardia Airport to all Chicago area airports: Capacity share by carrier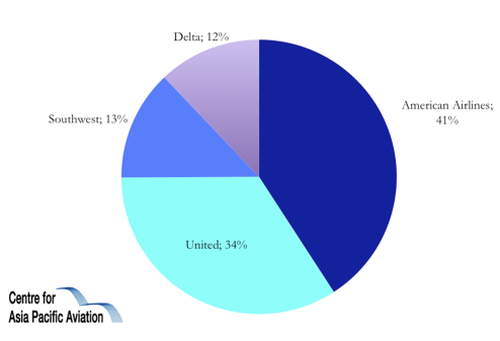 Secondly, as a result, there is multiple airline service in these pairings. The list includes not only United and Continental, but also American, Delta, JetBlue and Southwest. Diversity rules: American is prominent in each.
Thirdly, each of the operators has a fairly defined network niche. Continental, for instance, operates only from Newark. To fly Continental from LaGuardia involves a routing over Cleveland that takes over 4 hours and can be purchased for (lowest fare) USD1,206. This is unlikely to be a routing of choice for most travellers.
Nor does Continental enjoy a monopoly position at Newark, an airport having few open slots, with American (as well as United) offering flights of their own.
The other "primary" New York airport for flights to Chicago has been LaGuardia, and from that airport United and American have been fierce contenders for decades. The airport is slot-controlled so that a willy-nilly service explosion is impossible, making United's - or American's – size unimportant to its operational capabilities.
It is from LaGuardia that Southwest operates as well, though to Midway rather than O'Hare. And just to make certain that no route goes unchallenged, Delta has begun La Guardia-Midway service.
Service to JFK used to be limited to flights that fed into international operations; but, with the ascendancy of jetBlue, JFK's domestic service profile has been greatly enhanced. Now Delta also operates a full JFK-ORD schedule, with American operating a flight or two in support of its international flights.
Westchester, a distant fourth in terms of size, hosts both United and American services.
This diminishes the prospect of dominating fare levels
As a result of all these moving parts, fare manipulation, as well as dominance, is virtually impossible in the New York metro - Chicago market. Fares may go up (or down), but that is very unlikely to have any direct link to a UA/CO merger.
Finally, a check on the cost of travel May 17-18 between all airports shows Southwest offering the lowest at USD219 with all the legacy carriers posting USD221, suggesting that Messrs Smisek and Tilton have a point in claiming that carriers have little pricing power in highly contested markets.
Assumption #2: Hubs will collapse
Hubs do fail and for many reasons (See CAPA's recent series on US hubs) - some due to mergers. But the reality is that failures are mostly due to the fact that certain locations are simply not viable in an over-served market. That is, there were often artificial reasons for there working in the first place.
Is the Cleveland hub threatened (more than before)?
In his USA Today article, David Grossman cites the possibility that Cleveland may suffer. This has some possible validity - but mainly because it has been true for some time. Like Cincinnati, still claimed by Delta as a hub, Cleveland has seen a steady decline over recent years.
In 2000, Cleveland had a nonstop to London (LGW), 5 daily flights to Los Angeles and 3 to San Francisco. In 2010, the London service is gone and LAX has 3 flights, while SFO has been reduced to 1 with an additional seasonal service. Additionally, more of the city's schedule is operated with RJs as opposed to mainline equipment. These moves have nothing to do with mergers.
United to downsize Dulles?
More interesting is the suggestion that, with Newark now part of United's network, there is the possibility that United will downsize its presence at Washington Dulles. This notion is difficult to imagine. Newark is overcrowded, prone to massive delays and is generally maxed out.
Newark is one of the nation's airports that might actually benefit from some schedule reduction! The thought that DC customers would willingly see service to the populous, affluent and important Washington metro area replaced with a connection over EWR is difficult to support – and consumers would most probably vote with their feet if that were tried.
In reality, mergers are only one factor in a dynamic industry
History clearly demonstrates that hubs lose influence and traffic either because of proximity to other hubs or because of changes in corporate strategy.
Most at risk are cities like St Louis and Pittsburgh, that were created and grew far beyond their origin and destination needs.
Thus, when plans or conditions changed, they were much too large for the inherent demand. Conversely, population and commercial centres like Washington and New York not only have huge local demand, but that steady traffic also supports a vibrant connecting pattern. Don't look for Dulles to shrink. It has O&D.
The Business traveller scare card
The last claim of dubious validity made by USA Today is that, "Business travelers located in smaller cities, who often have a choice of flying through any one of several hubs operated by different airlines to reach their ultimate destinations, may find themselves with fewer options as a result of mergers."
This is scratching around for negatives. Quite the contrary is generally true. For example, despite the combination of Delta and Northwest, Omaha continues to have robust flight schedules to all of Delta's hub cities: Atlanta, Minneapolis, Detroit, Memphis - and even beleaguered Cincinnati.
The reason is simple: Delta wants to be the airline of choice, by offering the maximum number of connections to those business travellers. Until that mindset is displaced across the industry, travellers originating in Omaha or Little Rock will continue to enjoy lots of hub connections. Direct service, however, to many main destinations remains a remote possibility.
It is for all these reasons that Texas legislators, worried that Houston will lose its clout, are probably misinformed and worrying about a non-existent threat. Similar rumbles are being heard from Cleveland's mayor, but that boat has already sailed.
But there are some valid concerns – culture is the key
The New York Times and Houston Chronicle both ran pieces questioning the compatibility of corporate cultures. As has been seen repeatedly in many industries, culture is a vital, but often intangible, aspect of any organisation. Commentators rightly point out that only Continental, of the US legacy carriers, ranks amongst the Southwests and JetBlues for customer service. United is, to say the least, lagging in this area.
The ability of the better performer to bring up the overall service level, as opposed to having it dragged down by the weaker, is an important concern and will have much to do with the failure or success of the overall venture.
If the new United is not only the biggest, but also the best, it will have a real advantage. If their only claim is based on size, benefits, and even sustainability, may be threatened. And, if they can pull off a real service upgrade, consumers may be willing to pay (slightly) higher fares for a perceived increase in value.
There will be lots more printed in similar vein, both by impartial analysts and by those with an axe to grind. In the meantime, don't believe everything you read.