United, Continental, Delta follow AirTran down as oil price rises and hope fades. GOL, TAM positive
Analysis
United (-6.2%), Continental (-6.0%) and Delta (-5.1%) led the majors down yesterday, as sentiment softens and any serious hope of a bounce in demand appears remote. Only TAM (+3.1%) and GOL (0.8%) saw measurable gains, in the better performing South American economies.
Meanwhile, major LCC, AirTran (-8.3%) suffered the largest fall of all on the day, after it announced a system-wide sale with fares on all routes beginning at USD39.
Unlike Europe, where a strong day on the overall market saw most airlines favoured with small rises, American airlines were caught up in increasingly negative investor atmosphere.
For daily updates on American aviation stock prices and a complete wrap of the day's breaking news, sign up now for a complimentary subscription to America Airline Daily.
North & South America selected airlines daily share price movements (% change): 10-Jun-09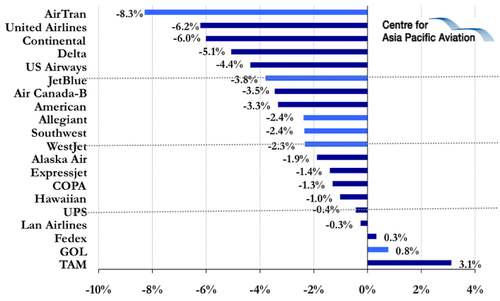 Passenger demand out of synch with rising oil prices = bad news
Several American airlines are talking now of reducing capacity as demand remains soft, with no indication of a near-term improvement. The annual Merrill Lynch aviation conference begins today and is expected to unearth a depth of analysis of where the industry is heading over the next few months.
As yields and traffic continue to decline, each at double digit rates, analyst speculation is rife that there will be announcements of further 4-5% cuts in capacity in the Fall timetables of many majors.
And, creeping up behind this speculation, the spectre of new highs in fuel prices, as oil again touched new 2009 highs yesterday, now apparently solidly installed above USD70 a barrel.
The US dollar has weakened, making life tough for US carriers particularly, as global commodity speculators, anxious to be in the forefront of new rises, push oil prices higher.
Even though oil stocks are at high levels (and a lot of it is apparently stored in tankers waiting for the price to rise further), passenger demand and investor optimism have clearly got out of synch.
So the good news of a consumer led recovery is absent still. Yet the USD30 a barrel oil prices, which helped support the airlines' cost base when demand first slumped, has now converted to a fairly ugly USD70 level. This is where it really starts to hurt airlines' bottom lines.