United Airlines works to sustain its recent positive momentum as 2015 approaches. Challenges await
Analysis
United Airlines has made solid progress in 2H2014 in closing the gap in certain financial metrics with its peers, driven in part by several network changes that, in theory, should continue to lift the airline's revenue performance in 2015.

The big unknown for United as 2014 comes to a close is if 2015 will be the year that its performance rises to the level of its peers on a sustained basis. After failing to meet similar declarations in the past United has understandably shied away from declaring 2015 as the target year for its turnaround.

But as the company continues to improve network utility, keep costs in check and cut debt while improving its balance sheet, United should look back on 2015 as a year of progress as it works to finally achieve the long awaited full merger benefits with Continental.
United Airlines re-banks and consolidates frequencies to improve network utility
During 3Q2014 United began closing the passenger unit revenue deficit it had been running against its peers for roughly more than a year. It outperformed both American and Delta in passenger unit revenue growth and yield performance; however, American's results were skewed from a pull-down in Venezuela due to the country's economic volatility.

See related report: United Airlines continues its efforts to close the gap with peers after posting solid 3Q2014 results

Similar to its peers, United throughout 2014 has recorded a strong performance in its domestic entity, driven by overall solid demand. But the airline has also undertaken several initiatives to improve the performance of its network that should bear more fruit in 2015 as they reach a certain level of maturity.

At the end of 2Q2014 United outlined several changes it was making to its network to improve its unit revenue performance over the next 18 months.

Beginning in late 2014 United is beginning to re-bank three of its hubs – Denver, Houston Intercontinental and Chicago O'Hare. The changes start in Denver and Houston during late 2014 followed by Chicago in the spring of 2015. American is also undertaking a similar effort, re-banking its hubs at O'Hare, Miami and Dallas/Forth Worth.

The logic behind United's re-banking is to reduce connect times to increase the number of higher-yielding connections at those hubs, which are among its top five bases.
United Airlines global top 10 hubs/bases/stations by seats: 15-Dec-2014 to 21-Dec-2014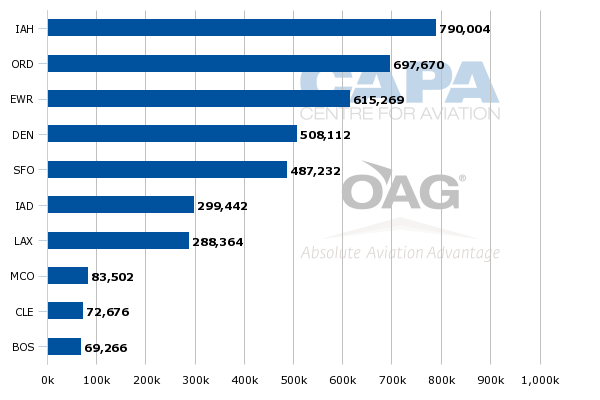 Other changes United has made to bolster revenue include improving maximising close-in bookings and aligning supply to demand on a more seasonal basis. The company estimates its "seasonal shaping" will result in a 25% capacity differential between high and low demand periods. Using the trans-Atlantic as an example, United estimates that its trans-Atlantic capacity in Jul-2015 will be 40% higher than Feb-2015, and the seasonal adjustments should improve its unit revenue performance across the Atlantic.

The airline also plans to consolidate frequencies as it moves to larger gauge aircraft in part through a fleet retrofit to add slimline seats to 450 aircraft by YE2015. Overall, United estimates in 2015 its aircraft gauge will increase by 5% while departures will fall 3%.

United's planned re-banking and frequency consolidation could result in an average drop of 8% in daily departures at its Chicago O'Hare hub in some months, while increasing up to 10% in other months. Previously, United has stated the changes should help it manage the congested airspace around O'Hare. Despite the fluctuations in departures driven by seasonal shaping and frequency consolidation, it does not appear that United's stature as the largest airline at O'Hare measured by frequencies is changing significantly from mid-Dec-2014 to the end of May-2015.
Data from CAPA and OAG show that for the week of 15-Dec-2014 to 21-Dec-2014, United represents roughly 46% of the frequencies from O'Hare, and is retaining that share for the week of 25-May-2015 to 31-May-2015.
Chicago O'Hare International Airport capacity (% of frequency to/from): 15-Dec-2014 to 21-Dec-2014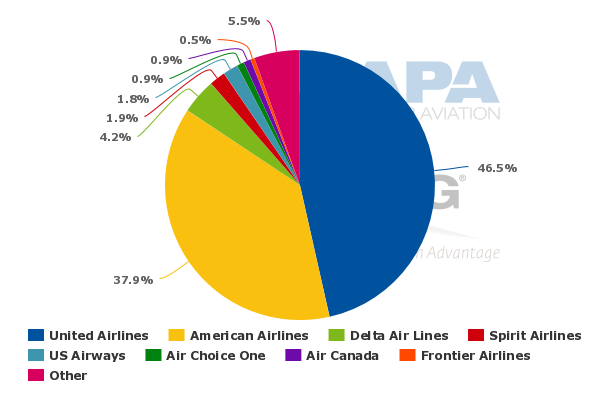 Chicago O'Hare International Airport capacity (% of frequency to/from): 25-May-2015 to 31-May-2015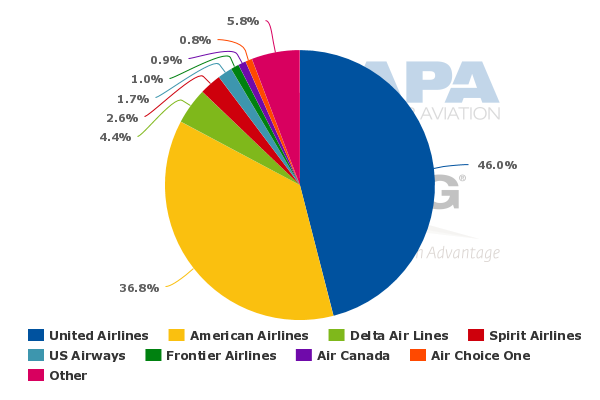 United opts out of competition with ULCCs in some Cleveland markets
Most of the network changes United has laid out in 2014 will not go into full force until 2015, which presumably means that the airline should enjoy some revenue improvement throughout the year.

United is seeing some benefit from a pull-down at its Cleveland hub that was completed in Jun-2014 as daily departures fell from 199 to 72, largely to smaller regional markets. United's reductions in Cleveland helped contribute to its nearly 8% passenger unit revenue growth on domestic routes in 3Q2014. The company has estimated that the changes it has made in Cleveland should result in an annual run-rate benefit of USD60 million.

During 2015 United is cutting four more markets from Cleveland – Dallas/Forth Worth, Fort Lauderdale, Fort Myers and Tampa. Those are markets where ULCC Frontier has recently added flights and routes that ultra low-cost airline Spirit plans to enter during 2015. It is an interesting move by United, which may have ultimately decided it was not worth getting into a dilutive pricing battle with those airlines, particularly on the leisure oriented Florida routes.
United will increase capacity in its newest Pacific markets
As it makes further cuts in Cleveland in 2015, United is bolstering service from San Francisco to Shanghai to two daily flights during the peak summer travel season. It also plans to increase its thrice weekly service from San Francisco to Chengdu to daily. Chengdu is a secondary Chinese market that was made viable for United through its operation of the Boeing 787 widebody.
During 3Q2014 United remarked that the new flights to Shanghai and Chengdu (both launched during the last year) were performing better than expected, and that strong demand in China helped lift United's fortunes in the Pacific during the quarter.

But during 4Q2014 United estimates 20% competitive capacity growth in the Pacific particularly in Shanghai and Beijing, which coupled with the continued currency pressure from the JPY will create a 1.5% headwind for its consolidated revenues during the last quarter of 2014.

United's rival Delta has concluded that heading into 2015 capacity on routes to Asia is in excess of demand. Both United and Delta are restructuring their operations in Japan, cutting back on stop-overs in Tokyo to build up their US west coast gateways to Asia in San Francisco and Seattle. United estimates that its capacity on flights onwards from Tokyo Narita is 50% lower in 2014 than in 2012.
United targets 2015 capacity growth below GDP estimates
United is planning capacity growth of 1.5% to 2.5% in 2015, which it highlights is below US GDP growth estimates. Its rival Delta is planning roughly 2% capacity growth. United estimates that 0.5% to 1.5% will be allocated to the domestic market, 1% to 3% to trans-Atlantic routes, 4% to 6% in Latin America and 3% to 5% in the Pacific.
United Airlines planned capacity growth breakdown: 2015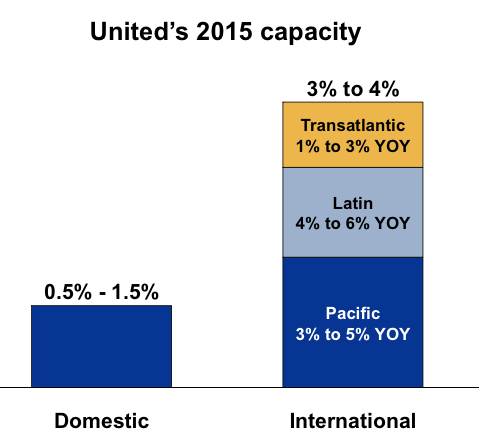 The airline's Latin American growth is driven by new service from Houston to Santiago launched in Jun-2014 and the introduction of flights from Denver to Panama that launched in early Dec-2014. Growth in the Latin entity is also being driven by adding flights to beach markets due to strong demand.

Even with Chile's tenuous economy, United stresses that Santiago has been a "big ask" from its corporate customers, and the route should fetch a decent number of connections from United's domestic network. American serves Santiago from its Dallas/Fort Worth and Miami hubs and Delta operates service to Santiago from its hub in Atlanta. Panama also seems like a promising market from Denver given that United's Star Alliance partner Copa has a huge hub in Panama that offers numerous connections throughout Latin America.
United improves cost performance and continues work on debt reduction
After its unit costs excluding fuel soared 6.3% in 2013, United expects its growth in that metric to fall in the 1.2% to 1.6% range in 2014. It has stated that its unit costs should grow at a slower rate than inflation through 2017 as it has outlined a plan to reach USD2 billion in annual cost savings by that year.

The airline is also working to reach its target of USD15 billion of total debt. At the end of 3Q2014 United's total debt levels were USD18.4 billion.
Challenges remain for United despite its work to close gaps with its peers
United has made solid progress during the last year in revenue improvement and cost and debt reduction. But the company's margins still lag behind its industry peers, reflected in its 3Q2014 operating margin of 11.7% compared with 15.8% recorded by Delta.

It has already warned of flat passenger unit revenue growth in 4Q2014 after 4Q2013's results were buoyed by interline ticket reconciliations. Although 2015 looks reasonably positive, United could experience pressure in international markets as it adds capacity in the Pacific, which seems to be in a state of oversupply, and Latin America, a region that also suffered some industry oversupply during 2014.

United admits there is still a long road ahead in its efforts to close the gap and perhaps the performance of its peers, and 2015 promises to be a pivotal year for the airline to crucially sustain and build on early success in shoring up revenue.