United Airlines, US Airways increase bag charges. GOL, TAM shine as most airline stocks rise
Analysis
GOL's strength followed a strong 1Q09 result, while US Airways recovered some of its recent losses. (See GOL highlights below)
Expressjet (-2.8%) and Air Canada (-2.3%) were the only stocks to lose measureable ground.
US Airways has, apart from a brief surge, not benefited from the April/May recovery in stock prices, so yesterday's rise will be welcomed in the wake of the new stock issue. After the market closed, the carrier also announced an increase in baggage charges to USD20 (for up to 50 pounds for the first bag). The second bag charge will increase from USD25 to USD30.
While these amounts may seem insignificant, they have become the lifeline to (hoped for) profitability for most airlines over the past year. One positive factor is that they offer a fixed amount which are highly visible for other airlines to match - and that is exactly what US Airways did in imitating a similar move by United Airlines at Chicago.
For daily updates on American aviation stock prices and a complete wrap of the day's breaking news, sign up now for a complimentary subscription to America Airline Daily.
North & South America selected airlines daily share price movements (% change): 14-May-09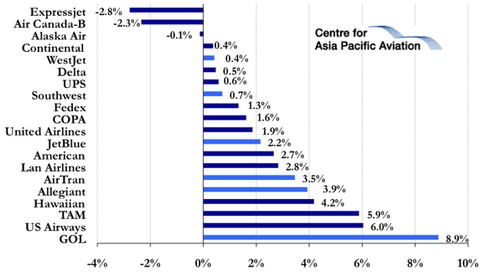 GOL Financial and Operating Results
The 1Q09 results reflects GOL's better positioning in the domestic and Latin America markets, stimulating demand with low tariffs and high quality services that allows intelligent yield management, flexible flight bookings in one of the largest e-commerce platforms in Brazil and also based on GOL's low operating costs.
With solid cost control and yield management across the first quarter, the GOL-Varig operational consolidation, route restructuring, and greatly reduced fuel prices, "which returned to pre-1Q08 levels", GOL posted an EBITDAR margin of 23.7% in the quarter, 8.4 percentage points above the 15.3% recorded in 1Q08.
EBITDAR improvement 1Q08 vs 1Q09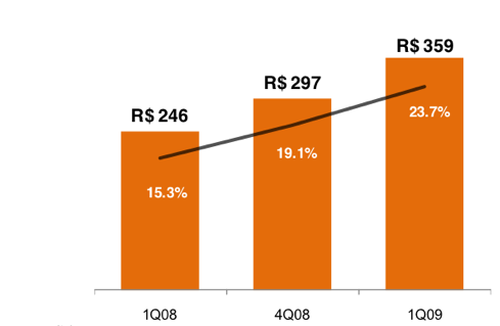 GOL has been able to leverage its revenue-cost margin extremely effectively.
The 1Q09 RASK - CASK spread was BR01.10 cents, 147.4% higher than the previous comparable quarter's spread of BR0.44 cents and 93.3% higher than the BR0.57 cents recorded in 4Q08, as fuel prices started to decline.
GOL's CASK ingredients, 1Q08 to 1Q09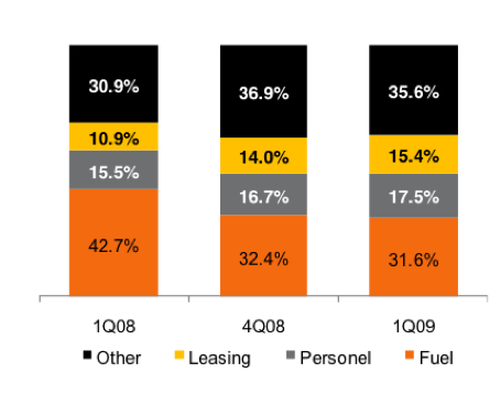 Report highlights for 1Q09
According to GOL, the quarter showed "a still unfavorable but stable economic environment", helped by reduced fuel prices.
But the carrier has clearly made large steps towards the complex integration of international long haul and the basic LCC operations. In Apr-2009 GOL signed a commercial cooperation agreement with Air France-KLM, "aimed at integrating their respective mileage programs (SMILES and Flying Blue) and implementing a bilateral code-share agreement".
This agreement "is part of GOL's strategy to form partnerships with some of the most important airlines in the long-haul segment, adding value to SMILES and feeding traffic to GOL's network."
Net income for 1Q09 was BR61.4million, with a net margin of 4.0%, against net losses of BR20.5million in 1Q08 and BR541.6million in 4Q08;
EBITDAR margin was 23.7% (BR359.3million) in 1Q09, against 15.3% (BR245.7million) in 1Q08 and 19.1% (BR296.5million) in 4Q08;
Net revenue, at BR$1,517.0million, was down 5.4% from 1Q08 and 4Q08, as the routes structures of GOL were rationalized with the former Varig's
Operating costs and expenses were BR1,411.9 million, down 9.2% on 1Q08, again due to the rationalisation
Fleet growth slowdown. GOL has "rescheduled the delivery of 20 Boeing aircraft from 2011 and 2012 to between 2011 and 2014".