United Airlines San Francisco-Hangzhou route emphasises new focus on secondary China gateway service
Analysis
United Airlines plans to open three weekly 787-9 flights between San Francisco and Hangzhou from 13-Jul-2016, according to Chinese news site Carnoc. Hangzhou in eastern China will be the third example of United flying to a secondary Chinese city after Chengdu (opened in 2014) and Xi'an (due to open May-2016). No other North American airline serves a secondary Chinese city, so United's growth – with an expectation to open a new Chinese city every year – could influence future decisions. A Hangzhou link could be a partial substitute for United's unsuccessful attempts to secure additional slots at nearby Shanghai Pudong; both KLM and Qatar Airways serve Hangzhou in addition to Shanghai Pudong.
While no other North American airline links the continent with a secondary Chinese city, four Chinese airlines do, and three more Chinese operators could open service later in 2016. Sichuan Airlines was the first with its 2012 Shenyang-Vancouver service. There were no secondary routes in 2013; there were two in 2014 and there was one route in 2015. United's Hangzhou route is the eighth secondary China-North America route that is in some form of proposal for 2016, firmly cementing 2016 as the year of secondary routes from China to North America. The result in 2016 could be that more Chinese cities have service to North America than they do to Europe.
Hangzhou to be United's third secondary Chinese city, its fifth in total
United Airlines from 13-Jul-2016 will open three weekly 787-9 services between its Asia-Pacific gateway at San Francisco and Hangzhou, according to an article in Carnoc. United has not officially announced the service, nor has it publicly applied to the US DoT for route authority. However leaks of Chinese routes are not unusual, and the Carnoc article was unusually detailed for a report of such a matter in citing frequency, aircraft and a launch date.
Hangzhou is in Eastern China, 166km southwest of Shanghai. The two cities are linked by very high frequency High Speed Rail service. Hangzhou could become United's third secondary China destination after Chengdu (2014) and Xi'an (due to open May-2016). United serves Beijing and Shanghai in mainland China, making Hangzhou United's fifth destination in mainland China – more than those of other North American airlines.
Other North American airlines have not branched out beyond Beijing and Shanghai. Delta has stated that it plans to access other cities via SkyTeam partners (notably China Eastern and China Southern) while American Airlines does not think it is ready for secondary Chinese cities. United has long served China under its own brand and has been the largest North American airline in China. Air Canada is in a similar position to American's in focusing on the primary gateways of Beijing and Shanghai and not having a strong partnership option yet – an Air China-Air Canada JV is still in the works.
Map of United's secondary China destinations (Chengdu, Hangzhou and Xi'an) in red, and select reference cities in black
United's Hangzhou service could partially fulfil attempts for greater presence around Shanghai
Hangzhou is one of China's wealthiest areas, and by some measures is wealthier than Shanghai. Numerous companies, including Alibaba, are based in Hangzhou. KLM and Qatar Airways have long haul services to Hangzhou despite also serving Shanghai. Ethiopian Airlines ended Hangzhou service with its launch to Shanghai.
Long haul overlap between Hangzhou and Shanghai: Jul-2016
Hangzhou has been itching for its own long haul routes, and local subsidies could have been attractive – as was surely the case for United's services to Chengdu and Xi'an. However another factor is a possibility that is unique to United: launching Hangzhou as an alternative way to grow its presence around Shanghai.
United announced its Xi'an service approximately eight months before launch. A formal announcement of Hangzhou service for launch in Jul-2016 would have a launch period of four months, half that of Xi'an.
Hangzhou would be United's second Asia development in approximately a month, following its late Jan-2016 announcement of nonstop San Francisco-Singapore service. Hangzhou would become United's 12th Asian airport served nonstop from San Francisco, up from six in 2010.
See related report: United Airlines Asia strategy & Singapore-US market evolve with Singapore-San Francisco nonstops
United has encountered difficulty (apparently with protectionist overtones) at Shanghai Pudong in securing slots for a second daily San Francisco-Shanghai Pudong service that United first proposed in Nov-2014, but the airline has had to delay a third time. There is no guarantee that United will be able to launch the second daily service in the near future. Hangzhou could be a partial solution for United's struggles to increase its access to Shanghai. Although not an equal substitute, Hangzhou expands United's presence around Shanghai.
Some passengers on United's Shanghai service would already be going to/from Hangzhou, meaning that those passengers could fly direct to Hangzhou, freeing up capacity on United's existing Shanghai services.
As CAPA has previously explained of United's situation:
United's third start-up extension request said: "Unfortunately, while United continues to pursue slot times at Shanghai that would support its desired operations, it has not yet been able to secure slots." Beijing and Shanghai, among other airports, are capacity-constrained. Yet the slot environment is opaque. While United has still not been able to secure Shanghai slots for a service announced in Nov-2014, Delta has been able to obtain Shanghai slots for a Los Angeles-Shanghai Pudong flight that it announced in Jan-2015 (after United) and commenced in Jul-2015.

It is unclear whether Delta obtained a new slot or worked with SkyTeam partner China Eastern, which is based in Shanghai... While United continues to face difficulties obtaining slots, Austrian Airlines and British Airways have been able to obtain Shanghai Pudong slots (including movements at peak hours) even though both are, for now, competitors to China Eastern, albeit not nearly to the degree of China Eastern and United.

Shanghai Pudong experienced significant movement growth in 2015 as slots became available following the completion of a new runway. It is understood that slots made available from the runway will be phased in over a few years, meaning that there are still new slots available for allocation. Shanghai Pudong system movements were up 11.5% in 2015, including 12.1% internationally.

This indicates faster growth in international movements than domestic movements as a result of proportionally more slots being available for international services.

United's slot challenge cannot be because of a lack of slots (they exist), but rather their allocation to airlines other than United.

Shanghai Pudong Airport monthly international aircraft movements: 2010-2015
Timeline of United's second San Francisco-Shanghai Pudong service: 2014-2016
| | |
| --- | --- |
| Date | Action |
| 13-Nov-2014 | United requests seven additional frequencies from San Francisco to Shanghai to give it twice daily service |
| 21-Nov-2014 | US DoT approves United request for seven additional frequencies from San Francisco to Shanghai to give it twice daily service |
| 29-Jun-2015 | US DoT grants United's motion for 60-day start-up extension from 15-Jul-2015 to 13-Sep-2015 (first delay) |
| 13-Aug-2015 | US DoT grants United's motion for 60-day start-up extension from 13-Sep-2015 to 26-Mar-2016 (second delay) |
| 27-Jan-2016 | United requests additional start-up extension, from 26-Mar-2016 to 29-Oct-2016 |
| 03-Feb-2016 | American Airlines urges US DoT to approve United's motion for start-up extension |
| 09-Feb-2016 | US DoT grants United's motion for start-up extension (third delay) |
See related report: Delayed Haneda slot talks produce agreement. Delta's divide on Tokyo unites American and United
The outcome could be two trans-Pacific services for Hangzhou in 2016: in addition to United's proposed Hangzhou-San Francisco flight, Sichuan Airlines has applied to China's regulator (but has not yet been approved, nor has it applied to the US) for Hangzhou-Los Angeles service as part of a Chengdu-Hangzhou-Los Angeles routing. Sichuan's proposed Hangzhou-Los Angeles service overlaps with China Eastern's Shanghai and Nanjing services to Los Angeles. China Eastern also serves Shanghai-San Francisco, which will have some overlap with United's Hangzhou-San Francisco service.
Sichuan was likely a minimal factor in United's planning, if a factor at all: Sichuan will largely be selling Los Angeles as an end destination and will have limited visibility in ex-US sales. United will be able to sell Hangzhou to San Francisco with connections to its entire US/North American network, and United will have strength in selling ex-US.
China Eastern Los Angeles services from Shanghai Pudong and Nanjing (red dots), proposed Sichuan Airlines Hangzhou-Los Angeles (green dot), and reference cities of Beijing, Chengdu and Guangzhou (black dots)
See related report: Air China's Melbourne-Shenzhen route application an example of China's network fragmentation
United Airlines is the largest airline between China and the US, but Air China is narrowing the gap
United Airlines is the largest airline between China and the US, a title it has long held. But it is seemingly only a matter of time until the second largest, Air China, overtakes United once and for all. Air China has significantly narrowed the gap in size with United since mid-2015. According to OAG, Air China briefly overtook United in 2015.
In the week commencing 29-Feb-2016 United had an approximately 23% seat capacity share of the China-US market, compared with Air China's 19%. China Eastern (which is also quickly narrowing the gap) is third largest with 15%.
China to United States of America (seats per week, one way): 19-Sep-2011 to 1-Aug-2016
In the broader China-North America market, Air China and China Eastern are the largest airlines.
China to North America (seats per week, one way): 19-Sep-2011 to 1-Aug-2016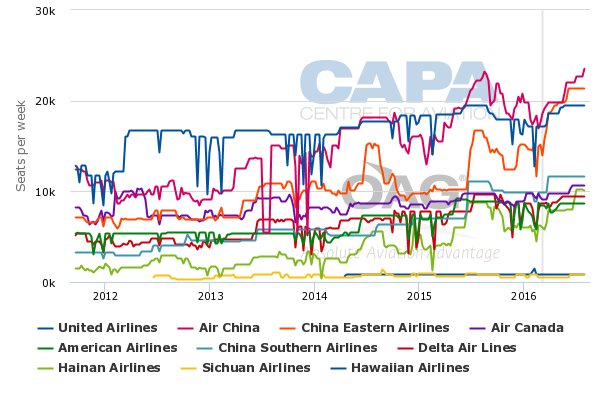 2016: the year of secondary routes from China to North America
United's possible Hangzhou-San Francisco service will be one of eight services that are so far in some preparatory stage for opening between North America and a secondary Chinese city in 2016 . Only one route – Hainan's Changsha-Los Angeles – has so far been opened. Not all eight may materialise but it is likely that there will be additional services, given the short lead time Chinese airlines generally work with in launching new long haul services.
The first North America-secondary Chinese city route was launched in 2012, with Sichuan Airlines' Shenyang-Vancouver service. There were no secondary routes in 2013, but two in 2014 and one in 2015. Four secondary routes opened between 2012 and 2015, and now that figure will double – at least – in a single year. 2017 already has one flagged route, Xiamen Airlines' Fuzhou-New York.
Launch of North America-secondary China routes: 2012-2017 (* denotes proposed)
Chinese airlines have advantages serving secondary markets. China is for now a largely outbound market, giving Chinese airlines the local market, especially when they partner with travel agencies. Group sales can account for a higher share of passengers on secondary routes than those from Beijing, Guangzhou and Shanghai.
Those three cities, and Beijing and Shanghai in particular, tend to have more independent travellers as well as more inbound demand. Secondary routes can be unprofitable but Chinese airlines are usually willing to stomach losses for long term opportunity.
They tend to be more long term focused than their Wall Street-sensitive US peers. Further, China generally restricts one Chinese airline to operating a long haul route, which encourages Chinese airlines to grab whatever routes they can and fly them before a competitor does.
Until there is US-China open skies, secondary markets will be an important growth driver for Chinese airlines. The US-China air services agreement has different frequency allocations for primary and secondary gateways. Airlines from both sides will use up primary allocations, leaving secondary allocations. Chinese airlines will be able to take greater advantage of these than US airlines.
See related reports:
Chinese airports with North American service catching up to North American airports with Chinese service

The growth in secondary routes, led by Chinese airlines, has meant a rapid increase in the number of Chinese airports with service to Canada/US. Historically they have lagged well behind Canadian and US airports. Until 2012, only three Chinese airports had service to Canada/US. Service from these three Chinese cities reached 12 Canadian/US airports. Chinese airports with trans-Pacific service grew to four in 2012, six in 2016, seven in 2015, and in 2016 they could double to 14.
As recently as 2013 there were three times as many Canadian/US airports with Chinese service as there were Chinese airports with Canadian/US service. In 2016 the gap will be narrowed to 14 Chinese airports having Canadian/US services, compared with Chinese services to 17 Canadian/US airports.
Unique routes between China and Canada/US have grown from 14 in 2006 to 22 in 2011, to 30 in 2014, and so far in 2016 will grow to 46, a doubling in four years, reflecting the accelerated – if frantic – pace of development.
Chinese airports with Canada/US service, and Canada/US airports with Chinese service (left axis) and airport pairs (right axis): 2006-2016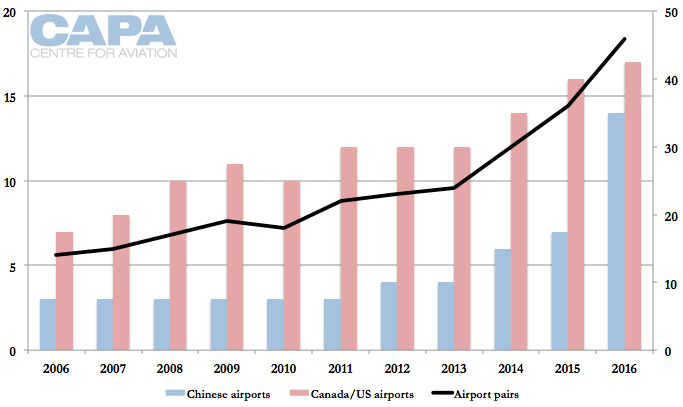 Beijing and Shanghai still define the China-North America market, accounting for 87% of flights
The rapid growth expected in 2016 could also mean that the year marks the point when more Chinese airports had service to North America than Europe. So far 16 Chinese airports are scheduled to have service to Europe in 2016, compared with 14 so far for 2016.
Although there will be more long haul services at Chinese airports, Canada and US flights remain heavily concentrated at Beijing and Shanghai. Of the routes that are open for reservation in 2016, 87% of frequencies are to only two airports, Beijing and Shanghai. Including Guangzhou, the share rises to 96%. Six airports split the remaining 4%. Even if all of the proposed routes for 2016 (and more) eventuate, it will be years before there is a chance of Beijing and Shanghai experiencing a noticeable decline in their position.
The next few years will likely have more secondary routes opened up. The phased introduction of slots at Shanghai Pudong (to - apparently - select airlines) and the opening of Beijing's new airport later this decade will allow more services to be introduced to the country's two primary gateways. This will reinforce the desire from foreign airlines for equal slot access, without which air service expansion could be jeopardised, although some – Delta, a future American partner for HNA – could advocate open skies, something that would allow them to form joint ventures.
The secondary long haul market will fragment within itself and become competitive as Chinese airlines plan to launch effectively whatever routes they can, and try to gain a position in competitors' home markets.
China's usually prescriptive regulators had not envisaged such untidy development, largely a result of the restrictions on operation by more than one Chinese airline on long haul routes. Flying secondary routes has been an escape valve for mostly private airlines to gain access to long haul international routes. The regulators will probably be keen invite a clean-up at some point. No secondary route has been cancelled yet but that could change, especially if fuel prices increase. The policy change to allowing ten year visas between China and Canada/US, combined with low fuel prices, have accelerated trans-Pacific growth. The peak is not yet in sight.