Turkish Airlines: the positives of global super-hubbing can turn awry as 2Q unit revenue falls
Turkish Airlines' operating profit fell in 2Q2015 compared with the same period a year earlier, after three successive quarters of improving results. It suffered a very heavy fall in unit revenue, mainly due to weak yield, but also the result of a dip in load factor. Pricing softness owed much to foreign exchange movements, but also highlighted a weaker balance of demand versus supply in a number of THY's many markets.
Turkish Airlines' strategy of connecting global traffic flows through its Istanbul hub has driven sustained growth over a number of years. However, this can also leave it exposed to a wide range of external demand risks around the globe and this is undoubtedly weighing on unit revenue and profits at the moment. It is also in the middle of a period of fierce competition with LCC Pegasus Airlines at Istanbul's second airport Sabiha Gokcen, the result of capacity constraints at Ataturk before the building of a new airport by the end of the decade.
Turkish Airlines' 2Q2015 net income was up 33% year on year to USD253 million, but this result was assisted by foreign exchange gains on both operational and financial activities. The operating profit, which excludes these items, fell by USD88 million, or 42%, to USD120 million. Revenue dropped by 12% to USD2,570 million and the operating margin shed 2.5ppts to 4.7%.
The lower operating result for 2Q more than offset the USD33 million improvement achieved in 1Q, so that Turkish Airlines' 1H2015 operating profit fell by 52% to USD 50 million. Revenue was down 8% in 1H2015 and the operating margin was just 1.0%, compared with 2.0% in 1H2014.
See related report: Pegasus Airlines and Turkish Airlines: improved 1Q2015 margins thanks to lower fuel prices
Turkish Airlines summary profit and loss account (USD million) 2Q and 1H 2015 versus 2014

ASK growth of 11.8%, strongest growth to Americas, but load factor dips
THY increased ASKs by 11.8% in 2Q2015, a modest acceleration on 1Q's growth of 9.4%. Its 2Q load factor dropped by 1.5 ppts to 78.6% as RPK growth of 9.7% did not match the capacity increase. Capacity growth, in ASKs, was highest on routes to North America (+22.0%), thanks to new routes to Boston, Montreal and San Francisco, followed by Asia/Far East (+14.9%), where Taipei and Manila were added as new destinations.
There were ten new routes in Europe/CIS, helping to drive ASK growth of 10.4%, but THY suspended its Donetsk and Simferopol services as a result of the political situation in Ukraine. Much of the Europe growth came from THY's second Istanbul base at Sabiha Gokcen. In Africa, ASKs were up by 7.8% as new routes including Abuja (Nigeria) and Bamako (Mali) were offset by route suspensions (Tipoli, Misrata and Benghazi). Capacity to the Middle East increased by 'only' 6.4%, as THY suspended services to Musul, Sana'a and Aden, but launched Ahvaz (Iran).
Domestic capacity rose strongly (ASKs +14.7%), with Sabiha Gokcen again the focus of much of THY's short haul growth.
Turkish Airlines traffic and operating data 2Q2015 versus 2Q2014
| | 2Q2014 | 2Q2015 | change |
| --- | --- | --- | --- |
| RPK million | 27,245 | 29,877 | 9.7% |
| ASK million | 34,017 | 38,021 | 11.8% |
| Passenger load factor% | 80.1 | 78.6 | -1.5 |
| RASK USc | 8.55 | 6.76 | -20.9% |
| CASK USc | 7.93 | 6.44 | -18.8% |
| ex fuel CASK USc | 5.00 | 4.46 | -10.8% |
Turkish Airlines capacity, yield and unit revenue development by region 2Q2015 versus 2Q2014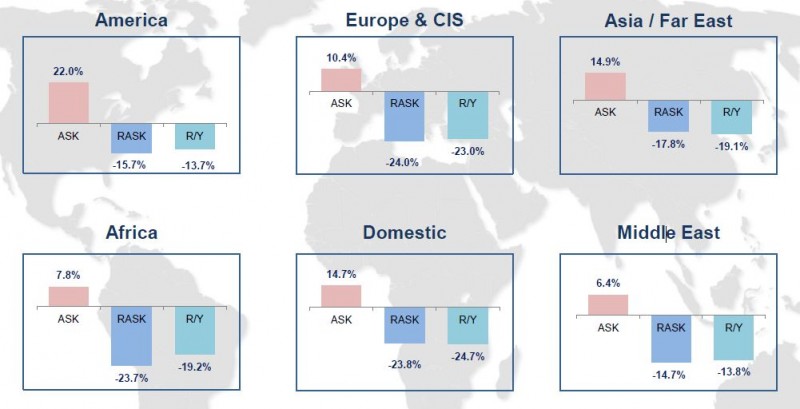 RASK was down 20.9%, with double digit decline in all regions
THY's unit revenue (revenue per ASK, RASK) fell by 20.9% year on year in 2Q2015, with all regions suffering a double digit rate of decline. Short/medium haul markets (Europe/CIS and the domestic market) experienced the heaviest fall in RASK (-24% in both cases), due to a number of factors.
These factors included the shift in Ramadan to include half of June; softer tourism demand in the domestic market to/from Russia, Ukraine and Japan (transfer traffic between the domestic and international markets fell to just 6% of passengers in 1H2015, compared with 13% in 1H2014); weaker beyond traffic in Europe to/from Africa and Middle East; and the strong competitive capacity growth at Sabiha Gokcen (where both THY and LCC Pegasus have implemented rapid growth).
See related reports:
Pegasus Airlines: weak unit revenue drags 2Q into operating loss. Sabiha Gokcen remains competitive
Pegasus Airlines & Turkish Airlines: Turkey's aviation booms, Istanbul Sabiha Gokcen Airport gains
THY also felt a 24% drop in RASK on routes to/from Africa, much of which is also medium haul from Istanbul and served by narrow body aircraft. The depreciation of local revenue currencies played a part in this weakness (as in CIS states), but it was also affected by geopolitical uncertainties and market capacity growth.
RASK fell by 18% in Asia/Far East, the result of a number of factors, including market capacity growth, weak demand to/from Japan, the earthquake in Nepal and currency movements. Unit revenue to/from the Americas (RASK -16%) was adversely affected by weaker beyond traffic to/from the Middle East and increased market capacity. In the Middle East, unit revenue was also soft (RASK -15%) due to weaker traffic from Israel, Jordan, Iraq and Yemen.
Turkish Airlines passenger breakdown 1H2015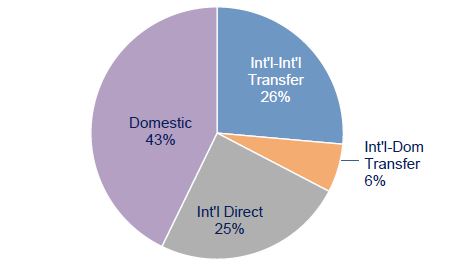 Revenue falls by 11.6%
Revenue fell by 11.6% year on year as the very weak RASK performance more than offset capacity growth. This was principally driven by scheduled passenger revenue, which fell by 11.8 and accounted for 88% of the total in 2Q2015. Cargo revenue outperformed, falling by only 3.2%.
The only route region in which traffic revenue experienced positive growth was America, where growth in ASKs was greater than the fall in RASK.
Turkish Airlines revenues (USD million) 2Q2015 versus 2Q2014
| USD million | 2Q2014 | 2Q2015 | Change | % of 2Q2015 total |
| --- | --- | --- | --- | --- |
| Scheduled passenger revenue | 2,577 | 2,273 | -11.8% | 88% |
| Cargo | 249 | 241 | -3.2% | 9% |
| Charter | 22 | 14 | -36.4% | 1% |
| Other | 59 | 42 | -28.8% | 2% |
| Total revenue | 2,907 | 2,570 | -11.6% | 100% |
Turkish Airlines passenger and cargo flight revenues (USD million) 2Q2015 versus 2Q2014
| USD million | 2Q2014 | 2Q2015 | Change | % of 2Q2015 total |
| --- | --- | --- | --- | --- |
| | 935 | 774 | -17.2% | 31% |
| Far East | 620 | 578 | -6.8% | 23% |
| | 353 | 315 | -10.8% | 12% |
| America | 317 | 330 | 4.1% | 13% |
| | 235 | 191 | -18.7% | 8% |
| Total international | 2460 | 2188 | -11.1% | 87% |
| Domestic | 388 | 340 | -12.4% | 13% |
| Total passenger and cargo flight revenue | 2848 | 2528 | -11.2% | 100% |
Turkish's costs were down by 9.2%
Operating costs were down by 9.2% year on year in 2Q2015, significantly less than the increase in ASKs, but also less than the fall in revenue. Fuel costs fell by 24.3%, thanks to lower market prices for jet fuel, while non-fuel costs were more or less flat (-0.4%). Total cost per ASK (CASK) were down by 18.8%, not quite as big a fall as the drop in RASK, but ex fuel CASK was down by only 10.8%.
THY paid an average fuel cost per ASK in 2Q2015 that was 32.3% below its 2Q2014 level. If it had paid the same fuel CASK as a year earlier, we calculate that its costs would have been USD360 million higher in 2Q2015 and this would have taken its operating result well into negative territory.
Turkish Airlines operating costs (USD million) 2Q2015 versus 2Q2014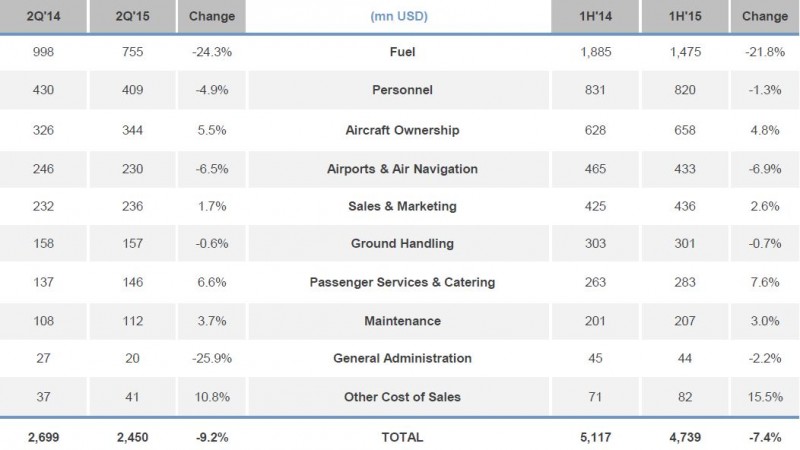 For FY2015, Turkish Airlines continues to plan ASK growth of 15%.
This means growth of 19% in 2H2015, faster than 1H's increase of 10%, driven mainly by America, Middle East and domestic Turkey. This acceleration of capacity growth is likely to mean further yield weakness, a point acknowledged by THY, although it expects constant currency yield pressure to ease and says that there is a better demand outlook for the peak 3Q season.
It targets 2015 total revenue close to USD11 billion (2014: USD11.1 billion) and both higher EBITDAR (earnings before interest, tax, depreciation and rental payments for operating leases) and a higher EBITDAR margin than in 2014. It achieved higher EBITDAR in 1H2015, but operating profit fell. The key looks likely to be the performance of RASK in 2H.
Turkish's RASK under-performed against CASK for the first time in four quarters
Roughly half of THY's dramatic 20.9% RASK decline in 2Q2015 was because of the weakness of currencies in which much of its revenue is earned, relative to its functional currency of USD, on which its international reporting and our analysis is based.
However, currency movements were also a significant factor in the creditable reduction in CASK. The net contribution of currency to the USD88 million year on year fall in the 2Q2015 operating result was just USD18 million.
What is important is the difference between RASK growth and CASK growth and the cut in unit cost was not enough to offset the drop in unit revenue and this led to lower operating profit.
The spread between RASK growth and CASK growth turned negative once more in 2Q2015, after three successive positive quarters.
Turkish Airlines year on year growth in USD-reported RASK and CASK by quarter 1Q2013 to 2Q2015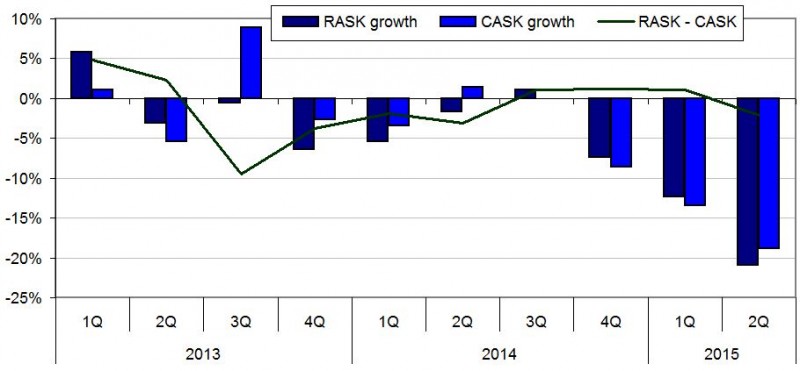 Turkish Airlines' Istanbul hub super-connector strategy has proved robust over a number of years and is likely to remain so.
Nevertheless, the current combination of strong domestic competition with Pegasus at Sabiha Gokcen and currency and geopolitical uncertainties in a number of THY's markets, which affects both direct and beyond demand, appears to be testing this robustness.