Turkish Airlines SWOT: a recent pattern of falling quarterly profits, but many strategic strengths
Analysis
Benefiting both from a large and growing home market and from its strategy to increase transfer traffic, Turkish Airlines (THY) continues to achieve double digit growth in traffic and revenues. Nevertheless, THY reported a year on year drop in its operating profit in 2Q2014 for the fourth successive quarter (although net profit increased due to non-operating items). It was also the fifth successive quarter to suffer a fall in unit revenue (RASK, expressed in USc).
Although it has an efficient cost structure by FSC standards, it has struggled in recent quarters to lower CASK enough to offset downward pressure on RASK. In this report, we put THY's recent quarterly results performance into a more strategic perspective by looking at its strengths, weaknesses, opportunities and threats.
Turkish Airlines financial highlights: 2Q2014 and 1H2014 versus 2Q2013 and 1H2013

1. Geography: hub and home market are well positioned
Turkey has one of Europe's highest populations (75 million inhabitants), but is relatively underpenetrated by air travel by comparison with the larger countries in Western Europe. This offers further significant air traffic growth potential as Turkey's economy grows (in particular its level of GDP per head, which is below the European average).
According to historic and forecast data from Turkey's airport authority DHMI, the compound average growth rate in domestic passenger numbers from 2007 to 2016 will be 16% pa and for international passengers it will be 11% pa.
See related report: Turkey's aviation market: healthy growth to continue at one of the world's oldest cross-roads
Turkey air passengers (million): 2007 to 2016E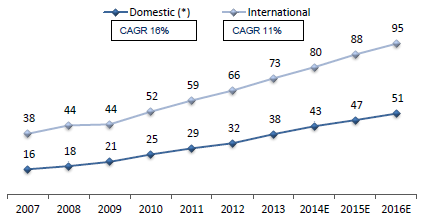 In addition to benefiting from a large and growing aviation market in Turkey, THY is taking advantage of the geographic location of its Istanbul hub to attract global transfer traffic. Istanbul is within narrowbody range of more than 40% of international traffic, including more than 55 national capital cities.
All of Europe, the Middle East, Central Asia, North and East Africa are within this range. Out of THY's existing 214 international destinations, 183 are within narrowbody range of Istanbul.
Narrowbody range to and from Istanbul with full passenger payload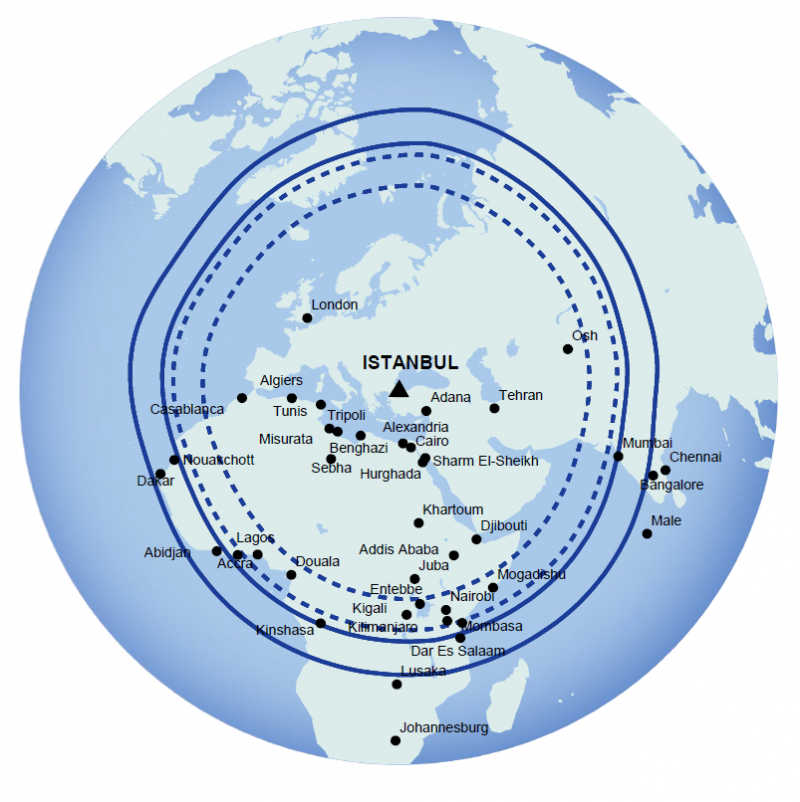 2. Traffic growth has been consistently strong
THY has maintained double digit rates of growth in passenger traffic (RPKs) since before the global financial crisis, significantly outpacing growth in world airline traffic. It expects to grow its passenger numbers by 23% in 2014 to reach 59.5 million.
Turkish Airlines and world airlines RPK growth: 2007 to 2013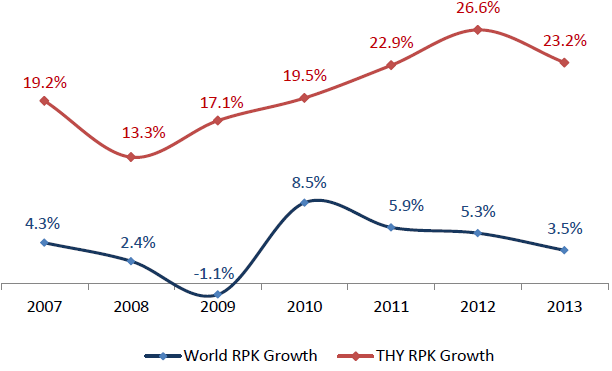 3. Turkish has a powerful European network
Compared with the Big Three Gulf carriers (Emirates, Etihad and Qatar Airways), who also have strategies based on attracting global transfer traffic flows, THY has a much stronger position in Europe. In 1H2014, 58% of its international passengers were on routes to/from Europe. According to data from OAG for the week of 18-Aug-2014, the Gulf Three each has less than 30% of their seats in Europe.
THY also has a higher number of seats and direct destinations on international routes in Europe than any of the Gulf Three.
See related report: Etihad raises its Europe profile with codeshares and equity, expanding indirect connections
The Gulf Three and Turkish Airlines: weekly international seats from their respective hubs* to Europe: Jun-2012 to Dec-2014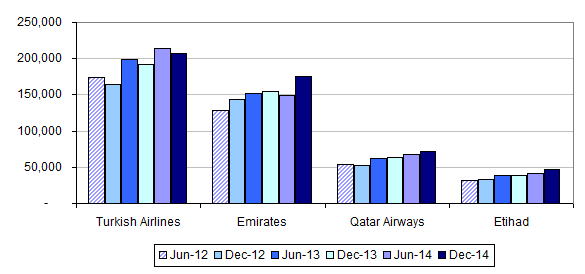 The Gulf Three and Turkish Airlines: number of direct and codeshare destinations in Europe: 16-Jun-2014 to 22-Jun-2014
| Airline | Number of direct destinations in Europe | Number of codeshare destinations in Europe | Number of codeshare partners in Europe |
| --- | --- | --- | --- |
| | 99 | 53 | 9 |
| | 35 | 5 | 2 |
| | 33 | 7 | 1 |
| | 17 | 105 | 19 |
4. Turkish's cost structure is lower than all the main FSCs
THY has a very efficient cost structure by comparison with most full service carriers. Its unit cost, expressed as cost per available seat kilometre (CASK) in USc is lower than that of the principal legacy airlines in each of the major world regions.
It has a CASK on a par with that of Emirates, but THY's average sector length is much shorter and (all other things being equal), this should give it a higher CASK than its Gulf-based rivals.
See related report: Turkish Airlines: narrowing the strategic Gulf: Part 1
Cost per available seat km (CASK, USc) for selected full service carriers: 2013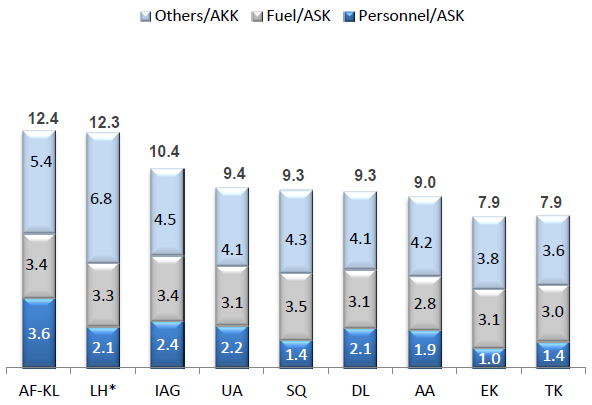 Cost per available seat km (CASK, USc) versus average stage length: 2013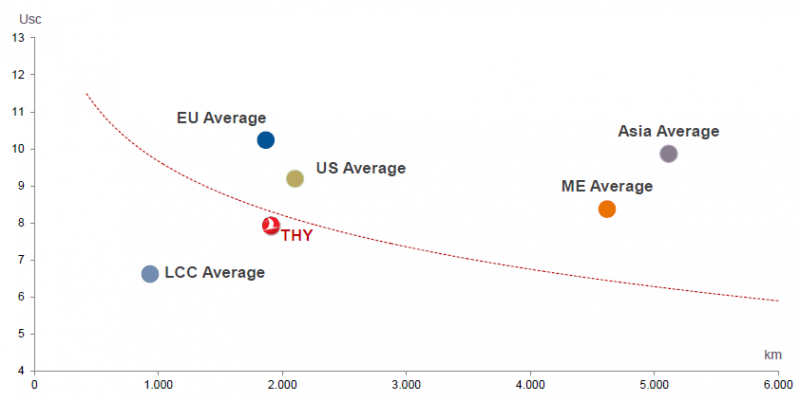 5. Turkish's brand is very strong
THY has won the Skytrax award for Best Airline in Europe for the past four years. In addition, in 2014, it won Best Airline in Southern Europe, Best Business Class Lounge Dining and Best Business Class Onboard Catering. As its route network coverage expands, this brand strength is spreading.
6. Profitability - one of the most profitable airlines globally
THY is also among the more profitable of the world's larger network airlines. Its 2013 EBITDAR margin (earnings before interest, tax, depreciation and rentals for operating leases) of 18.8% was higher than that of all of the European Big Three and the US Big Three legacy carriers and also above that of Singapore Airlines.
EBITDAR margins (% of revenue) for selected full service carriers: 2013 and 1H2014

1. Turkish's network penetration of Asia Pacific is relatively weak, especially S Asia and SW Pacific
By contrast with THY's position in Europe, where it is stronger than the Gulf Three in terms of traffic and the number of routes served, it is relatively weak in Asia Pacific. The region accounted for only around 13% of Turkish's passenger numbers in 1H2014.
This compares with around 40% for Emirates and Etihad and around one third for Qatar Airways (source: OAG, based on seat numbers for the week of 18-Aug-2014). Expansion in Asia is also an opportunity for THY and it is using partnerships to pursue this.
See related reports:
2. It is capacity constrained at Istanbul Ataturk
THY's rapid growth has brought it up against capacity constraints at Istanbul Ataturk Airport, its main hub. Compared with a declared capacity of 58 movements per hour, IST is now handling 67 per hour at peak times.
Although there are plans for a new Istanbul airport, opening in 2019, THY has had to put some of its growth into Istanbul Sabiha Gokcen Airport, particularly for local demand and for Europe to Middle East and Central Asia connections. This is the main base of LCC rival Pegasus Airlines and THY's capacity expansion there has led to downward pressure on yields. Pegasus' CASK is around one third lower than THY's and is better placed to cope with lower yields than THY.
Better ATC measures and a new international terminal (construction is due to start in Sep-2014) should ease the capacity constraint at Ataturk pending the construction of the new airport. In addition, capacity expansion (runway and terminal) at Sabiha Gokcen should ensure that it can continue to cope with the strong growth of both THY and Pegasus. For THY, however, its transfer traffic strategy is less efficient across two hubs than if it were exclusively focused on Ataturk.
(The capacity constraint at THY's home hub is in some ways also a strength; it limits opportunities for foreign airlines to intrude into its territory. Meanwhile, Turkish operates over 75% of the capacity at Ataturk Airport.)
Istanbul's geographic location positions it better than the Gulf for connecting traffic between Europe and Africa.
THY has more seats flying to North Africa than any of the Gulf Three, but there is an opportunity for it to increase its network to other parts of the continent, in particular Southern Africa where Emirates has a strong lead.
2. Load factors can still be improved
THY has achieved creditable load factor gains in recent years, adding more than 8 ppts between 2009 and 2013. However, its overall level of 79.0% in 2013 was below the AEA average of 80.1% and this seems to suggest an opportunity for further improvements.
Turkish Airlines passenger load factor: 2009 to 2013 and 1H2013 & 1H2014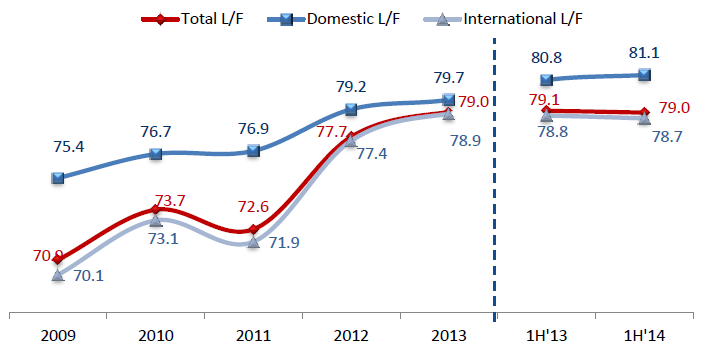 3. Daily utilisation can still be improved
As with load factor, THY has achieved increases in average daily aircraft utilisation in recent years.
Its 2013 level of more than 12 hours compares favourably with global and European averages in the range of eight to nine hours, but is a little lower than the levels achieved by the Gulf Three. THY's relatively higher proportion of short and medium-haul routes is, to some extent, a limiting factor, but it has an opportunity to drive further improvements.
Turkish Airlines average daily aircraft utilisation (hours): 2009 to 2013 and 1H2013 & 1H2014

3. The new Istanbul Airport should allow expansion
The new Istanbul airport will open in 2019 with capacity for 90 million passengers, increasing to 120 million and then to 150 million by 2027, well over three times the capacity of Ataturk. This should give THY sufficient room to grow into the longer term.
See related report: Massive capacity expansion is planned for Istanbul airports, with competing private interests
4. Widebody orders will support long-haul expansion, especially to Asia where Turkish is still small
According to THY's 1H2014 results presentation, its fleet at 30-Jun-2016 comprised 50 widebody aircraft (plus nine freighters) and 198 narrowbodies. It also had 33 widebodies on order and 217 narrowbodies on order (including options).
The balance of its fleet is always likely to remain skewed in favour of single aisle aircraft, but it has long been pondering an order for additional long-haul jets. It is reported to be considering Airbus' A330neo and A350 and Boeing's 777X and 787.
At the larger end of the twin aisle market, Turkish is also reported to be considering the A380 and Boeing 747-8. A larger long-haul fleet will give it a platform to pursue new markets in Asia, southern Africa and the Americas.
5. SunExpress can be adapted to combat both short and long-haul low cost competition
Together with Lufthansa, THY has a 50% stake in LCC SunExpress, which flies between Europe (mainly Germany) and leisure destinations in Turkey. It also operates flights on behalf of THY's domestic subsidiary Anadolujet.
SunExpress could be a platform with which to counter increased competition from LCCs to Europe. In addition, Lufthansa is known to be discussing with SunExpress the possibility of using it as a platform for low-cost long-haul operations.
See related reports:
1. LCC competition is strong and growing
Currently, both THY and Pegasus are achieving double digit rates of growth. To some extent, they have a different focus, with THY driving more growth from transfer traffic and Pegasus carrying a higher percentage of point to point passengers.
However, THY's LCC competitor also carries transfer passengers and THY's expansion at Sabiha Gokcen is increasing the level of competition between the two, particularly on domestic routes. Moreover, Sabiha Gokcen is also used by other LCCs such as Atlasjet, Germanwings, flynas, Transavia and Wizz Air.
2. Geopolitical events can disrupt services
Geopolitical events are a generic risk for all airlines, but Turkey's proximity to some Middle Eastern trouble spots and its own domestic uncertainties arguably increase THY's exposure to risks of this nature.
3. Gulf airline competition will increase
As noted elsewhere, THY faces continued competition from the fast growing Gulf based carriers that are also using their hubs to attract global transfer traffic flows.
The Gulf Three have a geographic advantage in attracting connecting passengers to/from Southern Asia and Australasia and have also been successful in developing high quality service and strong brands. Although THY has a superior network in Europe, Etihad's strategy of aggressively adding codeshare partners, coupled with its equity alliance, is giving it a significant indirect presence in Europe.
4. Profitability, while still market leading for FSCs, is slipping
In 1H2014, THY's margins have fallen. Moreover, while it is more profitable than the majority of legacy carriers, its margins are below the average level achieved by LCCs.
5. Transfer traffic is lower yielding, so costs become a challenge as the transfer proportion grows
All other things being equal, connecting flights between two points where a direct link is available tend to be lower yield. As THY continues to increase transfer traffic as a percentage of the total, this means that it must continue to adopt a rigorous approach to keeping its costs as low as possible in order to offset downward pressure on unit revenues. It must also be wary of the danger of expanding too quickly, since this depresses unit revenues.
With its 2Q2014 results, however, THY has now had four successive quarters when the year on year growth in RASK has under-performed against the growth in CASK (both expressed in USc). 2Q RASK fell 1.7%, while CASK was up 1.4%.
Turkish Airlines year on year growth in USD-reported RASK and CASK by quarter: 2013 -2Q2014

Turkish Airlines: Outlook. Still healthy, but costs must be controlled
Following the weaker 2Q and 1H results, THY has revised its fleet plan down to the tune of five narrowbodies this year and now targets a year end aircraft fleet size of 262. This makes sense given the link between rapid capacity growth and weak unit revenues.
THY reports that forward bookings indicate a positive demand outlook for 3Q2014 and a stable yield outlook for 2H. Nevertheless, this does not yet suggest that a strong bounce-back in RASK is imminent and so it will have to focus sharply on CASK if it is to reverse the recent trend of falling quarterly operating profit.
See related reports:
Under its current fleet plan, seat capacity growth will slow from 15% in 2014 to 11% in 2015. This is still a rapid rate of growth, but the deceleration may give some support to unit revenues. THY has strategic advantages such as the Turkish domestic market and growth potential, the geographic location of the Istanbul hub, its strong European network and a low level of unit cost.
If it can reverse the current trend of unit revenues under-performing against unit costs, THY should be able to generate healthy and sustainable levels of profitability.