Turkish Airlines: quarterly operating profit falls in 3Q2013, but cargo activity strengthens
Analysis
Turkish Airlines' 3Q2013 net profit was level with the same period last year, but only thanks to non-operating items. The operating result for the quarter was below that of 3Q2012 as RASK growth failed to beat CASK growth for the first time this year. The carrier's capacity and revenue growth continue at double digit rates, so maybe the occasional stumble is inevitable.
The brightest aspect of the 3Q results was what looks like the beginning of a rebound in cargo activity, which significantly outpaced the passenger business in terms of growth versus last year. Nevertheless, cargo is only 8% of revenues and the passenger operation business continues to be the major driver of the business.
Management will be looking to demonstrate that the weakening of unit revenue growth and strengthening of unit cost growth are not the start of new trends.
3Q2013 operating profit falls after gains in 1H2013
In 3Q2013, Turkish Airlines (THY) saw its operating profit fall by 14% versus last year to TRY864 million (USD441 million). Operating margin declined by 7.6 ppts to 15.2%. Revenues grew by 28% to reach TRY5,688 million (USD2,903 million), but operating costs grew by 40%.
In spite of this, the net profit was level with last year at TRY705 million (USD360 million). This was mainly thanks to two items below the operating result. First, the group's tax charge was lower in 3Q2013 than in 3Q2012 and, second, THY's equity-accounted associates made a bigger contribution towards its net result this year (TRY104 million versus TRY15 million last year). The latter improvement principally reflected better results at 50% owned SunExpress, THY's joint venture with Lufthansa.
See related report: SunExpress: does it have a strategic value to Lufthansa & Turkish Airlines to outweigh its losses?
Turkish Airlines: 3Q2013 and first nine months results highlights
3Q2012

3Q2013

Change
3Q2013 vs
3Q2012

1Q-3Q2012

1Q-3Q2013

Change
1Q-3Q2013
vs 2012

Revenue TRY million

4,437

5,688

28.2%

11,020

13,887

26.0%

Operating profit TRY million

1,010

864

-14.4%

1,161

1,303

12.3%

Operating margin %

22.8

15.2

-7.6

10.5

9.4

-1.1

Net profit TRY million

705

705

0.1%

876.2

826.3

-5.7%

ASK million

26,461

31,984

20.9%

71,055

86,081

21.1%

RPK million

21,750

26,007

19.6%

55,407

68,696

24.0%

Load factor

82.2

81.3

-0.9

78.0

79.8

1.8

RASK kurus

16.77

17.78

6.1%

15.51

16.13

4.0%

CASK kurus

12.96

15.05

16.2%

13.96

14.69

5.2%

CASK ex fuel kurus

7.86

9.36

19.0%

8.60

9.20

7.0%

Employees

17,507

20,670

18.1%

17,507

20,670

18.1%
For the first nine months of 2013, THY's operating profit increased by 12% to TRY1,303 million (USD748 million), although operating margin fell by 1.1 ppts to 9.4%. Nine month revenues were up by 26% and operating costs by 28%. In spite of the growth in operating profit, nine month net profit fell by 6% to TRY826 million (USD444 million). This was mainly due to higher financial charges, in particular foreign exchange losses and adverse movements on derivatives, and a higher tax charge for the nine month period.
ASK growth continues at 21% and cargo volume growth accelerates
THY's strong traffic growth continued in 3Q2013. ASK growth was 20.9% year-on-year, very similar to the growth seen in the first two quarters and the 21.1% rate for the first nine months. Passenger load factor slipped back by 0.9 ppts in 3Q to 81.3%, following strong load factor gains in 1H2013 (+5.0 ppts in 1Q and +2.0 ppts in 2Q), but load factor for the first nine months remained ahead of last year (up 1.8 ppts to 79.8%).
The growth in THY's air cargo volume picked up appreciably in 3Q2013. Tons carries in the quarter grew by 24% year-on-year, an acceleration of the 15% growth rate in 1H2013. Nevertheless, cargo ton growth in the first nine months of the year, at 18%, lagged the 24% growth in passenger numbers.
Turkish Airlines traffic data: 9M2013 vs 9M2012
By region, THY's strongest growth in passenger traffic this year is to South America, which has seen passenger numbers more than double in the Jan-Oct period compared with last year, with a 9.9 ppt increase in load factor. Nevertheless, South America remains THY's smallest region by passenger numbers.
Africa is also a focus of growth for the airline and now accounts for almost the same number of THY's ASKs as the Middle East. Indeed, there have been reports that THY is looking to acquire a controlling stake in an African carrier.
THY's domestic capacity growth has accelerated in the second half of the year, with ASK growth of 26.1% in the Jan-Oct period compared with 22.1% growth in Jan-Jul.
Turkish Airlines traffic data by region: Jan to Oct-2013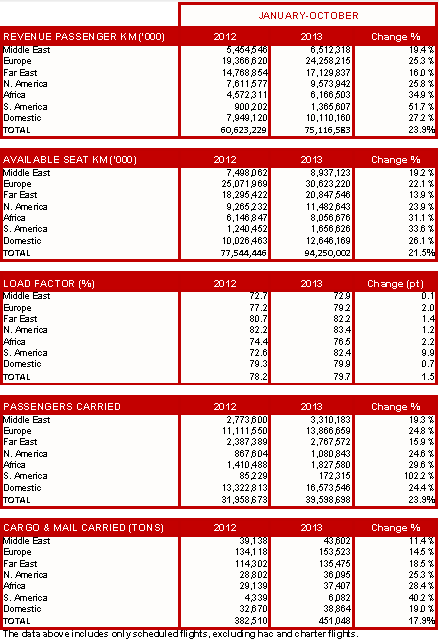 Continued growth in transfer traffic
The focus of international growth is on transfer traffic as THY continues to pursue its strategy of using its Istanbul hub to connect global traffic flows.
See related reports:
The number of transfer passengers connecting from international to international flights increased by 29% in the nine month period, compared with 24% growth in total passengers. International to international transfer passengers accounted for 40% of total international passengers, up from 39% in FY2012.
Turkish Airlines international to international transfer passengers ('000): 2006 to 2012 and 9M2013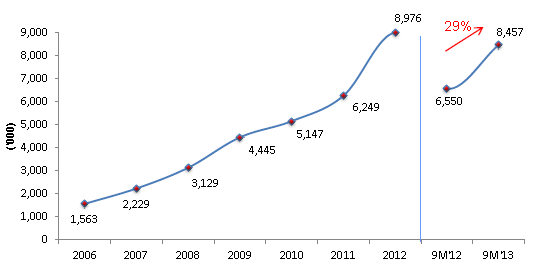 Cargo rebound helps to drive strong revenue growth
Growth in total revenues accelerated to 28% in 3Q2013, after 23% growth in 1H2013. Growth in 3Q was faster than ASK growth of 21%. This reflected not only increased scheduled passenger revenue per ASK, but also strong growth in cargo revenues, which increased by 42% year-on-year (compared with 24% growth in tons carried).
The rebound in cargo volume and pricing in 3Q, albeit from a low base, suggests the first tentative signs of a recovery in air freight markets for THY. Cargo revenues per ton grew 15% in 3Q, after only 3% growth in 1H2013.
Turkish Airlines revenue by activity: 3Q2013 vs 3Q2012
TRY million

3Q2012

3Q2013

Change
3Q2013 vs
3Q2012

% of 3Q2013
total

Scheduled passenger revenue

4,031

5,041

25%

89%

Cargo

318

453

42%

8%

Charter

42

73

73%

1%

Other

47

122

161%

2%

Total revenue

4,437

5,688

28%

100%
Turkish Airlines revenue growth year-on-year by quarter: 2013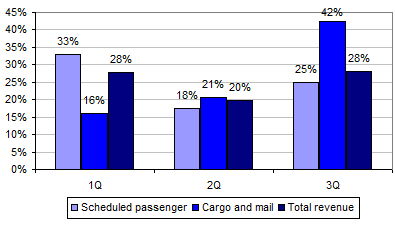 By geographical region, growth in scheduled flight revenues (which includes cargo) was strongest in Europe (+40%), America (+39%) and Africa (+36%) in 3Q2013. In Europe and America, this represents a significant acceleration of revenue growth in 1H2013 (+28% and +23% respectively), whereas revenue growth in the Far East and Middle East was much lower in 3Q than in 1H.
Turkish Airlines scheduled flight revenue by region: 3Q2013 vs 3Q2012
TRY million

3Q2012

3Q2013

Change
3Q2013 vs
3Q2012

% of 3Q2013
total

1,368

1,921

40%

35%

Far East

1,004

1,112

11%

20%

592

615

4%

11%

America

431

599

39%

11%

322

438

36%

8%

Total international

3,717

4,684

26%

85%

Domestic

632

810

28%

15%

Total scheduled flight revenue

4,349

5,494

26%

100%
Operating costs up 40%
THY's operating costs grew by 40% in 3Q2013, much faster than the growth in revenues and ASKs. Moreover the rate of growth was approximately twice the rate of cost growth seen in 1H2013.
Fuel costs, which accounted for 38% of the total, were up by 35% year-on-year, while labour costs grew at a slightly more measured 24%. For the nine month period, labour costs were up 16%, less than the headcount increase of 18%. Costs other than fuel and labour grew by 52% in 3Q2013, compared with 24% growth in 1H2013.
Turkish Airlines operating expenses: 3Q2013 vs 3Q2012
TRY million

3Q2012

3Q2013

Change
3Q2013 vs
3Q2012

% of 3Q2013
total

Fuel cost

-1,348

-1,822

35%

38%

Labour cost

-616

-764

24%

16%

All other costs

-1,464

-2,229

52%

46%

Total costs

-3,429

-4,815

40%

100%

Cost ex fuel

-2,080

-2,993

44%

62%
Currency movements inflated CASK and RASK
As was the case for Pegasus Airlines in 3Q2013, the weakening of the Turkish lira had a significant impact on THY's CASK figures. In USD, its CASK grew by 8.9% year-on-year, but, when translated into TRY, the increase was 16.2%. This is because more than half of THY's operating costs are in USD and so expenses are inflated by an appreciation of the US currency versus the Turkish currency. In USD, ex fuel CASK was flat year-on-year, but it was up 19% in TRY.
It is also worth noting that currency movements had a positive impact on THY's reported revenues in TRY. Overall, the impact on operating profit in 3Q2013 was probably broadly neutral.
Turkish Airlines unit costs, CASK, and unit revenues, RASK, in USD cent and TRY kurus: 3Q2013 vs 3Q2012
| | 3Q2012 | 3Q2013 | change |
| --- | --- | --- | --- |
| CASK USD cent | 7.00 | 7.62 | 8.9% |
| CASK kurus | 12.96 | 15.05 | 16.2% |
| Ex-fuel CASK USD cent | 4.13 | 4.12 | -0.2% |
| Ex-fuel CASK kurus | 7.86 | 9.36 | 19.0% |
| RASK USD cent | 9.13 | 9.08 | -1% |
| RASK kurus | 16.77 | 17.78 | 6.1% |
Profits are healthy but negative RASK-CASK spread in 3Q is a worry
THY has had a fairly healthy 2013 so far in terms of profitability. Its 9.4% operating margin for the first nine months would be coveted by many European competitors, even though it fell slightly from last year. It continues its rapid growth in traffic and revenues, driven by growing its global connections. The apparent resurge in cargo volumes and revenues is a new cause for optimism.
The nagging worry comes from the downward step taken by operating profit in 3Q2013. Good cost control, as reflected by flat to falling CASK in 1Q and 2Q, has tuned into a sharp upward move in CASK in 3Q and this has not been accompanied by an equivalent rise in RASK.
While the weak lira has affected these results, the same observations can be made of THY's USD-translated figures. In USD terms, 3Q RASK fell by 1%, suggesting an underlying weakness in pricing power. Is THY's rapid capacity growth starting to be too much? It is to be hoped that the 9% increase in USD CASK in 3Q is a one-off and not the start of a trend of RASK outpacing CASK.
Turkish Airlines year-on-year growth in TRY-reported RASK and CASK by quarter: 2013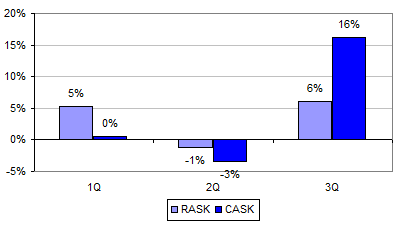 Turkish Airlines year-on-year growth in USD-reported RASK and CASK by quarter: 2013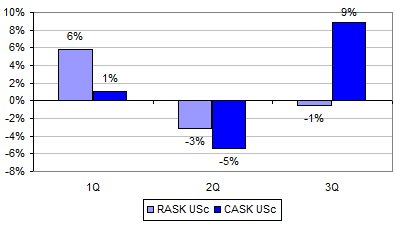 See related reports: