Tunisair implements a crisis recovery plan as LCCs await an open skies agreement
Analysis
Tunisair, the national carrier of northern Africa's smallest country, is implementing a recovery plan which includes expanding its network in Europe and to sub Saharan Africa with the addition of seven new routes since Oct-2012 as the state-owned carrier takes delivery of a fleet of new aircraft.
The flag carrier has struggled to cope with the effects of the 2011 Arab Spring political uprising which devastated the Tunisian tourism industry, requiring Tunisair to implement a crisis restructuring plan to reduce costs and expand its network with more efficient fleet – also possibly locating a strategic partner to recapitalise the airline.
Passenger numbers have rebounded strongly in 2012 and early 2013, but Tunisair continues to survive only under government protection which holds European LCC entry at bay.
Talks on a comprehensive air services agreement with the EU appear to have made little progress and the lack of an agreement is holding back the nation's aviation sector as well as its tourism industry, a major economic driver.
Tunisair's crisis restructuring plan cuts 1,700 jobs and expands network with new fleet
Tunisair reportedly made a loss of loss of TND72 million (USD46 million) for the year ended Jun-2012, compared to a loss of TND113 million (USD73 million) for the year ended Jun-2011, superficially an improvement, but arguably less than it should have as market conditions improved.
Tunisia's economy and tourism industry was sent into a tailspin in the wake of the Jan-2011 political uprising. Passenger numbers fell by 14% in 2011, but staged a strong recovery in 2012, rebounding 20% to 3.8 million. This improvement continued into the early part of 2013, rising 3.7% year-on-year to 227,214 in Jan-2013. The carrier also reported passenger traffic rose 10.8% year-on-year for the first 15 days of Feb-2013 – the latest numbers available.
See related report: Tunisair's sluggish attitude towards change makes it ill-prepared for Open Skies
As part of a crisis restructuring plan, the carrier will seek to reduce costs by 15%, reportedly through a range of measures including laying off 1,700, or 20% of its 8,500 staff during 2013 and 2014 and implementing a fleet renewal programme. The measures are reportedly expected to save the carrier EUR165 million (USD213 million). The carrier will reportedly also seek to increase its capital from EUR53 million (USD68.5 million) at the start of 2013 to EUR90 million (USD116.3 million), leading to speculation that Tunisair may seek a strategic partner rather than rely on a further injection of funds from its cash-strapped owner.
The airline also plans to expand its Africa network to south of the Sahara, including opening long-haul routes to South Africa as well as across the Atlantic to North America, with plans to launch long-haul routes to Montreal in 2014 and New York in 2015, coinciding with the arrival of the first two of three new A330-200s which will replace the carrier's A300s. These are also likely to serve the proposed South African routes. Currently Tunisair serves 60 destinations including six domestic points, 13 African cities and 36 markets in Europe.
Over the past seven months Tunisair has added services from its main Tunis base as well as other domestic point to Bologna, Bamako, Ouagadougou, Moscow, Madinah, Tripoli, Benghazi and Paris.
Tunisair route map as at 27-May-2013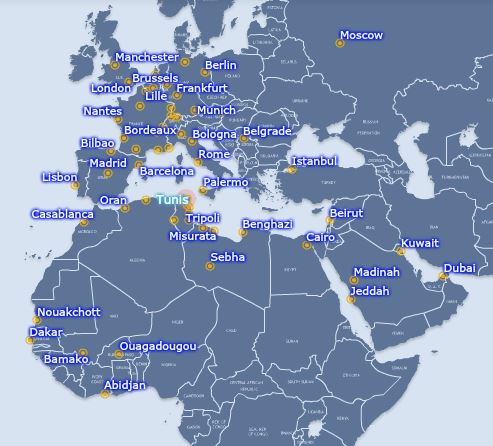 Europe remains Tunisair's key tourism market
As part of a strategy to focus on markets with significant tourism potential, Tunisair on 03-May-2013 launched a three times weekly Tunis-Bologna service. The carrier also operates to Rome, Milan, Venice and Palermo. Italy is Tunisair's second largest international market after France, with a total of 31 times weekly frequencies offering about 4,200 seats per week. France, which accounts for about 16,700 one way seats per week, climbing to a peak of nearly 31,000 in Aug-2013, owes its strength its to historical ties as a former French protectorate.
Western Europe is Tunisia's main market, accounting for 56% of scheduled international seats to and from the country, serving all the main capital airports on the continent. Adding in capacity deployed to Central and Eastern Europe, the figure rises to about 63%.
Tunisia international capacity (seats) by region: 27-May-2013 to 2-Jun-2013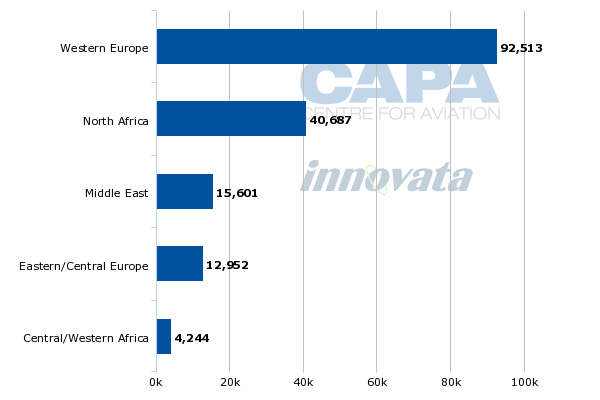 In addition to opening new routes, Tunisair also added frequencies from Tunis to Milan, which increased from nine per week to 11 times weekly from 31-Mar-2013. Two weekly frequencies were also added to Tunis-Venice taking the route to six times weekly. At the same time Tunis-Manchester moved to twice weekly from once per week.
Tunisair plans to operate all three services with a combination of A319 and A320 aircraft and is the sole operator on Tunis-Manchester and Tunis-Venice services, according to Innovata.
Paris' status as Tunisair's biggest international hub was further boosted by the addition of weekly Tozeur-Paris CDG services, effective 28-Oct-2012. Tunisair is the sole operator on the route. The carrier also operates 48 weekly frequencies to Paris Orly from Tunis, Djerba, Monastir, and Tozeur.
Tunisair's promised Russian expansion fails to materialise
But planned expansion of Russian services have failed to materialise, including a weekly Monastir-St Petersburg service previously announced to commence on 17-May-2013. The service was also to have increased to twice weekly between 27-May-2013 to 15-Oct-2013. But neither this route, nor a promised service between Enfidha and Rostov to be operated about every 10 days from 19-May-2013 are listed by Innovata or Tunisair's own online booking engine. Likewise a weekly Monastir-Moscow service originally launched on 28-Oct-2012 is no longer available.
Tunisair adds capacity to Libya with Tripoli and Benghazi among its top routes
Tunisair has led a strong capacity increase between Tunisia and Libya as the market recovered from the political unrest in 2011. Tunisair operates to three points in Libya providing about 6,500 one way seats per week out of the total of about 14,600 available in the week starting 27-May-2013.
The carrier added twice weekly Sfax-Benghazi and three times weekly Sfax-Tripoli services on 02-Apr-2013. The airline competes with Libyan Airlines on both routes. In Feb-2013 Tunisair commenced thrice-weekly services between Tunis and Sebha competing with Libyan Airlines and Afriqiyah which launched services on the route in Sep-2012.
Tunisair now counts its services from Tunis to Tripoli and Benghazi as its second and third largest routes after Tunis-Paris Orly.
See related report: Rebuilding Libya's aviation industry crucial to economic recovery
Tunisia to Libya (seats per week, one way): 26-Sep-2011 to 17-Nov-2013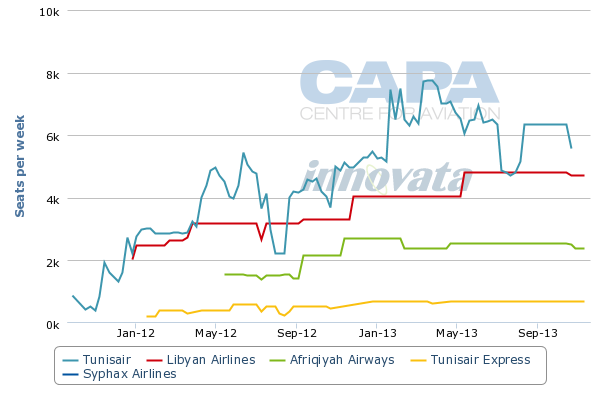 Meanwhile, the carrier also added five times weekly Tunis-Madinah in Saudi Arabia service with A320 aircraft on 31-Mar-2013, adding to its Tunis-Jeddah service.
Tunisair's five-year plan calls for sub-Saharan expansion
In line with a strategy to expand its network to sub-Saharan Africa over the next five years, Tunisair commenced services from Tunis to Bamako, Mali and Ouagadougou, Burkina Faso on 14-Apr-2013.
The carrier intends to increase its African presence to 20 cities, including N'Djamena, Niamey and Douala, from the current 13 destinations.
Tunisair reportedly also plans to launch services to N'djamena, Chad and Douala, Cameroon in 2013. This is expected to be followed by Accra, Ghana and Lome, Togo in 2014; Brazzaville, Republic of Congo and Libreville, Gabon in 2015; and Luanda, Angola as well as Johannesburg and Cape Town in 2016.
Tunisair looks to Beijing and Tokyo with A350s
Tunisair took delivery of its fourth and fifth A320s in Feb-2013 and Apr-2013 as part of the airline's fleet renewal programme. The carrier expects to receive five more A320s by 2017, three A330s between 2014 and 2017 and three A350s between 2020 and 2021. The new aircraft will gradually replace four Boeing 737-500s, three A300-600s and four older A320s.
The airline has named Beijing and Tokyo as potential future A350 destinations.
Tunisair Fleet Summary: as at 27-May-2013
Tunisair projected delivery dates for aircraft on order being purchased directly from manufacturers* as at 27-May-2013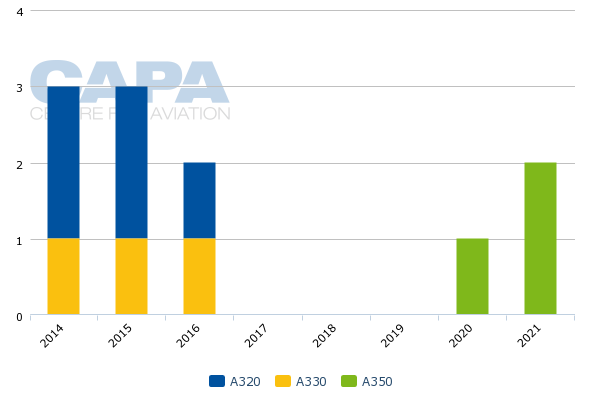 Open skies with Europe must remain a priority for Tunisia's economy
Tunisair is implementing a recovery programme by taking appropriate steps to prepare for impending competition from Europe's LCCs. The goal is to reduce costs and diversify its network with a more efficient fleet. LCCs currently make up just 6.5% of Tunisia's international capacity compared to 38% in Morocco, which has a liberal relationship with the EU.
See related report: Royal Air Maroc shows promising growth for 2013 with route and fleet expansion - but needs a friend
But, for all its expansion plans Tunisia's tourism industry and economy is being held back by the country's protectionist stance towards its flag carrier.
Negotiations with the EU over an open skies agreement do not appear to have advanced since the new government put the issue back on the agenda. As was the case with Morocco, such an agreement would open Tunisia to an influx of LCC traffic from Europe bringing with it a significant boost for tourism and economy.
Meanwhile though, the government is keen at least to push through the necessary steps to prepare Tunisair for such an onslaught. This is a worthwhile step, although the flag carrier will find it hard to climb the necessary mountain – at least, without a solid strategic partner. And there are very few of those available at present.