TransAsia Airways, growing at 20%+, now needs to ensure sustainability among strong competition
Analysis
Taiwan's TransAsia Airways increased its RPKs by 35% in the first 11 months of 2013, demonstrating an ability to attract mainly North Asian passengers while growing. But this was from a small base; TransAsia starts 2014 with only 11 jet aircraft. Its challenge now is to maintain momentum while becoming sustainable. The airline's expected profit for 2013 is due to a strong second half; the first half of the year was unprofitable.
International load factors – around 70% – have room for improvement and can drive revenue growth in absence of lower capacity growth. Peak 3Q2013 (Jul-2013 to Sep-2013) international passengers grew 29.4% to 494,692 but at the expense of 1.7ppt loss on the load factor to 68.7% – and this at peak season.
Some forays, including to Busan and Singapore, have proven not just unwise but that the carrier is not ready for strong LCC competition, which is becoming typical around Taiwan. TransAsia's planned LCC could help the short-haul network but raises the question how to gain scale on both operations. Expanding is easy. Smart and profitable growth is more challenging.
TransAsia achieved record growth in 2013

TransAsia grew RPKs by 36% in the first 11 months of 2013, the latest data available. Provided Dec-2013 traffic holds to the year's trends, 2013 should be TransAsia's largest year of growth in recent years, surpassing 2010's growth (from the then lower base) of 30%.
TransAsia annual RPKs: 2008-2012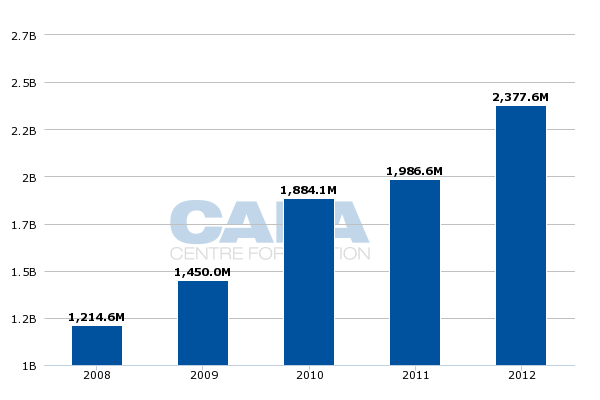 TransAsia operates domestically in Taiwan and domestic seats account for about half of total seat capacity. But international is the focus, and in Jan-2014 almost 90% of ASKs are in the international market, reflecting the very short stage lengths for domestic Taiwanese flights.
The growth emphasis throughout 2013 was on the international market. TransAsia grew international RPKs 42% in the first 11 months of 2013 while domestic RPKs in the intensely seasonal market grew only 4%.
TransAsia Airways monthly domestic revenue passenger kilometres: 2011-2013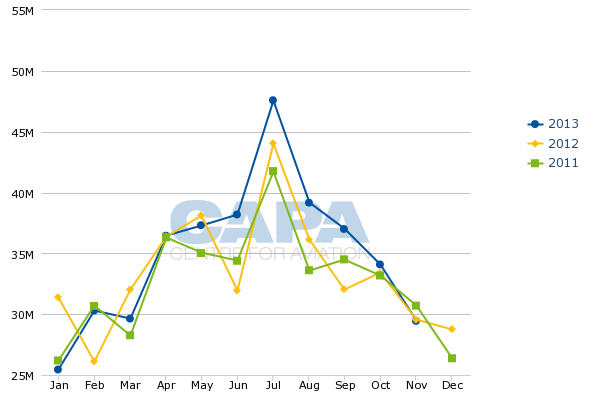 TransAsia Airways monthly international revenue passenger kilometres: 2011-2013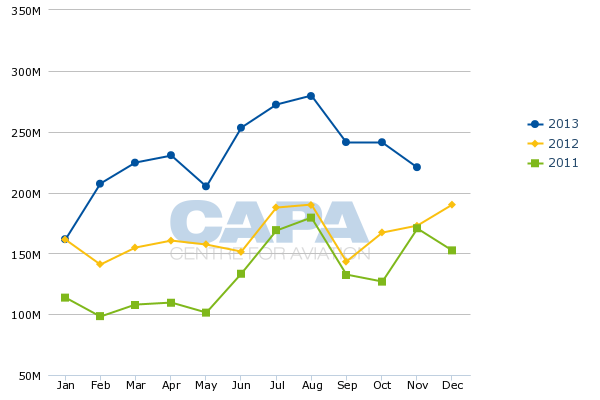 But profits were no record
TransAsia has posted profits since 2009, but these have varied widely, from break-even following the GFC to a 10% margin.
TransAsia net profit (USD) and margin: 2009-2012
The capacity growth in 2013 took a toll on earnings.
TransAsia incurred a loss of TWD86.2 million (USD2.9 million) in the first three quarters of the year despite reporting a profit of TWD104 million (USD3.5 million) in 3Q2013 alone. TransAsia in Dec-2013 said it expected a full-year profit with 4Q2013 further reversing losses from earlier in the year. But the margin will likely be in the very low single digits as TransAsia expects 2013 revenue to exceed TWD10 billion (USD333.3 million). It plans 15%-20% p/a revenue growth in order to reach a revenue target of TWD20 billion (USD666.7 million) in 2017.
One area that TransAsia could better address is seasonality imbalances. About half of TransAsia's ASKs are flown in the first half of the year, implying an almost even split in capacity between the halves, despite the second half being the profitable one by a wide margin.
There were also one-off factors, such as TransAsia launching A330 services early in 2013. Not only did the new type require further expense, the A330 was deployed to Singapore, which proved to be a very unsuccessful operation. Load factors were low despite TransAsia frequently offering fares lower than competing LCCs. It was undermined by operating only a single daily flight and by poor sales distribution for its large, although attractive, premium cabin. The Singapore route was eventually cut in Oct-2013 after two years of operations.
Busan in Korea was cut in Oct-2013 (driving the decrease in 1Q2014 Korea capacity).
TransAsia said the route was operationally profitable but became difficult due to competition from Air Busan (not generally considered a formidable LCC) and the entry of China Airlines. The Busan and Singapore cancellations highlight TransAsia's difficulty in competing in, on the one hand large and on the other, small markets. TransAsia of course has performed well on some routes, but these are generally either small, with limited competition, or have more demand than supply.
In Singapore, TransAsia could neither compete with the three full-service carriers on the route (China Airlines, EVA Air and Singapore Airlines) nor with the three LCCs (Jetstar Asia, Scoot and Tigerair). Its offering did not fully appeal to either segment, and there was enough competition on either side to squeeze TransAsia out; there was no residual market segment for TransAsia to pick up.
Growth in 2014 should be slower, but will be difficult to account for its new LCC subsidiary

2014 should be a more sedate year for growth. The first three months of 2014 show higher year-on-year international seat capacity (10%) but this is largely due to the realisation of capacity additions made mid-way through 2013. Capacity in the first three months of 2014 is lower than peak 2013 capacity.
Capacity growth in the rest of 2014 should be lower owing to reduced aircraft intake. In 2014 TransAsia as a group expects to take two A321s and two or three ATR72-600s but these are due to replace existing aircraft; the fleet in 2014 is expected to be maintained at about 20 aircraft. Seat growth could occur depending on the final configuration of the new aircraft replacing existing ones.
A wrinkle in fleet and capacity changes is TransAsia's planned LCC subsidiary. TransAsia in Dec-2013 told the Economic Times the un-named LCC will take two A321s TransAsia has ordered. It is unclear if TransAsia will keep the older A321s it planned to replace, source new aircraft, or see a reduction in its mainline fleet as it hands aircraft and routes over to the LCC.

TransAsia Airways Fleet Summary: as at 12-Jan-2014
The medium term offers further scope for replacement, growth or sending aircraft to the new LCC division.
TransAsia will take delivery of two A321s and two or three ATR 72-600s in each of 2015 and 2016. The first of 12 A321neo deliveries commence in 2017. It is also unclear if future A321s will go to the LCC or TransAsia.
TransAsia chairman Vincent Lin in Dec-2013 expected 2014 growth to see new routes to Japan's Kyushu region, such as Fukuoka, Toyama and Kagoshima. That builds on continuing momentum in the Taiwan-Japan market. Outside of Japan, Mr Lin mentioned expansion to Hong Kong, Indonesia and Malaysia, although Mr Lin previously ruled out Hong Kong.
Mr Lin also says Taipei-Tokyo Narita services could be increased to double daily, up from the Jan-2014 daily service. This indicates TransAsia could be learning from its experience in Singapore as the double daily Tokyo service would offer a better schedule to business passengers - although distribution may remain a challenge. However, TransAsia continues to serve Taipei Taoyuan-Osaka Kansai with only daily A330 service. In comparison, Osaka-based LCC Peach serves Taipei Taoyuan-Osaka Kansai with three daily flights, offering a far better schedule.

TransAsia's daily Tokyo Narita frequency is on an A320, exposing TransAsia to far less capacity than the daily A330 had on the Singapore route. The Taiwan-Tokyo market could potentially support the A330, if the product was right. The daily A320 flights (likely to increase) offered by Tokyo-based LCC, ANA subsidiary, Vanilla Air will pressure any attempt from TransAsia to use a full-service carrier to compete with LCC fares.
Expansion has to take into account agencies. TransAsia GM Chooi Yee-choong in Sep-2013 told CNA that half of Tokyo Narita passengers are individual travellers and the other half are on group tours. The Palau route is also dependent on agency sales. TransAsia has an ongoing objective to boost web bookings from what the carrier says is 10-15% as it looks for a new booking system, replacing its antiquated one based on China Airlines' booking system.
2014 outlook: a network in flux. Two core markets, and experiments as new competitive conditions abound

International seats now comprise about 57% of TransAsia's network in Jan-2014. The domestic seats have a low ASK exposure and can be subsidised by the government or unprofitable – but curry relations with regulators who reciprocate by dishing out more valuable traffic rights, such as to mainland China.
The spine of TransAsia's international network is mainland China and Japan, which account for about 65% of international seats in Jan-2014. These are the only two established markets TransAsia will grow in: 16% in China in 1Q2014 compared to 1Q2013, and 30% in Japan. Growth opportunities for Japan are large in the short and medium term due to the recent Japan-Taiwan open skies agreement. Japan has become Taiwan's second-largest outbound destination, with 21% of Taiwanese outbound visitors in the first 11 months of 2013 going to Japan. Mainland China is first, capturing 28% of Taiwanese travellers.
The long-term potential of China is enormous, equating to a number that is probably beyond the bounds of forecasting. The challenge for TransAsia is however in the short and medium term: slots at China's main airports are largely full, capping growth. Secondary cities, where slots are available, have had difficulty supporting profitable services.
Another potential growth dimension is in sixth freedom traffic carriage. For the time being, Taiwanese carriers are not yet permitted to carry mainland Chinese passengers beyond Taiwan; but that will one day change.

The rest of TransAsia's network is on less firm ground. Singapore has been dropped entirely while Korea will see a very large reduction in seat capacity. Thailand capacity in 1Q2014 will be up significantly compared to 1Q2013 as TransAsia commenced Bangkok services only in Mar-2013, meaning Jan-2014 and Feb-2014 Thailand capacity is recorded as net growth. New scheduled services to Cambodia and Palau will be introduced, running as charters prior to 2014.
TransAsia seat capacity change by international market: 1Q2014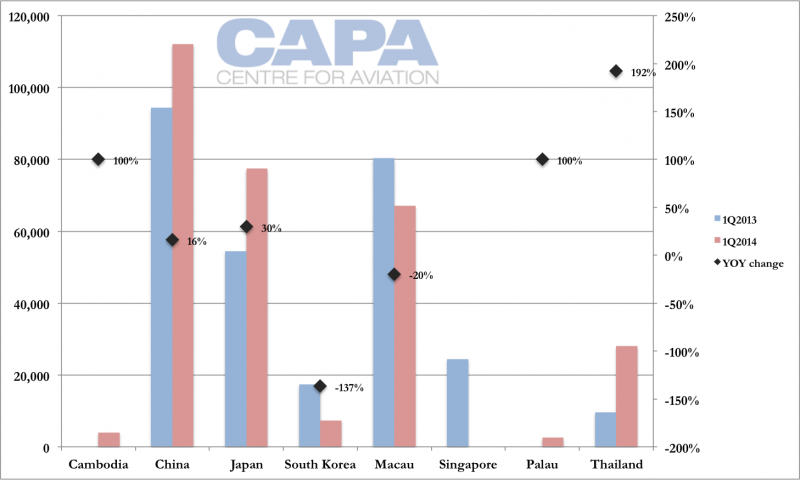 TransAsia looks to diversify its networks
The services to Cambodia and Thailand are part of TransAsia's efforts to diversify its network; 91% of Jan-2014 international seat capacity is in North Asia.
Long-term chairman Vincent Lin sees TransAsia operating more medium and long-haul routes, eventually using its A330s on longer missions; Japan to Hawaii services have been mooted (the bilaterals permit this; China Airlines already flies from Tokyo to Honolulu). But in the short term TransAsia needed experience to gain ETOPS approval.
Transitioning the A330s to TransAsia's forthcoming low-cost subsidiary would incur high re-configuration charges or persisting with less than ideal configurations. It is not a practical option; but then again viable long-term plans for the A330 are unclear.
TransAsia's 1Q2014 schedule in OAG shows the A330s being used to Bangkok, destinations around Hokkaido in Japan, Osaka Kansai and Shanghai Pudong.
TransAsia is also looking to continue to shift away from domestic services to international ones. Domestic passengers accounted for 51% of TransAsia's total in 2012, down from 68% in 2008.
TransAsia passengers by market: 2008-2012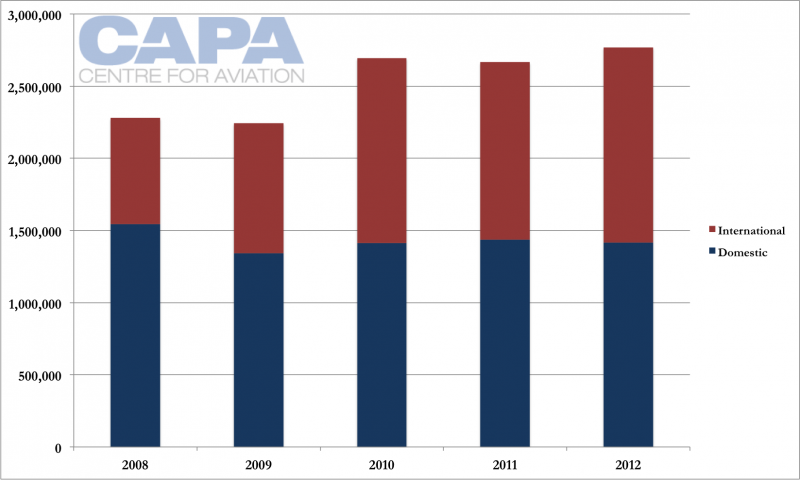 Large challenges await with launch of LCC
TransAsia's future is challenging enough without the prospect of adding an LCC subsidiary, which it announced in Nov-2013 and plans to launch by the end of 2014. No other investors have been named – Tigerair is partnering with China Airlines – and Mr Lin has said the LCC's management will be Taiwanese, indicating foreigners with potentially critical LCC experience will not be used.
LCCs across Asia have relied on a medley of nationalities for senior management. Logic would suggest there is a sound reason for that, drawing from international experience.

As CAPA previously wrote:
In a dual-brand strategy, which China Airlines and TransAsia will undertake, the easier part is creating the LCC. The more difficult part is making it work by itself and with the full-service carrier. For TransAsia, it can look at segmentation, following the Lufthansa/Germanwings example of largely having Germanwings take over certain routes compared to the Qantas/Jetstar example of having the two fly alongside each other on many routes.

Underpinning both of those scenarios is a healthy corporate/premium market that can sustain full-service (or in the case of Lufthansa, keep losses to a minimum). TransAsia might ask if it has such markets; peers around Asia do but often rely on long-haul traffic to sustain/offset it. There are exceptions: All Nippon Airways and Japan Airlines have large home markets that are endowed to their local carriers and pay prices well above world standards.

China's capacity is centrally planned – and LCCs are few but now growing – so most carriers enjoy good load factors in a high demand market. Elsewhere are strong business routes, such as Hong Kong-Beijing and Singapore-Bangkok.

TransAsia lacks both. It has no long-haul services and Taiwan has fewer premium routes to speak of. Where such routes do exist, TransAsia faces a frequency challenge with local and foreign carriers. It is also challenged by a lack of partners that limits the stickiness of a loyalty programme – a factor never to be under-estimated.
TransAsia does have considerations in its favour, including a surprisingly sound, if under-appreciated premium service, from lounges to hard product (especially on its A330s) across its limited network.
The challenge will be to continue to justify premium service and gain scale on it now that growth will seemingly be directed at the LCC, and undoubtedly the LCC will take over some routes, reducing the scale of the full-service network.
See related report: China Airlines and TransAsia to start LCC subsidiaries as low-cost carrier fever spreads to Taiwan
Outlook: The challenge of growing a niche
TransAsia has done some things well, largely a result of being in the right place at the right time with aircraft. China has been critical to its success. Elsewhere its luck has not always persevered.
Breathing space in TransAsia's 2014 capacity expansion will be welcome, but there will be no space for relaxation as the carrier embarks on a dual-brand strategy, potentially making it the smallest carrier to have an LCC subsidiary.
This presents its own challenges - and and they are numerous.
For the mainline operation, what has worked in the past (such as China routes) cannot necessarily be expanded. And costly inefficiencies lingering in the background will assume a more important impact in what is now an increasingly competitive landscape, with full service and low cost carriers head to head.
Going from boutique to mainstream will not be easy for TransAsia, but strategically it is near-impossible to stand still in this new environment - and management is well aware that the potential rewards are substantial.