Traffic falls again at the main European airport hubs in May: Downturn erasing last year's gains
Analysis
Between them, London Heathrow, Paris Charles De Gaulle and Frankfurt International airports handled more than 180 million passengers in 2008. However, the traffic growth at these airports witnessed over 2008 has been erased by the global economic downturn. After a brief spike in March and April, caused by the late Easter, the latest May traffic reports indicates a return to the deep contractions in demand.
Heathrow, Frankfurt and Paris CDG Airports passenger traffic growth (%change): Jun-08 to May-09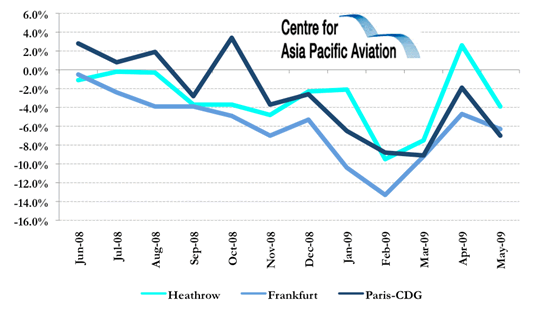 May traffic at the key European hubs again dropped into negative territory. Heathrow performed relatively better than the others, with passenger traffic falling 3.9%, to 5.4 million. Frankfurt was down more sharply, with May-2009 traffic dropping 6.3% year-on-year to 4.4 million. Fraport, operator of both Frankfurt International and Frankfurt Hahn, reported an overall drop in passenger numbers of 6.2%.
Paris CDG fared the worst of the Big Three, with a 7.0% year-on-year reduction to 5.0 million passengers.
Monthly traffic levels are now approaching or dropping below those reported in 2007. Passenger traffic at both Paris CDG and Frankfurt International has been below 2007 levels since the start of the year, while traffic at London Heathrow has been below 2007 levels for two of the past five months.
Heathrow, Frankfurt and Paris CDG Airports year to May total passenger traffic: 2007-2009