Tough times ahead for Asia Pacific airlines, Qantas offers two-for-one fares
Asia Pacific airlines have seen their share market valuations slump lately, as bad news about the global economic slowdown buffets the sector. In the past two months alone, the share prices of leading carriers Singapore Airlines, Qantas and Cathay Pacific are down 25%, 31% and 44%, respectively.
The carriers' shares had a better day on Friday (14-Nov-08), rising 0.9%, 3.6% and 4.7%, respectively.
Asia Pacific selected airlines daily share price movements (% change): 14-Nov-08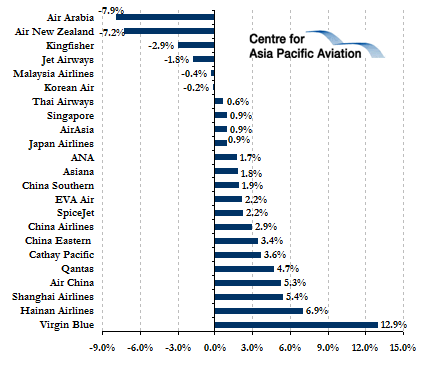 This week will be a key test for Asia Pacific airline shares, following comments by the Association of Asia Pacific Airlines (AAPA) that the outlook for 2009 is "highly uncertain".
AAPA's Director General, Andrew Herdman, stated that consumer confidence around the world "has been severely damaged", and members are bracing themselves for "tough times" in 2009, on expectations of a further deterioration in passenger and cargo demand during the first half of 2009.
Qantas has announced one of the biggest sales in its history, with two-for-one sale fares available across the majority of its international network for travel in the traditionally weak period from 01-Feb-08 to 31-Mar-09.
SIA stated last week that although advance bookings for the immediate next quarter are holding up "reasonably well", there are "signs of weakness beyond that". CEO, Chew Choon Seng added a post-results briefing that premium demand is "still holding firm" for long-haul markets, but the airlines was seeing business passengers "trading down" to economy for shorter-haul travel within the region.
Cathay Pacific stated on 12-Nov-08 that demand to and from Hong Kong "remains depressed, particularly on the corporate sales side". CEO, Tony Tyler added the airline faces a "very difficult" 2009, as the global economic slowdown hits travel demand, meaning Cathay would have to remain flexible in its planning.