Tokyo Narita Airport's runway extension of little comfort as passenger traffic plummets
Japan's major international gateway, Tokyo Narita International Airport, reported further falls in traffic last month, reflecting lingering economic weakness and swine flu concerns. Total passenger numbers slumped 15% year-on-year to 2.4 million, while cargo volumes fell a similar amount, to 153,141 tonnes. Aircraft movements were down only 4% to 15,341, suggesting airline load factors are slipping.
The passenger figure is the worst since the global financial crisis commenced, while cargo volumes have steadily climbed off lows established in Jan-2009.
Tokyo Narita Airport passenger number growth and cargo volume growth: Jul-08 to Jun-09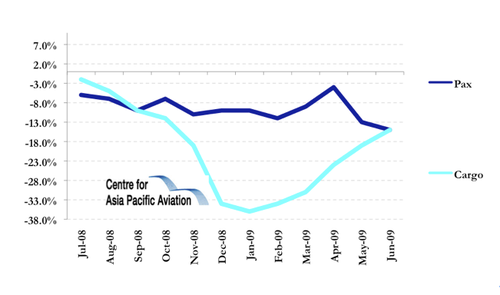 Inbound and outbound travel hit hard - JNTO
The Japan National Tourist Organisation (JNTO) revealed extremely bearish outbound and inbound travel figured last month. Visitor arrivals to Japan in Jun-2009 totalled just 424,200 – a 37.7% reduction year-on-year, while Japanese overseas travellers totalled just over 1.0 million, down 21.3%.
For the first six months of calendar year 2009, the results are as follows:
Visitor arrivals, total 3,095,000 (-28.6%)
Japanese overseas travellers, total 7,190,000 (-9.1%)
Significant falls have been reported in Japan's key source markets for visitor arrivals in the first half of the year, namely:
Demand from China remains relatively resilient, unlike other North Asian neighbours, where the strong yen has had a major negative impact. The swine flu scare has also significantly affected travel to/from Japan.
The impact of the swine flu outbreak is affecting airline schedules. For example, Delta Air Lines this week announced plans to reduce nonstop Salt Lake City-Tokyo frequency from five to four per week, effective 01-Sep-2009. Spokesman, Glen Hauenstein, stated, "a lot of the traffic that we counted on was from Asia and Japan into the western US".
Narita Airport to alter taxiway to relieve congestion
The depressed traffic figures come as the operator of Narita Airport, prepares to open the long-awaited extension to its second runway. On 22-Oct-2009, the B runway will extend to 2,500 m, compared to the current 2,180 m – facilitating widebody operations. The longer runway, which will be operational five months ahead of schedule, will provide for an increase in the annual number of slots at Narita from 200,000 at present to 220,000 from the Northern Summer schedule, effective from the end of Mar-2010.
Meanwhile, the airport is preparing work to alter an L-shaped section of a taxiway that has led to taxiing delays and restricted the B runway's capacity to 14 takeoffs and landings per hour, less than half of the main A runway's 32.
Narita International Airport Corp has acquired approximately 85 sqm of land from local farmers that had opposed the sale for almost 40 years, following a Jan-2008 Supreme Court ruling.