Tiger Airways foreshadows continued growth after handling 6 million pax in FY2011
Analysis
Tiger Airways stated it handled 6.0 million passengers in the 12 months to 31-Mar-2011. Average load factor in the period rose 1ppt to 86%. The carrier stated the growth trajectory shows that passengers are supporting LCCs.
"The consistent growth in passengers throughout the financial year provides strong evidence that our low-cost low-fare model is in demand across the Asia Pacific region," President and CEO Tony Davis said.
The carrier foreshadowed continued growth and Mr Davis said the carrier would continue aggressively growing capacity and services. "We are determined to satisfy the strong demand for our services by continuing to grow our existing businesses in Singapore and Australia, to develop our partnership with SeAir in the Philippines and to establish Thai Tiger in Thailand," he said.
Tiger Airways Mar-2011 traffic data

576,000 pax in Mar-2011
For the month of Mar-2011, Tiger Airways handled 576,000 passengers, its largest monthly figure and an 18% year-on-year increase. Load factors averaged 85% in Mar-2011, a 1ppt year-on-year improvement, and the strongest load factor level so far in 2010.
Tiger Airways Passenger Numbers (2009 to 2011)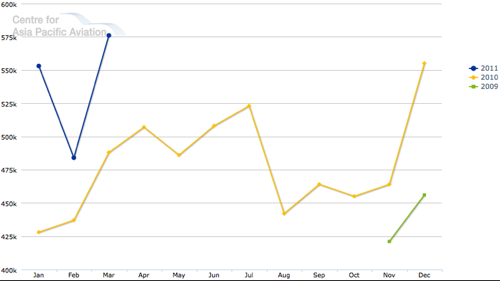 Tiger Airways Passenger Load Factor (2009 to 2011)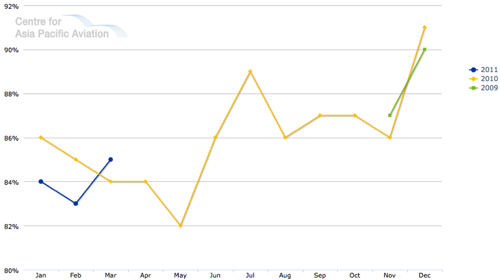 NB: These graphics are produced using CAPA's new on-demand monthly airline traffic database, now covering dozens of LCCs worldwide (over 130 carriers in total). Sign-up for a free trial today.
Tiger plans 41% capacity increase in summer 2011
Tiger Airways plans to increase capacity by 41% in the Northern summer 2011 programme, with increased frequencies to key destinations including Bangkok, Chennai, Hanoi, Ho Chi Minh City and Kuala Lumpur.
In Mar-2011, the carrier commenced new services between Sydney and the Sunshine Coast, where it handled its seven millionth passengers at the airport on 25-Mar-2011. Tiger Airways now serves Sydney from six destinations within Australia, "solidifying Sydney's 'virtual hub' status on our network", according to Mr Davis.
Seeking to expand internationally from Australia
The carrier has also stated it wants to launch an Australian-owned business to operate international commercial services. The carrier is not permitted to operate internationally although Mr Davis stated discussions have taken place with "interested parties" with a spokesperson stating the airline was "willing and able to fly internationally if and when we get approval to do so". The LCC plans to target short-haul international markets, including trans-Tasman routes.
To acquire 32.5% stake in SeAir
The airline recently announced daily services between Manila (Clark) and Macau commencing 27-May-2011 under its partner airline programme with SEAIR. Macau is its third destination from Manila (Clark) following the recently launched Hong Kong service in addition to its Singapore service.
Tiger Airways in Feb-2011 signed an MoU to acquire a 32.5% stake in South East Asian Airlines (SeAir) for USD6 million. The investment in SEAir will give Tiger Airways a foothold in one of the region's highest potential growth market according to Tiger Airways CEO Tony Davis. "We are excited to have the opportunity to expand our relationship with SEAir. The Philippines represents a major market opportunity for low cost airlines. With more than 7,000 islands, a population in excess of 90 million, plus another 11 million working and living abroad, the Philippines is an important market for both international and domestic aviation," Mr Davis said. See related article: Tiger Airways acquires 33% stake in SEAir as battle in Philippines intensifies
Awaiting final approvals for Thai Tiger JV
The airline is awaiting final approval from the Thai authorities for its JV with Thai Airways.
The two carriers on 28-Feb-2011 signed the shareholders agreement necessary to establish LCC Thai Tiger Airways. All documents related to the subsidiary have been submitted to the Transport Ministry. THAI's plan to invest USD3.3 million (THB99.8 million) for its stake in the LCC is still pending approval from relevant authorities, including the Ministry of Transport and the National Economic and Social Development Board. THAI and Tiger Airways welcomed RyanThai Ltd as a co-investor in Thai Tiger. It will hold 10.0% of the paid-up share capital, Tiger will hold 39.0%, while THAI will hold 49.9% and individual Thai shareholders will hold 1.1%.
According to Thai Tiger's business plan, the airline is scheduled to commence operations in Jul-2011, with five A320-200 aircraft. The carrier expects to expand its fleet to 20 by 2015. The first 10 aircraft are expected to be transferred from Tiger Airways via an operating lease. Thai Tiger aims to operate nine routes in the first year of operations, including three domestic routes and six regional routes. It hopes to record a positive bottom line in the third year.
To support this capacity growth, Tiger Airways continues to expand its fleet. Tiger Airways took delivery of its 15th A320-200 aircraft on 08-Apr-2011. The aircraft is powered by V2500 2527-A5 SelectOne engines.
Tiger Airways fleet profile: Apr-2011

The carrier in Feb-2011 also signed a deal with Pembroke Group Ltd for the purchase and lease of four A320 aircraft. The four Airbus 320s are to be delivered by Feb-2012 for a 12-year term. The financing facilities for the aircraft will be arranged, underwritten and funded exclusively by Standard Chartered. Standard Chartered is also the financier of the pre-delivery payments (PDP) for these aircraft. The four aircraft are part of the 10 aircraft scheduled to be delivered during the financial year 2011/12 to Tiger Airways.
The carrier expects to increase its fleet size to 68 by Dec-2015.
Loss expected in 4Q2011
Tiger Airways will announce its financial results for the 12 months ended 31-Mar-2011 on 19-May-2011. The carrier is expected to post a loss in 4Q2011, due to one-off losses related to the impact of natural disasters in Australia, and despite the robust recovery since the airline resolved its pilot shortage issue mid-2010.
However, the carrier will benefit from the positive outlook of both the Singapore and Australian dollars against the US dollar, with every 1% depreciation of the US dollar against the Singapore dollar to boost Tiger's 2012 earnings by 3%.
Meanwhile, the carrier – with its increasing ancillary revenue streams, including its recently introduced "Board me First" option, robust passenger growth and currency appreciation – is in a better position than some in defying rising oil prices which is having a negative impact on airline cost bases.