Tiger Airways Australia expands domestic network with additional services from Adelaide base
Analysis
Tiger Airways route map: Sep-08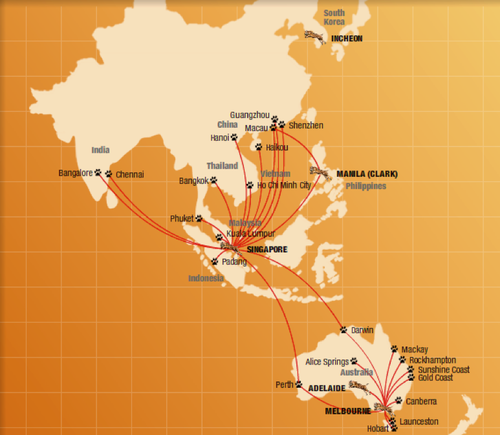 Tiger Airways will operate daily to Perth and the Gold Coast, four times weekly to Hobart and three times weekly to Alice Springs.
The carrier will initially base two A319 aircraft at Adelaide Airport from Jan-09 with the expectation that additional aircraft will be based in Adelaide over the next eight years, depending on consumer demand. The airline expects to handle more than 10 million passengers over the next eight years.
The airline's new Adelaide routes come after it announced plans to launch additional services from Melbourne to five of its current destinations - Alice Springs, Hobart, Launceston, Sunshine Coast and Perth - from 15-Dec-08.
Hobart and Alice Springs will both benefit from the expansion of service from both Melbourne and Adelaide. The LCC will, under the new network, operate seven times weekly to Alice Springs, and by Mar-09, will be operating almost 10% of total seats to/from Alice Springs, according to operator, Northern Territory Airports.
The changes and additional routes that Tiger Australia has announced to its network will double the number seats it has on offer from 1.5 million to 3 million p/a in the next 12 months.
Committed to establishing 30 aircraft fleet over next seven years
Meanwhile, Tiger Airways Australia stated it remains committed to establishing a 30 aircraft fleet over the next seven years. The aircraft will be part of Tiger Aviation Group's plan to grow its fleet to 72 aircraft by 2016.
Tiger Airways fleet plans: 2007 to 2014F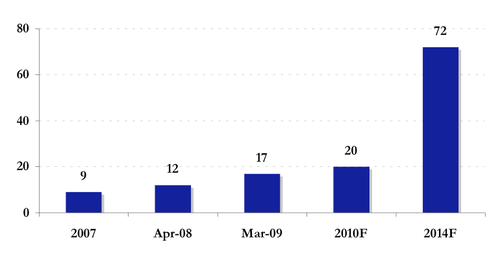 Commence search for third base
The carrier also stated it plans to commence the search for a third base soon. According to Managing Director, Shelley Roberts, the airline plans to choose an airport "where we know we can turn around in 30 minutes".
Background Information:
Based at Melbourne Tullamarine Terminal 4;
Commenced Australian operations on 23-Nov-07;
Subsidiary of Singapore-based Tiger Aviation;
Route network covers 12 destinations including Adelaide, Alice Springs, Canberra, Darwin, the Gold Coast, Hobart, Launceston, Mackay, Newcastle, Perth, Rockhampton and the Sunshine Coast;
Projects traffic of 2 million passengers p/a initially.