Three quarters of a million more seats and counting - KL-Singapore benefits from liberalisation
Analysis
The Singapore-Kuala Lumpur route is expected to be one of the fastest growing in the world next year, as LCCs from both sides rush to take advantage of market liberalisation. Tiger Airways Singapore Managing Director, Rosalynn Tay, stated, "this is a huge milestone in Asian low-fare aviation...the customer is the big winner here".
Tiger and Jetstar Asia have announced plans to add just under three quarters of a million new seats annually from 01-Dec-08. AirAsia is expected to raise its frequency on the route from two per day to at least six, taking the tally well past one million. The route currently has around 3 million seats both ways p/a, so the added LCC capacity is expected to have a massive impact on pricing.
Tiger is unleashing 50,000 free seats to launch its promotion (plus taxes/charges), as it raises the frequency of its service from once to five times daily, operating from the Budget Terminal.
Jetstar Asia, which is reporting a load factor of 65% on its existing single daily service, is adding 12 more frequencies from 01-Dec-08, operating from Changi Terminal 1 and KLIA's main terminal.
Singapore Airlines (SIA) currently operates six times a day to KL with B777s, while Malaysia Airlines operates an average of eight flights a day (with a mix of smaller B737/A330 equipment), and they continue to codeshare on the route. SIA (with its larger capacity aircraft) has a 47% capacity share at present, according to OAG.
Singapore to Kuala Lumpur Capacity share: Week commencing 22-Sep-08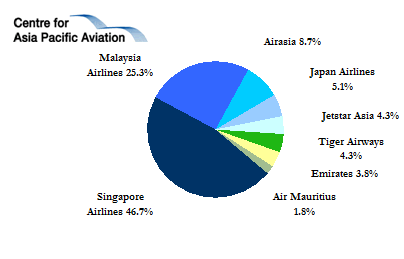 Assuming AirAsia increases to six times daily service (and the incumbents retain their current service levels), SIA's capacity share will drop below 33% and Malaysia Airlines to below 18%. AirAsia and Tiger would have 18% and 15% capacity shares respectively, followed by Jetstar on 8%.
AirAsia, which is yet to disclose its service plans (and expected massive promotional splurge), recently stated it is seeking to increase frequency to Singapore by at least another four daily services, with CEO, Tony Fernandes adding the carrier expects to eventually operate up to 20 times daily service to Singapore. Mr Fernandes added the development would also be good for AirAsia X in the short term, providing additional passengers to its long-haul services to the Gold Coast, Hangzhou, Perth (six times weekly from 02-Nov-08) and Melbourne (four times weekly from Nov-08).
Curtain raiser for ASEAN capital city liberalisation
Exciting as the Singapore-KL move is, it is merely a curtain raiser for the opening of the ASEAN capital cities liberalisation initiative from Jan-09 which promises to unleash the next round of route development and traffic growth in the region.
Carriers from the ten member countries will be free to operate unlimited services between capital cities within the grouping, as a preliminary step towards an ASEAN Single Aviation Market by 2015.
The opening of the market beyond the Singapore-KL route is now firmly in the sights of the LCCs. AirAsia plans to launch service to Singapore from Penang, Kuching and Kota Kinabalu as soon as possible, while Tiger's Ms Tay added the LCC is "looking forward to the next stage of liberalisation to other cities in Malaysia as well as encouraging other countries in the region to follow Singapore and Malaysia's lead".