The "new" American Airlines hubs: Phoenix may have a better survival chance than logic suggests
Analysis
Phoenix Sky Harbor's hub status in the combined network of American and US Airways raises as much speculation as the fate of Philadelphia, in part based on the premise that its proximity to American's hubs in Dallas and Los Angeles will render Phoenix obsolete in the network that emerges under the "new" American.
Given Phoenix's role in the US Airways network as its lowest revenue-generating hub as a result of its larger base of leisure traffic, it could face an uphill battle in emerging as a viable hub once the network optimisation at the merged carrier is complete.
But given LA's fragmentation and the differing passenger profile of Dallas, Phoenix's chances of continuing to play a major role in the combined network could prove to be better than expected.
On paper the deck is stacked against Phoenix
Based on calculations from the Philadelphia International Airport, Phoenix recoded the lowest revenues amongst US Airways' three major hubs in CY2011. Charlotte's USD2 billion was significantly higher than Phoenix's USD1.2 billion. But Charlotte's business traveller mix is likely higher given its strong ties to the banking industry, and the fact that Charlotte's top domestic markets are largely business oriented routes that include Atlanta, New York LaGuardia, Dallas, Chicago, Boston and Newark.
US Airways hub revenue: CY2011
One of the major points stand-alone US Airways has driven home to its employees since the 2005 merger with America West was finalised, is that Charlotte, Philadelphia and Phoenix drive less revenue overall than the major hubs of its competitors – evidenced by its calculations that US Airways in 2011 had a 10% market revenue share amongst the US major carriers. US Airways calculated United had a 28% share followed by Delta with 26%, American at 18% and Southwest at 12%. Alaska and JetBlue each carried a 3% share.
See related report: US Airways holds firm to its viability as a stand-alone carrier
Based on the fact that Phoenix has the lowest revenue generation amongst three hubs that garner lower revenues than the other US major airline hubs, logic might dictate that its stature would diminish in a merged American-US Airways.
Phoenix has a fairly strong traffic base that stands to serve a solid revenue contributor to the combined airline
But similar to Philadelphia, there are certain strengths Phoenix could bring to the new network even though it is sandwiched between American's mega hub in Dallas (1,710km from Phoenix) and another hub in Los Angeles (a distance of 598km from Phoenix).
See related report: The "new" American Airlines' hubs: Philadelphia has the potential to retain trans-Atlantic flying
In another similarity to Philadelphia, Phoenix has a higher concentration of O&D passengers than Charlotte, and American's hub in Dallas, a market whose geographical proximity is often mentioned when the fate of Phoenix is discussed. Dallas/Forth Worth's passenger base is split roughly between 56% connecting and 42% local (based on 2011 data), while Phoenix is 42% connecting and 58% O&D based on data compiled by the city's aviation department covering 2012. Even though Phoenix's O&D traffic is largely tilted toward leisure travellers targeting the market as their final destination, it also supports a solid portion of business traffic given several well-known large employers in the Phoenix area including Honeywell, Wal-Mart, Wells Fargo, Boeing, Bank of America and Intel.
Phoenix Sky Harbor passenger enplanements: FY2010 to FY2012
Phoenix's passenger traffic remained relatively stable from 2011 to 2012 notching down slightly from 40.6 million passengers to 40.4 million. But it remains one of the stronger US domestic markets as it ranked seventh among the top 10 US domestic airports based on passenger enplanements during 1Q2013.
Phoenix annual passenger numbers: 2009 to 2012
Top US airports by enplanements: Jan-2013 to Mar-2013
Fragmentation in Los Angeles could be a boon for Phoenix
The argument that Los Angeles remains somewhat of a threat to Phoenix in the combined network could be valid given that Los Angeles' O&D passenger composition is much higher than Phoenix. During the 10-year span from 1999 to 2009 Los Angeles' O&D traffic ranged from 67% to 70%.
Los Angeles International Airport O&D passengers: 1999 to 2009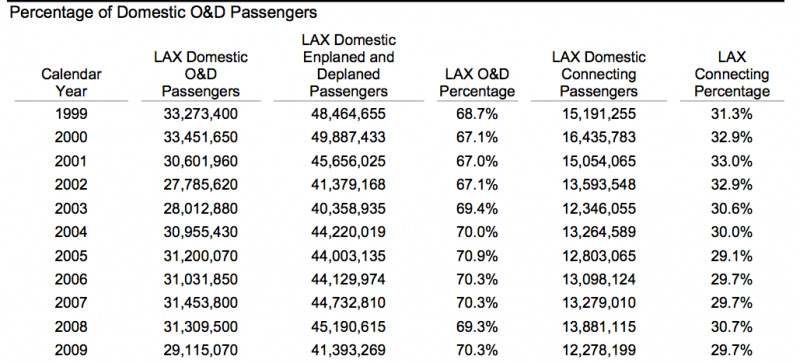 But the reality is more carriers are fighting for the passenger share at Los Angeles, which results in no one carrier dominating the market. Its ranking as the fifth largest US domestic airport in the US and its status as a gateway to the Pacific make it an important market for all the major carriers.
But the fragmentation creates tough conditions for any one particular airline to dominate the market from a revenue share perspective such as American in Dallas, US Airways in Phoenix or rival United in San Francisco.
Los Angeles International Airport capacity by carrier (% of seats): 1-Jul-2013 to 7-Jul-2013
There is overlap of six markets – Dallas/Fort Worth, Las Vegas, Chicago, Atlanta, Seattle and Denver in terms of the top domestic destinations from Los Angeles and Phoenix, which on paper would also suggest that Phoenix may become redundant in a larger network.
Los Angeles International Airport top 10 domestic routes by seats: 1-Jul-2013 to 7-Jul-2013
Phoenix Sky Harbor top 10 domestic routes by seats: 1-Jul-2013 to 7-Jul-2013

Presently, American and US Airways compete directly on one of the top routes from Los Angeles – Las Vegas – and three routes from Phoenix – Los Angeles, Dallas/Forth Worth and Chicago, which would also mean the routes from Phoenix could be in jeopardy. But US Airways is the dominant carrier from Phoenix to Los Angeles, and Chicago O'Hare.
As Los Angeles International's second largest carrier by seats, American obviously has a presence in the airport's top domestic markets, offering flights to seven of the top 10 destinations based on seats deployed. But of those seven, American only has a commanding seat share in three of those markets – JFK, Dallas/Forth Worth and Las Vegas – where its 26% commanding seat share reflects one of the busiest and fragmented routes in the US.
Based on current schedules in Innovata (30-Jun-2013 to 6-Jul-2013), close behind American, Delta holds a 24% share in the LA-Las Vegas market followed by United and Southwest each with a roughly 16% share, with Spirit and Virgin America rounding out the service footprint with seat share representation of 8% and 10%, respectively. Its 42% seat share in Chicago O'Hare is only 3ppt behind United's 45% share, but American's representation on the remaining top routes from Los Angeles is 19% in San Francisco, 7% in Houston, and 9% for Denver.
By contrast, US Airways by virtue of operating a true hub from Phoenix, offers service in all the top US domestic destinations from Phoenix, and holds a commanding share in eight of 10 of those markets. It falls second to American in DFW with a still-respectable 42% share and a 36% share in Atlanta. In the remaining markets where is holds a commanding presence its seat share is approximately 77% in San Diego, 56% at Chicago O'Hare, 57% in Seattle, 48% in Salt Lake City, 47% in Las Vegas and Los Angeles and 41% in Denver.
Those commanding shares are much stronger than American can achieve in Los Angeles, and with the existing infrastructure in place in Phoenix, it should not take a lot of expense to sustain Phoenix as a hub in the combined network vis-à-vis, Los Angeles - where it is realistically safe to assume no carrier will ever hold more than a 20% seat share.
Given all those factors Phoenix may have more of a chance of survival, than Memphis, which has slowly been deconstructed as a Delta hub since it merged with Northwest in 2008. Memphis' higher reliance on connecting traffic at a distance of 626km from Delta's mega-hub in Atlanta renders the airport somewhat redundant.
The status of Phoenix as one of the top 20 metropolitan areas in the US, coupled with its larger share of O&D traffic and a carrier that has a commanding hold at the airport does counter some of the logic that its unfortunate geographical proximity to LA will result in the same fate as Memphis. It is not an apples-to-apples comparison, and given Phoenix's solid revenue generation – even if it is below that of other US major carrier hubs – it is not an operation the merged "new" American will suddenly change once the merger is complete.
US Airways could actually improve American's position in Los Angeles
The international market in Los Angeles is even more fragmented, with approximately 60% of the seats allocated to other carriers. Given the fact that the new American needs to preserve a strong presence in Los Angeles, it would appear that US Airways' traffic flowing in from its hub markets served from Los Angeles – Charlotte, Philadelphia and Phoenix – would actually contribute to American's improved revenue generation. Also as important, the passenger flows US Airways brings to Los Angeles from its east coast strongholds can also strengthen the passenger flows to the international service offered by American and its oneworld partners from Los Angeles.
Those routes include London Heathrow, Madrid, Tokyo, Sydney, Brisbane, Los Cabos, and Hong Kong.
Los Angeles International Airport international capacity by carrier (% of seats): 1-Jul-2013 to 7-Jul-2013
Phoenix may rise after all
While Phoenix may face a tougher fight than other US Airways' hubs, its fate as a hub shouldn't be dismissed simply because of its geographical proximity to Los Angeles.
The passenger proposition between the two airports is quite different, and the overall contribution Phoenix would make to the combined network should not readily be dismissed. If the goal is to dominate all the large metro US markets that generate higher passenger numbers, then Phoenix stands to retain a strong presence in the combined network.
(This is the second in a series of articles looking at merger implications on the hubs in the "new" American Airlines' network).
See related report: The "new" American Airlines' hubs: Philadelphia has the potential to retain trans-Atlantic flying