13-Mar-2009 11:38 AM
The last thing we need is good news. Oil prices climbing ominously as OPEC meets
Oil prices have risen this week on hints of good economic news out of the US: Citigroup's improved outlook, better than expected US retail sales data and other snippets of less than bad news have pushed Wall St up for three days in a row.
Together with expectations that OPEC's scheduled meeting this weekend will see further reductions in output also delivered upward pressure. All have encouraged a more bullish outlook for oil prices.
On 12-Mar-09, light, sweet crude for Apr-09 delivery surged USD4.70 (+11.1%) to USD42.33 a barrel on the New York Mercantile Exchange. Brent crude on the ICE Futures Europe exchange gained USD3.69 (+8.9%) to USD45.09 a barrel.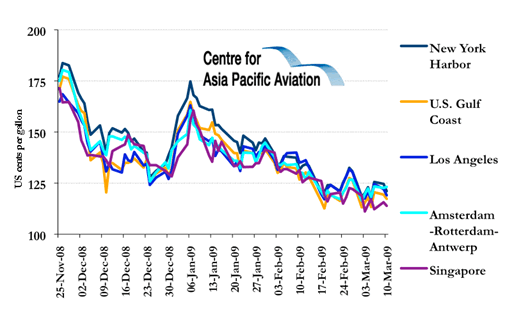 03-Mar-09

04-Mar-09

05-Mar-09

06-Mar-09

09-Mar-09

10-Mar-09

one week
Change

12 month
Change

New York Harbor

120.05

123

118.1

125.6

124.65

121.08

0.9%

-61.8%

U.S. Gulf Coast

115.55

118

113.35

120.6

119.4

117.33

1.5%

-62.2%

Los Angeles

117.55

120.75

117.1

124.6

122.15

119.08

1.3%

-62.7%

119.73

122.37

118.37

123.43

122.67

123.2

2.9%

-61.0%

111.19

114.43

117.14

112.26

115.67

113.93

2.5%

-61.7%

WTI Spot

41.57

45.28

43.54

45.43

47.01

45.68

9.9%

-57.7%