The good news and the bad news about the US economy
Analysis
The Conference Board Economist, Ken Goldstein, stated, "the economy has been in recession for over a year, but the level of intensity may begin to ease over the next few months". He added, "the second half of 2009 may see a period of anemic growth".
But the bad news is a return to robust growth "may not occur until well into 2010, even if the long climb starts a few months from now", according to Mr Goldstein.
US Leading Economic Index and Coincident Index (2004 = 100): Jan-06 to Jan-09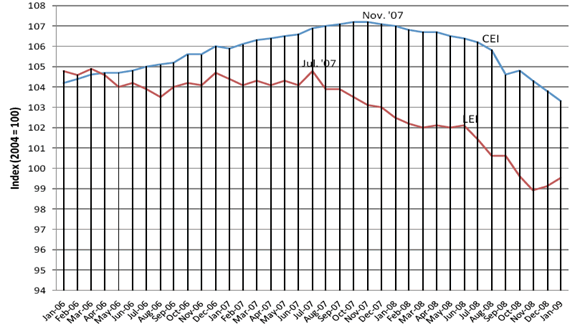 The US Federal Reserve has also given up on growth this year. It now projects the economy would shrink by between 0.5% and 1.3%, according to the minutes of its 27/28-Jan-09 policy meeting released this week. Unemployment is expected to reach almost 9%, up from its present level of 7.6%. The previous GDP forecast (released in Oct-08) was for a decline of 0.2% to growth of 1.1% in 2009.
The near term outlook remains bleak, but the much hoped for recovery from late 2009 may just have some supporting evidence, though it is still early days.