Thai Airways' troubles deepen - biggest quarterly loss since 1997
Analysis
Thai Airways has been racking up some dubious honours lately - its worst quarterly loss since the Asian Financial Crisis of 1997, a recent 16-year low in its share price, a public board split over the tenure of its President, the halving of its budget unit's operations, as well as a ratings downgrade that has triggered the deferral of a USD300 million bond issue.
The carrier slumped to a USD308 million second quarter loss to 30-Jun-08 (slightly worse than market expectations) on soaring fuel costs and a significant (USD150 million) exchange loss related to its USD and EUR borrowings (compared to a USD43 million gain in the previous corresponding period).
Thai's problems are manifold and stem from its lack of progress during restructuring in the recent good times. The carrier's stock has fallen 56% so far this year, on concerns Thai's underlying business is poorly positioned to cope with the current environment, despite reasonable traffic growth rates this year.
Thai Airways passenger numbers growth and cargo volume growth: (% change year-on-year): Jul-07 to Jun-08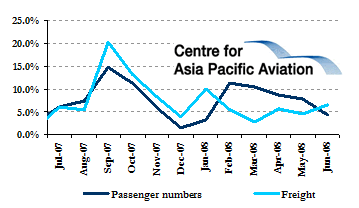 The airline has ramped up its domestic operation this year as budget unit, Nok Air, has faltered, although the key European market has been weak this year. In the second quarter, Thai increased frequencies to Ho Chi Minh City, Chennai, Colombo, Delhi, Jakarta, Nagoya, Melbourne and Athens, but reduced capacity to Yangon, Singapore, Incheon, Busan, Auckland and Moscow and suspended services to Bodhgaya and Varanasi.
Capacity growth to the US will be hit in the second half of the year with the dumping of its ultra long-haul fleet of A340-500s serving New York and Los Angeles. The attempt to follow Singapore Airlines' lead in mining the lucrative business market was unsuccessful.
Thai Airways passenger traffic (RPK) growth by route region: 1H08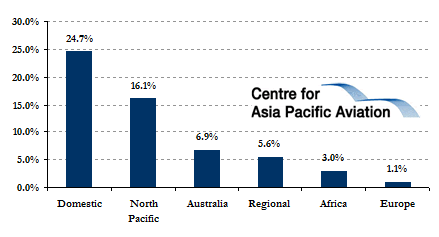 Load factors have also been reasonable this year (except on North American routes), although the carrier faces intensifying competition (and yield erosion) in many of its key markets.
Thai Airways passenger load factor (%) by route region: 1H08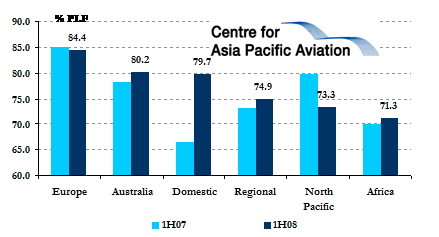 Thai Airways is growing more slowly than regional competitors Singapore Airlines and Cathay Pacific this year, as it seeks to focus on more attractive routes.
Selected Asia Pacific carriers' passenger capacity and passenger capacity growth for the six months ended 30-Jun-08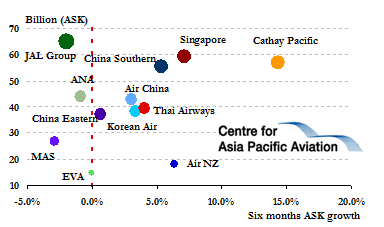 Thai's President, Apinan Sumanaseni, has sought to ensure investors that if oil prices stabilise, "our overall earnings will be positive again". The recent fall in the price of oil should ensure Thai reports better third quarter results.
Until Thai undertakes a fundamental reform of its business - and that involves resolving its short-haul strategy - earnings will continue to be captive to the gyrations of oil and currency markets. As a result, investors will continue to treat Thai with caution.