Thai Airways loses USD4.5 million per day in brutal final quarter
Analysis
Thai Airways suffered a massive USD411 million net loss in the fourth quarter of 2008 - or around USD4.5 million per day - in a period marked by the Bangkok Airport shutdowns and sharp reductions in demand stemming from the global economic slowdown. Foreign exchange losses to service the carrier's heavy debt load were also blamed for the horror fourth quarter result.
Thai has had its share of difficulties in the past, namely the 1997/98 Asian Financial Crisis, and the downturns associated with September-11, SARS and the Asian Tsunami.
But the current crises have exposed the extent to which Thai Airways is ill-prepared to navigate difficult waters. Failure to restructure in the good times has left Thai Airways in a much riskier position relative to its peers.
Thai Airways' remarkable run of 43 years of annual profits came to an end last year. Revenues rose 1.6% in 2008, but operating costs surged 10.8%, resulting in a full-year loss of USD592 million.
The scale of the slide in 2008, and particularly the fourth quarter, is put into perspective against a USD123 million profit in 2007. Furthermore, the fact that Thai AirAsia was able to generate a USD2.3 million profit in the fourth quarter of 2008 suggests that while Thailand's ongoing political problems played a role, there are some much deeper problems at Thai.
Thai Airways operating profit margin and net profit margin: 2007 vs 2008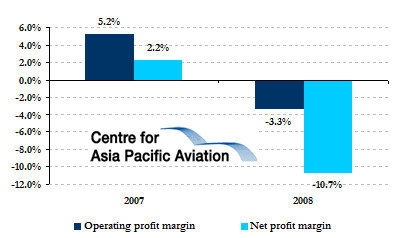 The carrier's earnings were hit in the first half of last year by record fuel prices, but the sharp downturn in demand from the third quarter of 2008 was more telling for Thai.
Thai Airways passenger numbers growth and cargo volume growth: Jan-08 to Dec-08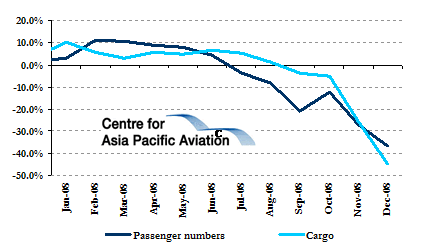 Capacity cuts have not come close to the sharp falls in demand.
Thai Airways passenger traffic growth and passenger capacity growth: Jan-08 to Dec-08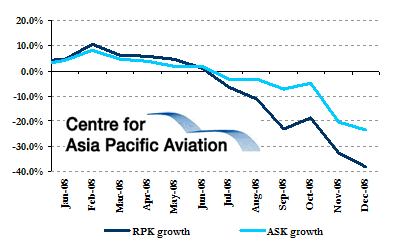 This has led to a widening gap in load factors and significant pressures on yields lately. Full year passenger yields rose 1.3%, while cargo yields fell 3.0%. But the full-year figures almost certainly hide a serious deterioration in the final months of the year.
Thai Airways passenger and cargo financial/traffic performance: 2007 vs 2008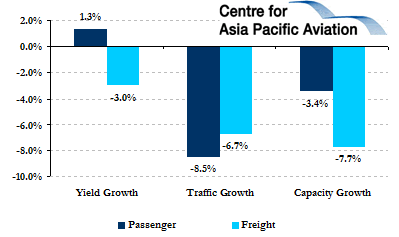 Demand from the core European and North American markets has been soft and the carrier has suspended non-stop services to the US in response to the downturn.
Thai Airways passenger traffic growth (RPK) by region: Jan-08 to Dec-08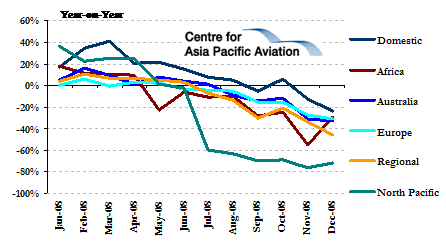 The airline has flagged a massive government bailout package and the deferral of six A330 aircraft deliveries to help it ride out the liquidity crisis that has enveloped the carrier in recent months. But Thai is yet to finalise or submit its business improvement plan - a pre-requisite in obtaining additional funds from the Finance Ministry.
Management has reportedly foreshadowed cutting costs by around 3% under the plan, far short of the measures that will be required to turn the carrier around. Much deeper cuts will be required to restore profitability at the carrier. This will involve some very uncomfortable political decisions to be taken. Whether leadership, either at the airline or in government, is sufficiently well positioned to make those big calls is uncertain. But further procrastination will only be even more harmful to Thai's long term prospects.