Thai Airways and ANA still expecting full year profitability; SIA not so optimistic
Asian airline shares were mixed on Friday (30-Jun-09), as Asian equity markets strengthened and fuel prices increased again. Korean Air led the gainers on Friday, up 4.8%, while Qantas gained 3.6%. The Chinese carriers were also stronger on Friday, led by Air China (+2.9%), which reportedly expects to report a profit in 1H2009, due to cost reduction measures.
Leading the decliners on Friday was Thai Airways, down 4.2%, despite forecasting a profit this year, as a result of its business restructuring plan. Acting President, Narongsak Sangapong, stated, "if no more unfavourable factors emerge and the high season returns to be buoyant as ever, and the average load factor this year exceeds 75% and EBITDA is THB30 billion [USD882 million] or more, THAI will return to profit this year". Investors apparently believe it is a big 'if'.
Japan Airlines and ANA were also both down on Friday, by 1.2% and 0.8%, respectively. ANA reported a USD447 million operating loss and a USD308 million net loss in the three months ended Jun-2009, as the carrier suffered from the devastating combination of the global economic downturn and the outbreak of Influenza A (H1N1). ANA still expects to report operating and net profits in the full year, through the combined implementation of its new Emergency Income Recovery Plan, which expects to boost revenues by USD317 million in the full year, and its FY2009 Corporate Plan, which aims to reduce costs by JPY73 billion in the period. The carrier also stated that more than 1.4 million passenger have booked for travel during the nine-day peak Japanese Summer period this month, with JAL seeing forward bookings of 1.8 million passengers.
Asia Pacific selected airlines daily share price movements (% change): 31-Jul-09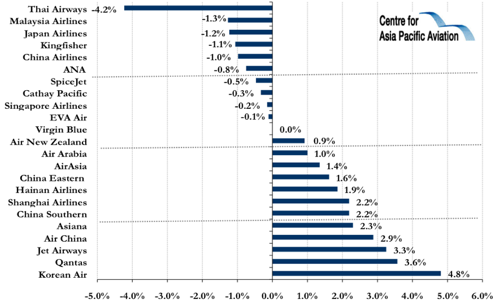 Cathay Pacific was marginally down on Friday, by 0.3%, while Singapore Airlines slipped 0.2%. Singapore Airlines CEO, Chew Choon Seng, conceded that carrier may post a loss for the 12 months ending Mar-2010 if the global financial downturn continues, but stated the carrier has no plans to cut jobs or reduce capacity. SIA last week reported its first quarterly loss since SARS in 2003 in 1Q2009/2010 (three months ended 30-Jun-09).