TAM opts to make a regional push with or without Brazilian government subsidies
Analysis
Brazilian airline TAM has opted to solidify its regional aviation strategy ahead of a decision by the country's government of a proposed programme to subsidise routes to certain regional airports. It plans to make its own push from Brasilia and has lined up a partnership with Brazilian regional airline Passaredo to access passengers in smaller markets.

TAM is also in advanced discussions with airframers over a regional aircraft order including Brazil's Embraer. TAM cited those discussions after rival Gol also stated it was also evaluating an order for Embraer jets.

The timing of TAM's regional push is interesting given that Brazil's economy remains tenuous. But TAM may be setting the stage to regain some market share it has lost during the last couple of years as it worked to turnaround its domestic operations in Brazil. Whatever TAM's motivations are, it appears to be positioning itself to capture more traffic within Brazil's smaller markets, creating new competitive dynamics in the country.
TAM and Gol examine smaller Embraer jets as Brazil weighs regional subsidies
TAM, part of the LATAM Airlines Group, in late 2014 stated it was evaluating regional aircraft including 18 Embraer E2 jets. At the time it outlined those plans, TAM also stated it would add four to six new regional destinations per year beginning in 2015.

The outlining of its plans occurs as the fate of the proposed Regional Aviation Development Program in Brazil is in the hands of legislators. The initiative entails subsidising regional operations to airports with less than one million passengers annually.

At one point, legislators were considering removing a portion of the proposal that limited the subsidies to 60 seats per flight and instead subsidising 50% of passengers on flights to underserved destinations, but fast growing Brazilian airline Azul quickly criticised that proposal and warned that its own potential order for 30 E2 jets could be in jeopardy if the provision was removed. Gol in Sep-2014 stated it too was evaluating the re-engined Embraer E2 jets.

The smallest aircraft type in TAM's fleet are its 144-seat A319 narrowbodies while Gol's smallest jets are its 144-seat Boeing 737-700s.
Unlike Gol, TAM avoids placing a value on potential subsidies
The value of the proposed subsidies has been pegged at roughly BRL500 million (USD185 million), according to news outlet Bloomberg. Gol has previously stated that it could net USD20 million from the programme, but TAM has refrained from making any estimates of the benefits it could reap from potential subsidies. "It is very hard today to define, probably our competitors are doing some sort of estimates, but today it is very hard to define how the subsidy will be distributed, which will be the formula for calculating it and how much will each company be entitled to," TAM CEO Claudia Sender Ramirez recently explained.

She remarked that regardless of how Brazil's government proceeds, there are regional cities TAM is interested in serving with its current and new fleet.

See related report: Gol's 3Q2014 losses widen even as the airline continues working to improve its financial leverage
TAM selects its stronghold of Brasilia for regional expansion
Subsequent to Ms Sender's remarks, TAM unveiled its plans to acquire smaller aircraft and has announced new service from Brasilia to Rio Preto, Boa Vista and Iguassu Falls beginning in Feb-2015 and continuing through Apr-2015. It is also adding new international service from Brasilia to Orlando in Jun-2015 after cutting flights from Rio de Janeiro to Orlando in 2013.

Brasilia is Brazil's capital and third busiest airport based on aircraft movements and the fourth busiest measured by passenger throughput. It is primarily a domestic airport with only 3% of its seats deployed into international markets. TAM is the largest airline in Brasilia measured by seats deployed with a nearly 43% share. Brasilia is TAM's third largest base measured by seat deployment behind the two airports it serves in Sao Paulo – Guarulhos International and Congonhas.
Brasilia International Airport international vs domestic capacity (% of seats): 5-Jan-2015 to 11-Jan-2015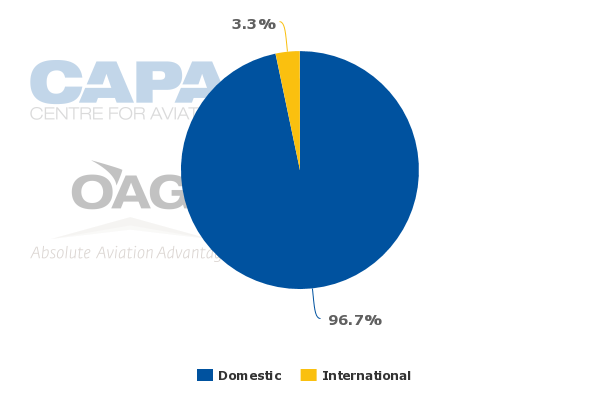 Brasilia International Airport capacity by airline (% of seats): 5-Jan-2015 to 11-Jan-2015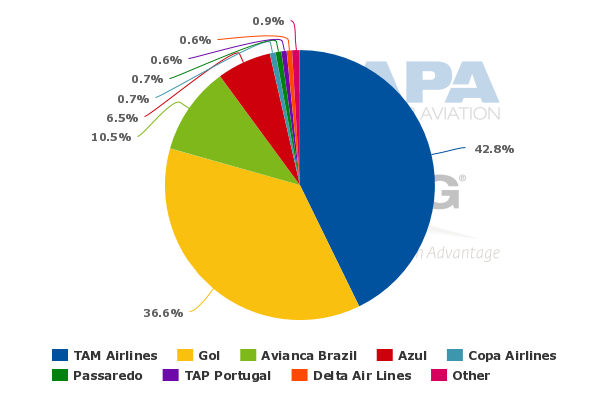 TAM Airlines global top 10 hubs/bases/stations by seats: 5-Jan-2015 to 11-Jan-2015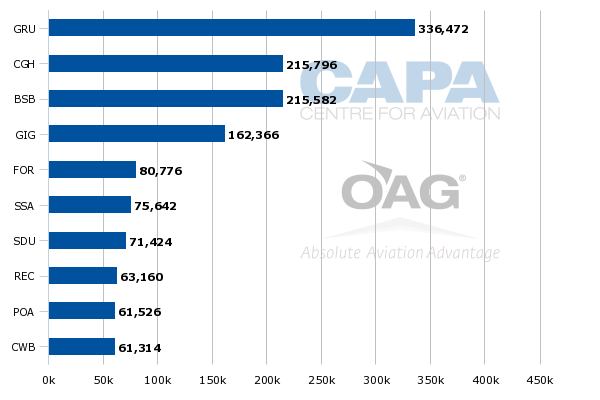 Schedules in CAPA and OAG for the week of 5-Jan-2015 to 11-Jan-2015 show that there are no direct services between Brasilia and any of TAM's new destinations from the airport. It makes sense for TAM to leverage its leading position in Brasilia to start its regional push. But it is not clear if those routes can sustain A319 jets.

TAM has stated that until it makes an aircraft decision and smaller jets join its fleet, it would operate regional routes with leased aircraft or jets within its current fleet. With the 60 seat cap intact in the proposed regional aviation initiative, TAM may need to look at other bridge aircraft if the legislation is adopted.
TAM Airlines Fleet Summary as of 8-Jan-2015
TAM resurrects Passaredo codeshare to access small regional markets
Another avenue TAM is taking in its Brazilian regional strategy going forward is the firming up of a codeshare with regional airline Passaredo, subject to requisite government approvals. TAM and Passaredo have codeshared in the past and Passaredo has also held a codesharing pact with Gol. TAM has also previously codeshared with large regional airline TRIP, but TRIP was acquired by Azul in 2012 and has been fully incorporated into Azul's operations.

See related reports:

In the latest iteration of the TAM and Passaredo partnership nine markets operated by Passaredo – Araguaína, Barreiras, Cascavel, Dourados, Pampulha, Sinop, Três Lagoas, Uberaba and Vitória da Conquista – will be included in the codeshare. Passaredo, which operates a fleet of ATR and Embraer turboprops and 50-seat Embraer regional jets, operates alongside Azul in all of those markets.
Given Azul's fleet of 151 aircraft and Passaredo's 12 aircraft fleet, Azul's schedule in some cases offers more service from those airports. But the feed from Passaredo allows TAM to access markets that are too small for its current fleet.
According to data from CAPA and OAG for the week of 5-Jan-2015 to 11-Jan-2015, Azul largely operates ATR turboprops in those markets, reflective of its strategy during the last few years of penetrating even smaller regions within Brazil. Passaredo was also TAM's only real option for a regional codeshare now that Gol and Webjet have merged and Azul and TRIP have combined their operations.
Passaredo fleet summary as of 8-Jan-2015

Azul fleet summary as of 8-Jan-2015
TAM makes its regional moves as Azul places its attention elsewhere
The proposed regional subsidies and airlines working to solidify their regional strategies occurs at a time when Brazil is still battling a weak economy with projected GDP growth of about 1.3% in 2015. It seems counterintuitive for TAM and other airlines to outline a strategy to serve small markets when passenger stimulation could prove challenging under current conditions.

But Azul will need to devote much attention in 2015 to its long-haul endeavour to the US with Airbus A330s, adding a challenging layer of complexity to its operations. Service to Fort Lauderdale and Orlando launched in late 2014 and new flights to New York JFK are scheduled to begin in 2015. All flights are from the airline's largest base and headquarters in Campinas.

See related report: Brazilian airline Azul caps off an ambitious 2014 with another stab at accessing the public markets

With part of Azul's attention turning away from the regional market, perhaps TAM sees an opportunity to reclaim some market share it has lost during the last couple of years as LATAM worked to improve its Brazilian domestic operations. In order to restore a supply-demand balance and lift its revenues in the Brazilian domestic market, part of TAM's strategy was to slash its supply by 9% for the 9M ending Sep-2013. Roughly a year later for the 11M ending Nov-2014, TAM's domestic supply was still down 2% according to data from Brazilian regulator ANAC.

TAM's market share for the 11 months ending Nov-2014 fell from 40% to 38% year-on-year as faster growing airlines Azul and Avianca Brazil increased their share of Brazil's domestic market. Azul's market share grew from 13% to 17% and Avianca Brazil's increased from 7% to 8%. Gol, which has also been aggressive in cutting its supply, saw its market share grow from 35% to 36%.

Overall capacity within Brazil remained flat year-on-year, driven largely by TAM and Gol reducing their supply. Gol's domestic capacity decreased 2% year-on-year for the 11M ending Nov-2014. Azul and Avianca's capacity grew by 38% and 23%, respectively.
Will TAM's competitors follow the airline in crafting new regional strategies?
It is tough to predict if the proposed initiative to jump start regional aviation in Brazil will eventually become a reality. But the country's largest airlines are either weighing the merits of the proposed legislation, or positioning themselves to tap into the stimulative opportunities in smaller regional markets that could become available once Brazil's economy rebounds. The country's GDP growth is projected to chart a slow but steady rise upwards between 2015 and 2019.
GDP Growth of Brazil (Percent change): 2009 to 2019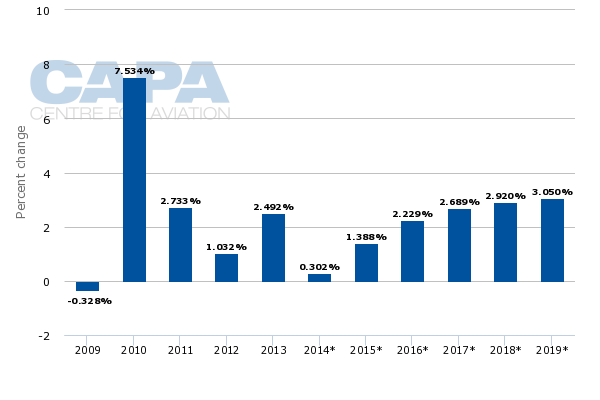 There is certainly still much room for growth in Brazil's domestic market, and the government seems eager to ignite that growth with its proposed subsidies. But TAM appears willing to strike out on its own without the promise of government aid. The key is keeping a rational supply balance within the market place that has allowed TAM to post a solid performance in its Brazilian domestic operation.
TAM has been the most vocal in outlining its regional strategy, now it is time to see if its competitors will follow suit.