TAM Airlines charts solid international growth while battling worsening conditions in Brazil
Analysis
Brazilian Airline TAM of the LATAM Airlines Group has continued to expand internationally during 2015 even as it has revised its domestic capacity forecast from flat to a reduction of up to 4% for the year amid a continuing weakening economy in Brazil.

Some of the international build up is occurring from Brasilia, where TAM has also made a regional domestic push in 2015. TAM is also continuing studies of the establishment of a hub in the northeastern region of Brazil to enhance its trans-Atlantic network. The airline's evaluations show that despite Brazil's economic weakness, it is necessary to have a strategy in place to exploit the demand once the economy starts to rebound.

TAM remains the international market share leader among Brazilian airlines, and has the strategic advantage of capitalising on the network of the LATAM Airlines Group to balance the weaker conditions in Brazil. But Brazil will likely continue to drag down LATAM's fortunes in the short term.
TAM plans to shrink domestic capacity in 2015, but logs solid international expansion
TAM has revised its 2015 domestic capacity projections for the Brazilian market from flat growth to a contraction of 2% to 4%. The airline recently cited forecasts of negative GDP growth for Brazil in 2015 and estimates YE2015 inflation of 9%. The BRL has been falling significantly against the USD for the last couple of years – with a devaluation of 34% at the end of 2Q2015 – and TAM has said the expectation is for the USD to continue to strengthen against the USD. Given those bleak projections, it is not surprising that TAM is shrinking its domestic offerings.

The airline has logged international growth in 2015, growing international ASKs by 6% in the first seven months of 2015, according to data from Brazilian government agency ANAC. TAM's international traffic grew 5%, resulting in a 1.23ppt decline in load factor to a still healthy 82.7%.
Among Brazilian airlines, TAM remains the market share leader in international traffic, holding a 78% share during the first seven months of 2015, down from 85.4% the year prior. Gol's share was 14% while Azul captured a nearly 8% share after launching international flights to Fort Lauderdale and Orlando in late 2014.
Data from CAPA and OAG show that for the week of 21-Sep-2015 to 27-Sep-2015 13% of TAM's seats are deployed into international markets.
TAM Airlines international vs domestic capacity (% of seats): 21-Sep-2015 to 27-Sep-2015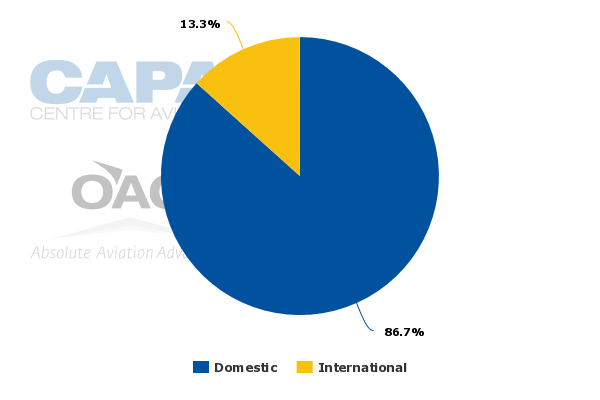 Roughly 57% of TAM's ASMs for the week of 21-Sep-2015 to 27-Sep-2015 are allotted to international markets.
TAM Airlines international vs domestic capacity (% of ASMs): 21-Sep-2015 to 27-Sep-2015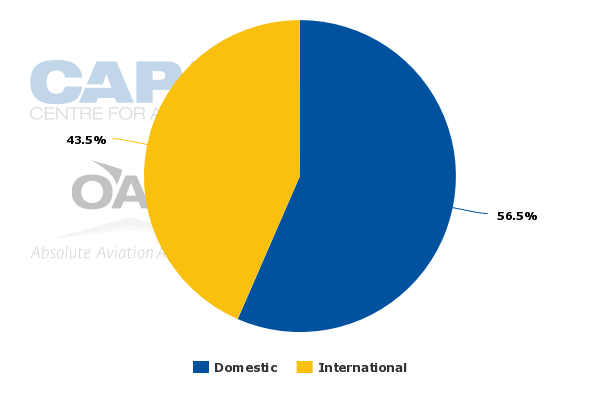 TAM makes a regional and international push from Brasilia, faces competition from Delta
During 2015 TAM has launched new flights from its Brasilia hub to Orlando International and Buenos Aires Ezeiza. In Dec-2015 it plans to introduce service from Brasilia to Punta Cana in the Dominican Republic.

Presently, TAM enjoys a monopoly status on service between Orlando and Brasilia, but Delta Air Lines is preparing to start flights on the pairing in Dec-2015. The Brazil-Orlando market is growing solidly in 2015 as Delta also plans to introduce flights between Orlando and Sao Paulo in late 2015 and Azul plans to enter the market at the same time.

Delta offers particularly interesting competition to TAM in the Brasilia to Orlando market. Delta is increasing its service to Brazil in conjunction with Gol, its Brazilian partner and one of the airlines in which it has taken an equity stake. Data from CAPA and OAG show that for the week of 21-Sep-2015 to 28-Sep-2015 that Delta is Orlando International's third largest airline measured by seat deployment with a 14% share. TAM's oneworld partner American has an 8% share, and is the fourth largest airline at the airport.
Both TAM and Delta are aiming to feed some traffic through Brasilia onto TAM and Gol's domestic routes. TAM is the largest airline at Brasilia with a 44% seat share, and Gol is the second largest with at 36% share. Delta may have an advantage with point of sale in Orlando, but TAM has a larger network to offer for connections onwards from Brasilia.
Brasilia International Airport capacity by airline (% of seats): 21-Sep-2015 to 27-Sep-2015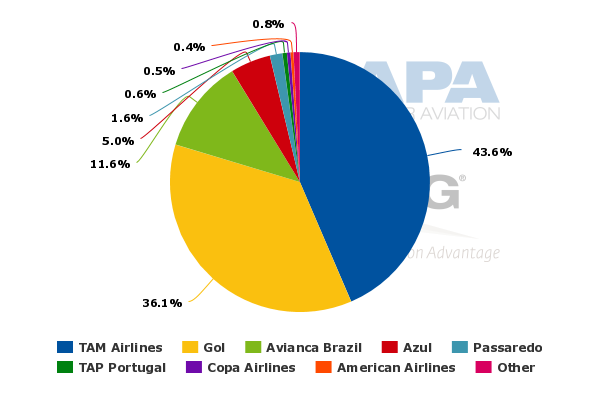 Data from CAPA and OAG show that Aerolineas Argentinas, TAM and Gol operate flights from Brasilia to Buenos Aires Ezeiza. Of the roughly 2,008 one-way seats on offer Aerolineas holds a 20% share, Gol's share is 37% and TAM's share is 35%. Gol has a codeshare with Aerolineas, but LAN is Ezeiza's second largest airline on a system wide basis (measured by seats) behind Aerolineas.
As TAM continues to build up Brasilia, it will need to serve the international destinations with the largest demand from Brazil. Argentina is Brazil's second largest international market measured by seats.
Brazil international capacity by country (% of seats): 21-Sep-2015 to 27-Sep-2015
Argentina, meanwhile, is TAM's second largest international market measured by seat deployment.
TAM Airlines international capacity by country (% of seats): 21-Sep-2015 to 27-Sep-2015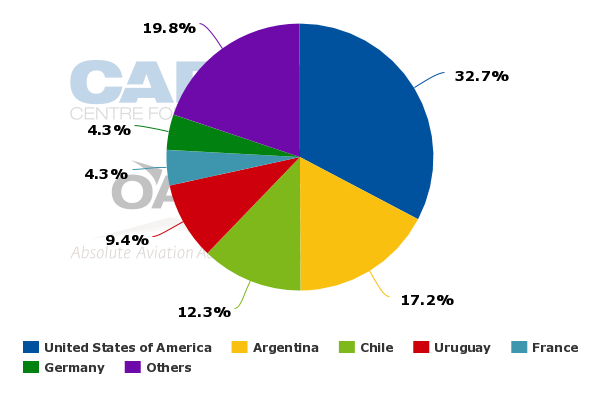 TAM has touted the connections on offer from Brasilia including Sao Paulo, Rio de Janeiro, Belo Horizonte, Curitiba and Porto Alegre. During 2015 TAM has added new domestic routes from Brasilia including Rio Preto, Boa Vista and Iguassu Falls, which further solidifies its position at the airport.

See related report: TAM opts to make a regional push with or without Brazilian government subsidies

TAM is rounding out new service from Brasilia in 2015 with the launch of service to Punta Cana in Dec-2015. The route is uncontested, and reflects a push by LATAM group of adding service from South America to some Caribbean markets with more stable economies. During 2016 LAN Peru plans to bolster frequencies from Lima to Cancun and Punta Cana.
GDP growth in the Dominican Republic is projected at 5% in 2015, which is much stronger than the estimated 0.1% to 0.4% growth forecasted for Latin America as a whole for 2015, down from previous estimated of 1.5%.
TAM has also broadened its international offerings during 2015 from its largest hub at Sao Paulo Guarulhos.
TAM Airlines global top 10 hubs/bases/stations by seats: 21-Sep-2015 to 27-Sep-2015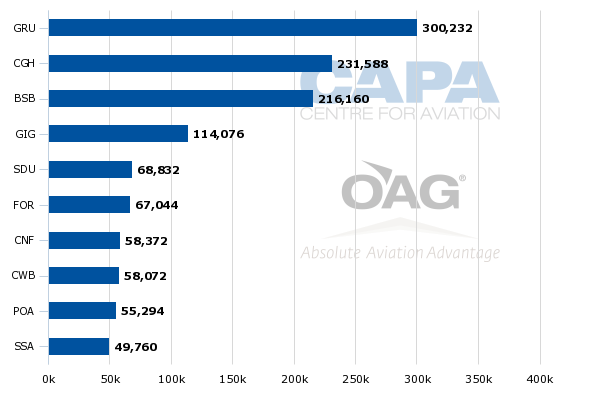 It launched fights to Toronto in Mar-2015, and service to Punta Del Este in Uruguay in Jul-2015. The airline is uncontested in those markets from Sao Paulo. In Oct-2015 TAM is introducing service from Guarulhos to Barcelona. Singapore Airlines currently operates three time weekly on the pairing as part of a stopover in Barcelona on service from Changi.

TAM is codesharing with fellow oneworld member Iberia on the flights between Sao Paulo and Barcelona, which should help the route's performance. TAM and Iberia launched their codeshare in 2014 covering certain beyond connections in Sao Paulo and Madrid. During 2015 the codeshare was expanded to include Madrid-Rio de Janeiro and TAM's new upcoming service to Barcelona.

TAM is following new international flights from Sao Paulo in 2015 with new service to Bogota scheduled for Feb-2016. Presently the route is served by Avianca and LAN. LAN Colombia is the country's second largest airline behind Avianca, so there are ample connectivity options for the new service from TAM, and the service helps TAM to divert some capacity from the Brazilian domestic market. LATAM has not yet offered domestic capacity projections for TAM in the domestic market for 2016, but it is almost certain that its growth will be flat or possibly contract again for the year.
TAM keeps an eye toward the long term with continued study of a northeastern hub
Earlier in 2015 TAM revealed that it was seeking to establish a hub in northeastern Brazil, and that Fortaleza, Natal and Recife were all potential candidates for the new venture. At that time TAM's management stated the move would give customers more direct access to trans-Atlantic markets and result in faster turnaround times to cut operating costs.

TAM recently hired a consultancy to study the effects of the establishment of a hub in the northeastern region of Brazil. The analysis concluded that during its first two years of operation, the new hub would support 1.1 million travellers on long-haul flights and 1 to 1.2 million domestically and on routes within South America. LATAM estimated that it currently transports 33.5 million annual passengers within Brazil and an additional six million on international flights to and from the country.

The study by LATAM of the new hub reflects the balance of long-term strategic planning and weathering the challenging short-term drag that Brazil's economy is having on the company's results. During 2Q2015 LATAMs top line revenues fell nearly 22% year-on-year due to deteriorating conditions in Brazil.

See related report: LATAM Airlines Group has to undergo a delicate balance of short term pain for strategic gain
LATAM is working to exploit its network strength to offset the challenges presented by Brazil
As LATAM Airlines Group navigates bleak conditions in the largest domestic market of the airline group, it does have the ability to deploy assets into stronger regions, providing some relief as conditions within Brazil show no signs of improving in the short term.

TAM has added an interesting mix of international markets during 2015 that include long-haul service to Europe, new flights to the Caribbean and expansion into North America. By leveraging the powerful connectivity of the LATAM group as well as its oneworld partners, perhaps the expansion can dull some of the sting of continuing weak conditions in Brazil.