Taiwan's EVA Air to add Chicago and Houston passenger service to growing North American network
Analysis
EVA Air is moving ahead with introducing service from its Taipei hub to Chicago and Houston, which it has been considering for over a year, along with Atlanta and Dallas. Noticeably EVA Air selected hubs of Star Alliance partner United Airlines rather than enter Delta's fortress in Atlanta or American's hub in Dallas, which has seen a growing number of Asian flights, whereas Houston is relatively quieter.
The additions continue EVA's growth in North America, which accounts for about half of its ASKs. EVA has increased its presence in North America with additional 777-300ERs, growing its 777 fleet from zero in 2004 to 18 in Oct-2014, this figure expected to grow to 32 in 2017, indicating there is still large growth to come. 777s now comprise about one-third of EVA's passenger fleet.
EVA is benefitting from its hub status between North America and greater Asia, but also from larger US-Taiwan traffic flows since the US in Oct-2012 added Taiwan to its visa waiver programme, which helped facilitate a 33% increase in Taiwanese visitors in 2013. Taiwanese visitors for the year to Jul-2014 are up 7%.
EVA will be the ninth airline in Chicago with service to Asia

EVA Air's launch in Chicago is still some time away, with the carrier planning service for some unannounced period in 2016. EVA will be the ninth airline in Chicago with passenger service to Asia. (However, airlines from other regions, such as the Gulf, provide one-stop options.) EVA will be the seventh Asian passenger airline in Chicago, joining ANA, Asiana, Cathay Pacific, Hainan Airlines, JAL and Korean Air. Hainan is the most recent entrant while ANA and Cathay have increased capacity recently. US carriers American and United provide service from Chicago to multiple Asian points.
EVA has not announced frequency, but typically tends to launch new services with four weekly flights. EVA is not entirely new to Chicago, having offered freighter service for over a decade. EVA launched trans-Pacific flights in 1992 with a 747-400 to Los Angeles.
In 1993 EVA introduced passenger service to New York, San Francisco and Seattle. Service has been built up with increases in frequency and conversion to 777-300ERs, which for some destinations (such as New York) has enabled non-stop routings.
Chicago O'Hare International Airport to North East Asia (seats per week, one way): 19-Sep-2011 to 12-Apr-2015
EVA Air will be the third Asian airline with non-stop flights to Houston
It is only in recent times Houston has seen passenger service from Asian airlines. United Airlines offers limited service from Houston to Asia, unlike in Dallas where American offers service to multiple Asian destinations. (American also lacks a strong west coast hub whereas United has a strong presence in San Francisco and Delta is building up its Seattle trans-Pacific hub.)
Air China entered the Houston market in 2013, becoming the first Asian airline with non-stop passenger service. Korean Air entered in May-2014. There will be a substantial drop (from a low base) in northern winter 2014 as United and Air China decrease capacity. EVA plans to enter Houston on 01-Jul-2015 with four weekly flights, making it the third Asian airline with non-stop flights (Singapore Airlines serves Houston but one-stop via Moscow). EVA Air president Cheng Chuan-yi said there is "almost no peak or slow season" for North American services, but with less than daily service, EVA is less exposed to any seasonal fluctuations.
Like Chicago, Houston is a hub for fellow Star carrier United. This should provide connection opportunities beyond EVA's gateways. Star membership has also enabled EVA to gain passengers who would otherwise have not flown the carrier due to loyalty recognition and frequent flyer opportunities. EVA joined Star in Jun-2013.
See related report: EVA Air, now in Star Alliance, looks to grow regionally and long-haul, increasing transfer traffic
Houston Intercontinental Airport to North East Asia (seats per week, one way): 19-Sep-2011 to 12-Apr-2015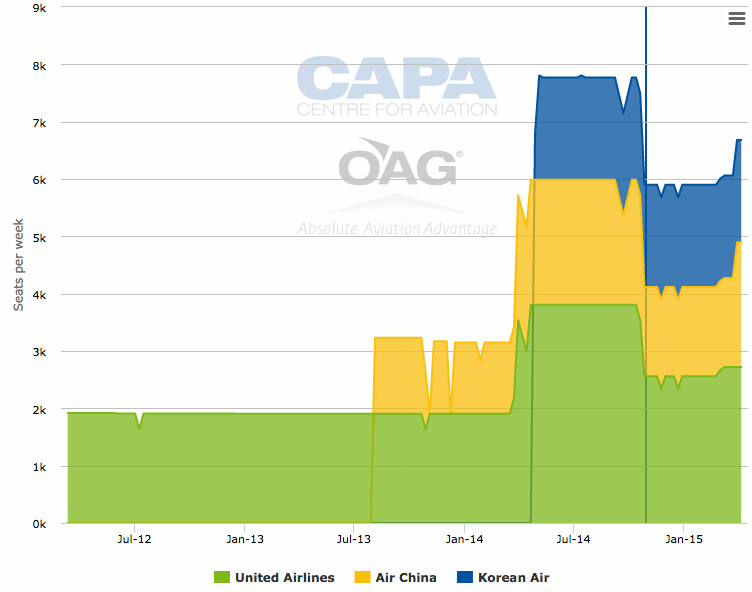 Houston's catchment area may be smaller than Chicago's, but EVA will have less competition to contend with. From Houston, United serves only Tokyo Narita with onward connections on JV partner ANA. Air China is focused on mainland China (less so regional connections) and due to regulatory constraints EVA cannot sell ex-mainland China tickets to the US.
Korean Air links Houston with Seoul with regional connections. EVA Air will not be a strong competitor in North Asian markets due to the backtracking involved, but Southeast Asia is not often a yield-rich market.
There will be some Southeast Asian competition via westbound service from Qatar Airways (777-200LR) and Emirates Airline (777-300ER) in addition to two-stop service from Singapore Airlines over Moscow and then Singapore. Etihad does not serve Houston, and Qatar and Emirates are not serving Houston with their largest aircraft, or more than a daily frequency.
In comparison, Dallas offers greater competition from Gulf carriers to Southeast Asian markets while American has a larger footprint to Asia from Dallas than United has from Houston. Plus EVA would not gain as many connections in Dallas than in Houston.
Dallas/Fort Worth International Airport to North East Asia (seats per week, one way): 19-Sep-2011 to 12-Apr-2015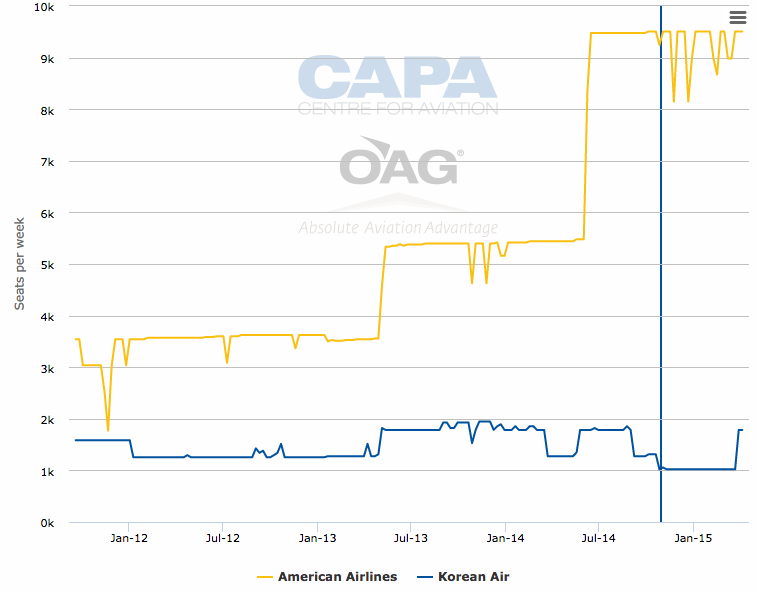 757" height="592" />
North America accounts for about half of EVA's ASKs
During the past decade the North American market (including Toronto and Vancouver in Canada) has accounted for just under half of EVA's ASKs, according to schedules filed with OAG. There has been some fluctuation as EVA has pursued growth in other markets, such as expanded cross-Strait routes to mainland China, and then additional services to Japan following the Japan-Taiwan open skies agreement. EVA has grown North American ASKs 43% since 2004.
The largest growth was between 2013 and 2014, with growth in the next few years likely to be higher than the past decade's average.
EVA Air ASKs to/from/within North America and North American ASKs as share of system total: 2004-2014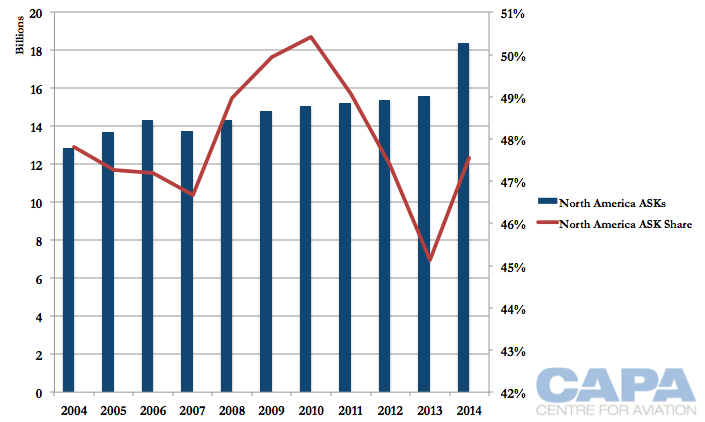 EVA has quietly built up a long-haul 777 fleet
EVA has grown its North American network with the introduction and expansion of a 777 fleet. (The 777s are also used on some of EVA's limited European flights, as well as regional services.) EVA received its first 777 in 2005 and, from late 2010 (it received its 15th 777-300ER in Dec-2010) until 2014, EVA held its 777 fleet flat at 15 frames, but has since grown the fleet to 18 as of Oct-2014 with plans to have 32 in 2017.
Assuming EVA in 2017 retires its 747s and MD-90s, 777s will comprise about 35% of its passenger fleet, about consistent with levels since 2010.
EVA Air 777s in-service and 777 as share of total passenger fleet: 2004-2017F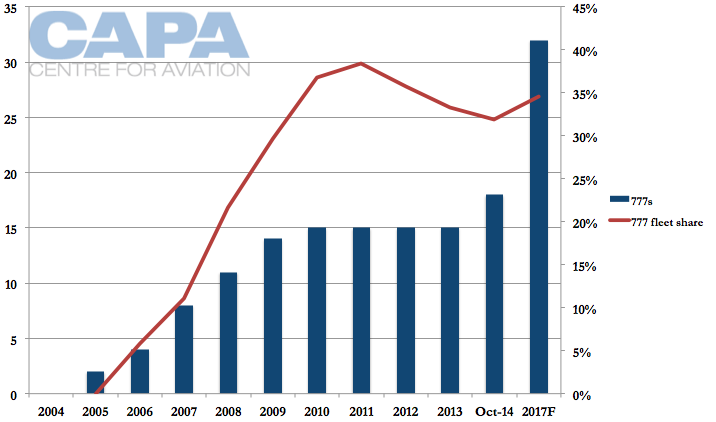 Additional narrowbody aircraft will provide regional connectivity and long-haul feed, so it is unlikely EVA will see a large shift in long-haul or widebody focus. On the contrary, further liberalisation around North Asia, and mainland China especially, could see the emphasis shift to short-haul flying.
EVA Air Fleet Summary hulls: as at 31-Oct-2014
Taiwanese visitors numbers to US grow after US grants visa waiver status
A major contributor to EVA's recent growth and future outlook is the US granting Taiwan in Oct-2012 visa waiver status, making it easier for Taiwan passport holders to visit the US. In 2013, the first full year of the visa waiver programme, Taiwanese visitors to the US increased 33%. Except for a low period in 2009, Taiwanese visitors to the US were a fairly consistent 300,000 annual visitors from 2006 to 2012.
The visa waiver programme has clearly contributed to growth, and 2014 figures (for the year through Jul-2014) are up 7%, less than the one-off growth spurt from the visa waiver programme's introduction, but still higher growth than figures observed in recent years. Traffic is typically leisure or VFR.
Taiwanese visitors to the United States and YOY change: 2006-2013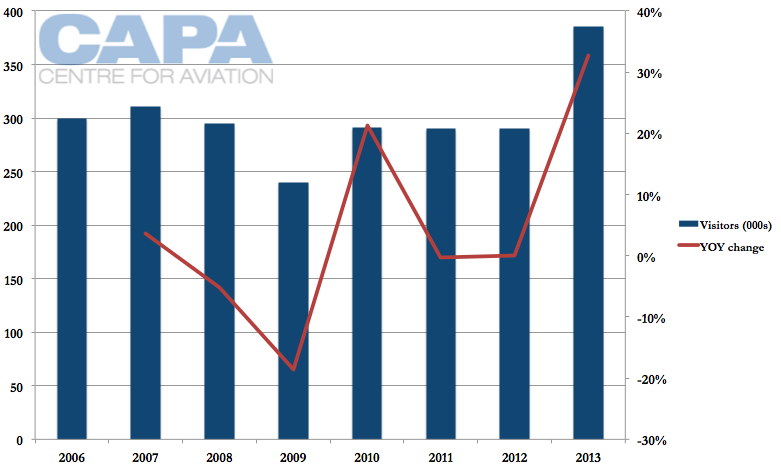 Taiwan is still a relatively small market with about 1100 nationals visiting the US each day (excludes US visitors to Taiwan). United earlier in 2014 re-introduced non-stop service while Delta serves Taiwan via its Tokyo Narita hub, a route excluded on the below graph that only shows non-stop flights.
United States of America to Taiwan (seats per week, one way): 19-Sep-2011 to 12-Apr-2015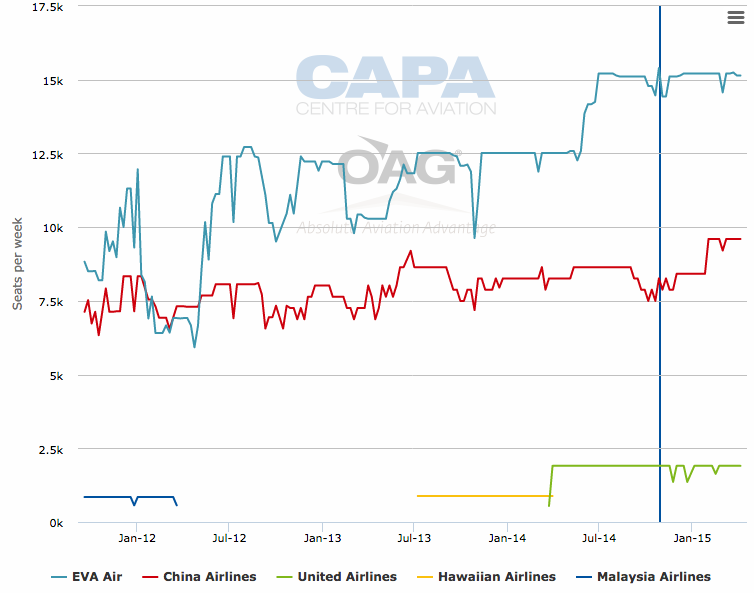 Despite a flat economy, EVA has been able to grow
Economic growth in Taiwan has been small but Taiwan – and EVA – have been able to grow air services. Mainland China is the obvious source for future growth as demand remains far larger than current regulatory amounts permit by way of regular service.
But there is growing demand elsewhere for Taiwan, although this mostly originates from regional Asian markets. EVA Air has been able to supplement this with its Taipei hub performing as a transfer point between North America and Asia. EVA Air is larger in the North American market than rival and indirectly government-owned China Airlines.
EVA and Taiwan itself have often been a quiet, under-appreciated story. This can translate to a lower profile and lower yields, especially as EVA is in the competitive transfer market and Taiwan does not have as strong point-to-point demand as do carriers in Korea, Japan or even Hong Kong. This is gradually changing as Taiwan more actively promotes its tourist attractions; but, unlike its peers, EVA is staunchly resisting establishing a low cost subsidiary to pursue short haul tourist markets as it focusses on transfer traffic.

EVA could secure a larger position, but there are questions about whether the flood of additional capacity in future years will be too much too quickly, especially if EVA has to continue to wait for the regulatory ability to link outbound mainland China with markets beyond Taiwan.
At the very least, EVA will need to raise its profile and awareness. A stronger and more loyal base will ensure stability for what will surely be more competitive times ahead in the trans-Pacific market.