16-Oct-2009 2:40 PM
Southwest reports fourth net loss in past five quarters, Germanwings and bmibaby cross-link websites
In the US, Southwest's shares slipped 5.7%, as the carrier reported its fourth net loss in the past five quarters, of USD16 million in 3Q2009.
However, this represented an improvement from a net loss of USD120 million in 3Q2009, with CEO, Gary Kelly, adding, "to produce a profit, excluding special items, in this environment is a remarkable accomplishment. Sixty days ago, even a modest profit seemed unattainable."
Also in the quarter, the LCC reported a "modest" operating profit of USD23 million, with Mr Kelly adding, "a profit is a profit and in this terrible environment, we'll certainly take it".
Looking ahead, Mr Kelly warned that US carriers face an extended struggle with rising jet fuel prices and continued weak premium demand that shows no signs of ending soon. He added, "I don't believe the worst is behind us."
Meanwhile, Standard & Poor's downgraded Southwest Airlines' debt from 'BBB+' to 'BBB', and assigned it a 'negative' outlook, citing lower demand for travel and weak pricing that have reduced the company's earnings and cash flow.
Selected LCCs daily share price movements (% change): 15-Oct-09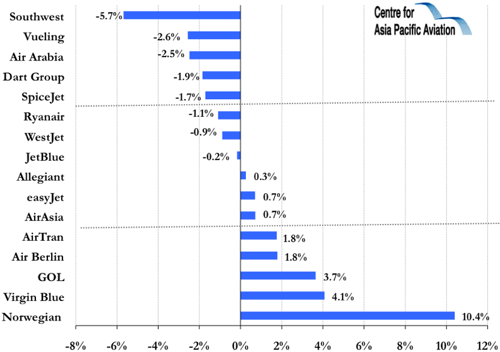 Germanwings and bmibaby to cross-link websites
In Europe, Germanwings and bmibaby announced plans to cross-link their websites, providing both companies with new market opportunities. Under the agreement, effective 25-Oct-2009, a combined 43 destinations (18 bmibaby destinations and 25 Germanwings destinations) will become available for bookings by the two Lufthansa-owned LCCs.
The agreement is similar to one recently launched by Air Berlin and Turkey's Pegasus Airlines, and an existing agreement in place between JetBlue and Aer Lingus.
SpiceJet "got killed" in Sep-2009 on yield slump
In India, SpiceJet's shares closed 1.7% down yesterday. SpiceJet CEO, Sanjay Aggarwal, stated the LCC expects to report a loss in the Sep-2009 quarter, on sharply lower average ticket-prices and with load factors of around 75%. (See separate report - Qantas yields remain "terrible" but demand improving; SpiceJet 2Q yields slumped 35%)