Southwest, JetBlue, Frontier and WestJet burning yields to boost loads
Analysis
The Wall Street Casino may have been set alight by recent traffic reports from US airlines, but yields are still burning as carriers discount heavily to fill up their aircraft.
Southwest Airlines estimates passenger revenue per ASM (PRASM) to have decreased in the 5-6% range in July-2009 – an improvement on the 9-10% reduction the previous month, but hardly an inspiring sign as the Summer peak travel period builds. Still, investors were pleased with Southwest's very strong load factor of 83.2%, up a very healthy 6.9 ppts year-on-year, as RPMs rose 5.2% on a 3.6% decrease in capacity (ASMs).
Southwest Airlines, JetBlue and Frontier Airlines PRASM growth (% change year-on-year): Jan-09 to Jul-09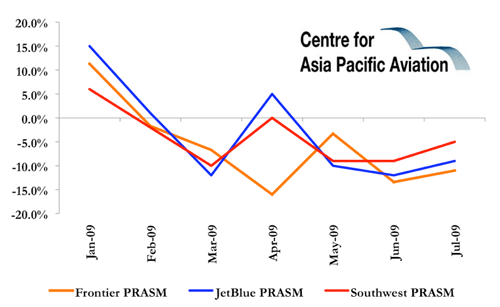 Frontier's load factor record, PRASM slowly edging up
Denver-based Frontier Airlines reported a record mainline load factor of 92.0% for Jul-2009, an increase of 4.2 ppts year-on-year. The airline's PRASM was down 11% last month, despite a decrease in average stage length. This was somewhat of an improvement on the 13.4% reduction reported in Jun-2009.
JetBlue's loads and yields fall
It was a different story for JetBlue, whose Jul-2009 traffic increase (of 0.3%) failed to match the 0.9% capacity increase, resulting in a 0.5 ppts decrease in load factor to 86.1%. JetBlue's preliminary PRASM decreased 9% year-on-year – a slight improvement from the 12% plunge the previous month.
WestJet seeing "similar PRASM declines" to deep 2Q2009 falls
Across the border, WestJet announced a weaker Jul-2009 load factor of 76.4%, as RPMs decreased 4.5%, while capacity decreased 0.4%. President and CEO, Sean Durfy, stated, "for the third quarter of 2009, we are seeing PRASM declines continuing at similar declines from the second quarter year-over-year results", which were down a concerning 15.4%.
Mr Durfy added, "although there have been some early indications that the economy may be improving, the airline industry typically lags economic improvement by six or more months".
Outlook: At least things are not getting worse!
The key conclusion is that the traffic picture, in the main, does not appear to be getting worse, for now. Investors appear to be betting on further improvements in average fares as a result of higher load factors.
The problem for the airlines is that the Summer peak is ending soon and, in the absence of a miracle economic turnaround, it will be a tricky few months until Thanksgiving.