Southwest and JetBlue see yield improvements in Nov-2009, easyJet load factor remain strong
This would be the third consecutive month of increases and the first month this year of double-digit improvements - thanks to large capacity cuts (-7.7% year-on-year) during the month.
Southwest PRASM year-on-year increase: Jan-2009 to Oct-2009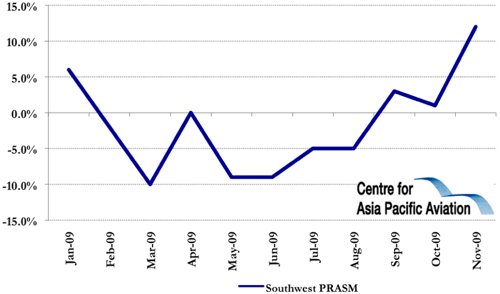 Impressive load factor improvements for Southwest
Southwest transported 7.0 million revenue passengers (+7.6% year-on-year) in Nov-2009, with load factors rising an impressive 13.3 ppts (to 79.2%) for five consecutive months of healthy load factor gains.
Smallest JetBlue yield contraction in seven months
JetBlue (shares up 2.3% on Friday) reported a 1% reduction in passenger revenue per available seat mile (PRASM) for the month (off last year's positive base) - the smallest yield contraction in seven months.
JetBlue PRASM year-on-year increase: May-2007 to Nov-2009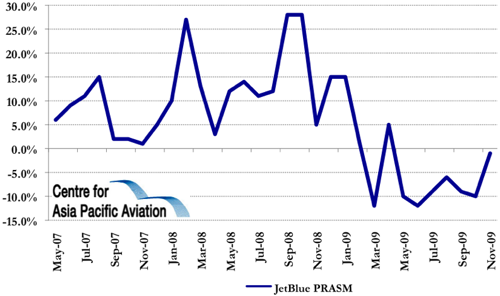 Also in the month, the carrier reported a 6.6% increase in revenue passenger numbers to 1.8 million, as traffic (RPMs) increased 7.7% on a 5.3% capacity (ASMs) increase, resulting in a 1.7 ppt load factor improvement to 77.4%.
easyJet's sky high load factor trend continues; double-digit pax growth
easyJet's shares gained 2.6% on Friday, as the LCC reported a 12.2% increase in passenger numbers in Nov-2009, to 3.4 million, with a 0.9 ppt load factor improvement to 84.8%.
Comparatively, Ryanair reported a 15% jump in passenger numbers in the month, to 5.0 million, with a load factor of 80% (+1 ppt). Ryanair's shares were up 4.7% on Friday.
Selected LCCs daily share price movements (% change): 04-Dec-09