Southwest Airlines strikes a cautious tone for its 2017 unit revenue performance outlook
Analysis
Southwest Airlines remains committed to capping its capacity growth at 3.5% in 2017, of which 2.5% is pegged for the US domestic market. At the end of 2016 the company said that US domestic seats were outpacing the country's GDP growth, and Southwest has often cited capacity pressure in many of its markets.

The large US airlines, including Southwest, seem to be keeping their domestic growth in check during 2017 as they work to achieve and sustain a positive unit revenue performance. Southwest expects sequential improvement in 1Q2017, and believes two year declines have now bottomed out – a conclusion drawn by most of its US airline counterparts.

Similarly to most US airlines, Southwest is facing cost pressure in 2017 stemming from recent collective bargaining agreement it has reached with large labour groups. The challenge for Southwest and the rest of its competitors is achieving a unit revenue performance that offsets cost inflation.
Southwest takes a cautious approach to its unit revenue performance in early 2017
Southwest posted a 2.9% drop in unit revenue in 4Q2016 and a 1.6% decline for FY2016. Better than expected trends at the end of 2016 resulted in Southwest revising its 4Q2016 unit revenue outlook from a decline of 4% to 5% to 3% to 4%, and it beat its revised expectations after facing the risk of posting a sequential decline in 4Q2016 based on initial guidance.

See related report: Pressure mounts on Southwest Airlines to deliver on its goal of positive unit revenue in early 2017

The airline cited a bump in demand after the US presidential election in Nov-2016, and after two years of unit revenue declines "it feels like we're bottoming", Southwest CEO Gary Kelly has said.

Mr Kelly remarked that Southwest "has a shot" at flat unit revenue for 1Q2016, and its unit revenue forecast is the most conservative among its large US peers – American, Delta and United. Southwest is forecasting unit revenue growth ranging from a 1% decrease to flat growth for the quarter.
Unit revenue forecast for American, Delta, Southwest and United: 1Q017
| | |
| --- | --- |
| American | 2.5% to 4.5% increase in TRASM |
| Delta | 2% increase in PRASM |
| United | flat to a 1% increase in unit revenue |
| Southwest | flat to a 1% decrease in unit revenue |
Southwest is taking a measured approach in its unit revenue forecast, perhaps due to the fact that along with other US airlines in the past it has missed other targeted deadlines for attaining positive results. Mr Kelly noted that the company is working hard to meet its goal of a flat performance in 1Q2017, but is not definitely declaring that it will meet that target.
Southwest's plans: higher 2017 expansion than at its large US rivals
Southwest is sticking to previous capacity guidance for 2017 of 3.5%, of which 2.5% is allotted for the US domestic market and 1% is pegged for international routes. During 2017 Southwest is adding Fort Lauderdale as an international base, adding flights to Grand Cayman, Belize, Cancún and Montego Bay.

See related report – Southwest Airlines: domestic changes, continued international expansion as overall 2017 growth slows

The airline experienced some grief from the markets in 2016 after it stuck to its nearly 6% growth forecast. Most large airlines refined their capacity expansion downwards throughout the year as the revenue environment remained stubbornly weak. Southwest's planned growth for 2017 is still higher than forecast increases offered by American, Delta and United.
System capacity forecast for American, Delta, Southwest and United: 2017
The airline plans to end 2017 with just over 700 operating aircraft in its fleet as Boeing 737 Classics are retired. Its fleet should grow to 743 in 2018.
Southwest Airlines fleet summary as of 28-Jan-2017
Although it is early to declare a definitive US GDP growth forecast for 2017, the broad view is that economic growth should reach 2%, which puts Southwest domestic growth somewhat in line with GDP increases.
Mr Kelly has stated that, broadly speaking, Southwest's growth would be in the low single digits in the future. However, he cautioned that Southwest was not willing to commit to a specific growth number.
For the five year period covering 2012 to 2016, Southwest's highest growth of 7% occurred in 2015, when it undertook a massive expansion from Dallas Love Field after restrictions limiting certain longer haul flights from the airport were lifted.
Southwest Airlines annual available seat miles: 2011 to 2016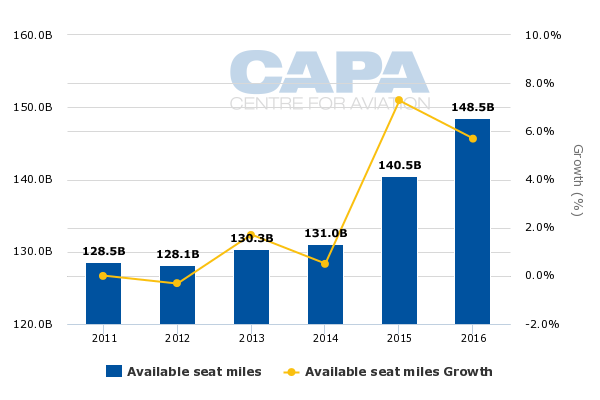 See related report: American Airlines and Southwest Airlines in Dallas DFW and Love: competition revives as Wright ends
Southwest is likely to face margin challenges from higher unit costs in 2017
After difficult negotiations with pilots and flight attendants, Southwest brokered new collective bargaining agreements with both those labour groups in 2016. The deals created some cost pressure for the airline in late 2016 that is carrying over into early 2017.

The airline's non fuel unit costs excluding special items and profit sharing grew 4.4% year-on-year in 4Q2016 and 2.3% for the full year. Southwest's top line labour expenses increased 3% for 4Q and 6.5% for the full year of 2016.

Approximately 3.5ppt of Southwest's 4Q2016 unit cost increase was driven by the new labour agreements, which included an immediate snap up in wages during the quarter.

Southwest expects its cost inflation during 2017 to peak in the first quarter, when its unit costs will rise approximately 6% to 7% year-on-year, with 4ppt attributed to costs from the new labour contracts. By 4Q2017, Southwest expects a flat unit cost performance, which results in an estimated increase of 3% for full year 2017.

The key for Southwest and other airlines in 2017 is working toward a unit revenue performance that keeps pace with – or surpasses – the cost pressure looming in the year.
Delta has already warned of margin compression in 2017, and United recently offered a tepid pretax margin guide for 1Q2017 of 0.2% to 2.5%. Those airlines are also facing cost challenges from new labour agreements. Delta is forecasting a 5% to 7% rise in unit costs excluding fuel for 1Q2107. United's 1Q2017 unit cost forecast (excluding fuel, profit sharing and special charges) is a rise of 4.5% to 5.5%, of which 4ppt is driven by new labour agreements.

See related report: United Airlines' lofty margin goals draw scrutiny, after a tepid market guide for 1Q2017

Most airlines have poor visibility into their respective revenue outlooks for 2017 as they admit their forecasting capabilities are lacking, and Southwest is no different. It cites welcome changes in the revenue environment, but is being careful not to offer definitive unit revenue guidance it could miss in the future.

Even with Southwest's cost pressure easing during the latter part of 2017, its margins for the year are likely to be squeezed given the challenges of posting a unit revenue performance that outpaces cost inflation. Delta, which has already outlined margin pressure, predicts its cost inflation will be weighted toward 1H2017. The company's operating margin for 2017 excluding special items was 19.4%.
Southwest is not likely to strike the right unit revenue/cost balance in 2017
Southwest is taking a cautious view of the US operating environment at the start of 2017, being careful not to stump markets by making a unit revenue forecast it could possibly miss, even as pricing trends are starting to stabilise.

Overall, US airline profitability is likely to fall in 2017 as cost creep outpaces the industry's unit revenue performance.
Southwest, even as it remains on solid financial footing, does not appear to be escaping the margin pressure triggered by the unit revenue/unit cost imbalance.