Southwest Airlines has clear sights on its ROIC targets after a strong 2Q2014 performance
Southwest Airlines believes it has forged a clear path to reach its 15% target for return on invested capital (ROIC) for FY2014 after seeing those targets slip away for the past two years. Its ROIC for the 12 months ending in Jun-2014 was 17% versus 8.5% the year prior.

The airline's favourable return performance was driven by a particularly strong 2Q2014 as Southwest benefitted from its significant domestic presence. American, Delta and United all recorded their strongest revenue performance in the US domestic market, so it is not surprising that Southwest, with roughly 99% of its seat deployed in the domestic space, enjoyed particular revenue strength during the quarter.

But limited opportunities for expansion remain in the mature US market, which is why Southwest is attempting to spread its brand to near-international destinations in full force. At the same time the airline is taking a conservative approach to balance sheet management even as it ensures it offers competitive shareholder rewards.
Strong domestic demand fuels robust unit revenue and yield growth for Southwest
Southwest's average fare increased nearly 8% in 2Q2014, driving a 6% rise in yields and 8.4% growth in passenger unit revenues.
Southwest Airlines unit revenue, unit cost and yield performance: 2Q2014 vs 2Q2013 and 1H2014 vs 1H2013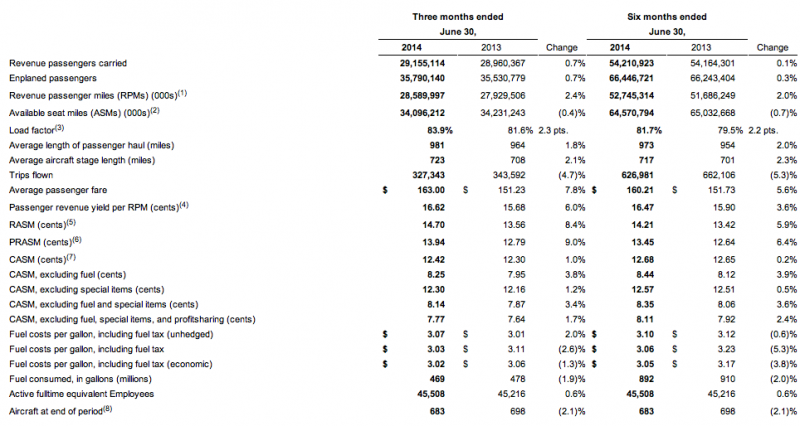 Those strong unit results helped Southwest grow earnings in the quarter to USD465 million (including special items), compared with a profit of USD224 million the year prior. Its operating income jumped 79% year-on-year to USD775 million.
The airline's top-line expenses remained flat year-on-year at USD4.2 billion while operating revenues reached USD5 billion, nearly 8% growth from the year prior.
Southwest Airlines financial performance: 2Q2014 vs 2Q2013 and 1H2014 vs 1H2013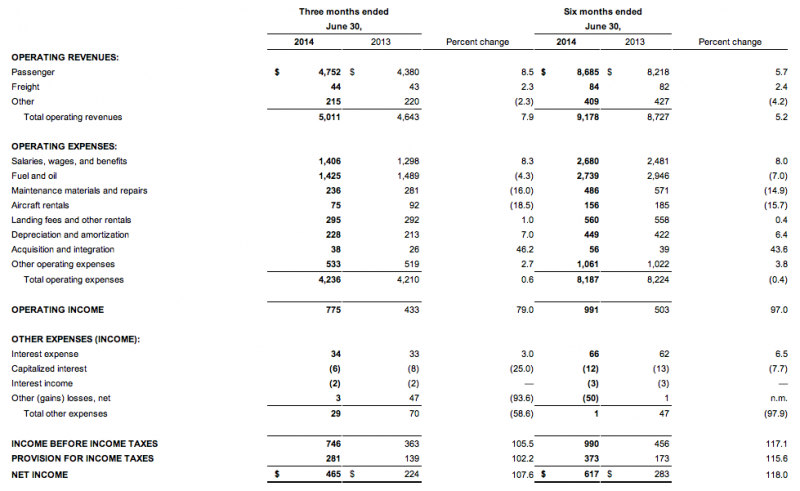 Southwest looks further afield as the US domestic market reaches maturity
The US major airlines are seeing particularly robust demand in the country's domestic air travel market. American recorded 10% passenger unit revenue growth on its domestic routes, and Delta posted similar gains. United increased its passenger unit revenues in the domestic space by 7.8% year-on-year in 2Q2014.

See related reports:

Southwest's large domestic presence was a boon to the airline during the quarter as it took advantage of the robust demand to gain favourable pricing traction.

But Southwest realises the limitations of the mature US domestic market in light of the 17 domestic additions after it acquired AirTran in 2010. Airline CEO Gary Kelly remarked that "our opportunities to add dots or destinations in the 48 states is rather limited".
But he does believe there is some room left to connect existing destinations evidenced through the lifting of the Wright Amendment in Oct-2014 that bans longer-haul flights from Southwest's Dallas Love Field headquarters, and Southwest's enhanced access at Washington National airport through the acquisition of slots from American Airlines.

See related report: Southwest continues to drive network strength in the US market

Even as Southwest realises the limits presented by the domestic market place, it estimates that 20% of its network in 2Q2014 was "under development". However, the airline stressed that unlike the year prior, the higher number of younger routes within its network is not dragging down its revenue performance.
Southwest pushes for a new bilateral with Mexico
Southwest debuted its own branded international flights in early Jul-2014 when it assumed AirTran's flights from Baltimore Washington International Airport to Aruba, Montego Bay and Nassau. The airline also took over AirTran's flights from Orlando to Aruba and Montego Bay and Atlanta to Montego Bay.

Southwest has identified roughly 50 international markets that it could possibly serve in Canada, the Caribbean, Mexico, Central America and in northern South America. It is also studying service to Hawaii and Alaska.

Obviously Southwest is not disclosing its international plans other than prioritising opportunities based on traffic and revenue potential. The airline is preparing to open a new international terminal at Houston Hobby in late 2015, so it is likely some new route announcements could materialise prior to the opening.

Southwest eventually aims to have roughly 15% of its ASMs deployed in international markets, but the ramp-up in meeting that target will obviously take some time. It is likely that Southwest will balance building-out breadth in its existing international markets – possibly adding Cancun, Los Cabos and Mexico City from Houston. All of those markets are served by AirTran, but are transitioning to Southwest by YE2014.

Southwest did highlight bilateral negotiations between the governments of US and Mexico, noting that Mexico was interested in liberalising the treaty. Southwest stated it was a goal it supported, and is urging the US government to pursue a new agreement with Mexico to allow more service for US airlines.
Southwest posts a solid cost performance in 2Q2014 but contract talks loom large
As it weighs various options for international growth, Southwest recorded a solid cost performance in 2Q2014, growing its unit cost excluding fuel, profit sharing and special items by 1.7%. That was a slight improvement over previous guidance issued by Southwest of a 2%-3% unit cost rise in 2Q2014. The reduction was driven by the shift of some advertising and training costs into 2H2014.

Despite some headwinds from costs shifting from 1H2014 to 2H2014, Southwest projects a similar unit costs increase for 3Q2014 as 2Q2014, roughly 1.7%.

Most of the training expense relates to AirTran employees making the transition to Southwest. Those expenses are factored into total integration costs of USD550 million.

During 2014 Southwest is incurring some inefficiency as aircraft employees and aircraft transition from AirTran. In 2015 a higher percentage of employees will have migrated to the Southwest pay scale, which will create some inflation, Southwest executives stated. During 2Q2014 and 1H2014, salaries and benefits at Southwest increased 8%, so it is possible that the wage inflation may be beyond those levels in 2015. Southwest is also in labour negotiations with many of its employee groups, and it remains unclear what cost impact new contracts could have in 2015 and beyond.
Southwest believes it is practicing prudent balance sheet management
Southwest appears to be within reach of attaining its 15% ROIC goal for 2014 after missing that target over the past two years. With the goal within reach, Southwest is fielding some queries about its ultimate return targets, and assures that 15% is the floor.

See related report: Southwest Airlines plots course to meet previously missed ROIC targets

The airline is also getting some push back for acting too conservatively in managing its balance sheet, which includes roughly USD4 billion in cash. Southwest explained there is some seasonality in its cash balances, and also highlighted it has USD400 million in debt payments due in 2H2014. It explained ultimately its cash target is in the range of USD2.5 billion.

Mr Kelly concluded that he does not presently view Southwest's balance sheet management as too conservative. He highlighted the last decade in the airline industry was brutal, so "you can't extrapolate 2014 into infinity, and we do want to make sure that we err on this side financially of being conservative, and being very well prepared for the unpredictable".

Even as Southwest appears to be holding onto some cash, the airline has ensured that its shareholders are receiving rewards. During 1H2014 the airline returned USD652 million to shareholders through the payment of USD97 million in dividends and USD555 million in stock repurchases.
Labour unrest underpins Southwest's smooth merger integration
Southwest remains in a reasonably strong position as its merger with AirTran closes by YE2014 and US domestic demand remains robust. It has several international market prospects, and will no doubt adopt a cautious approach in developing its strategy to serve near-international destinations.

Perhaps a vital unknown for Southwest going forward is the outcome of labour negotiations. At some point during 2014 it appears that the historically favourable employee relations Southwest has enjoyed have chilled, which means Southwest faces a tough road in achieving its goals in the negotiations.

But for now Southwest can enjoy the rewards of taking a measured and cautious approach in the AirTran integration. In this instance, its typical conservative style has paid off.