Southwest Airlines finally exceeds return goals with fuel windfall; but others want to share in it
Analysis
Southwest Airlines capped a strong 2014 by posting a 21% return on invested capital (ROIC) – it best performance in that metric since 1981. It is a welcome performance for Southwest after the company missed its return goals for the previous two years.

The airline also continues to see solid demand, but like United, is monitoring corporate travel trends in the energy sector as a result of rapidly falling fuel prices. Southwest is also predicting flat passenger unit revenue growth for 1Q2015, which is in line with the estimates of its rivals United and Delta.

A sharp decline in oil prices has resulted in Southwest projecting roughly USD1.7 billion in fuel expense savings in 2015. But unlike some of its competitors, the airline is not rushing to define how it intends to apply the savings. As the rising chorus of "me too" gathers volume, Southwest looks likely to be confronting the same issues that its major peer airlines are beginning to.
Southwest records nice growth in CY2014 earnings and operating profits
Southwest posted profits during 4Q2014 excluding special items of USD404 million and including items of USD190 million, which was roughly a 10% decline year-on-year. For CY2014 Southwest's profits excluding special items were USD1.4 billion and USD1.1 million factoring in those items, a nearly 51% jump year-on-year.
Southwest Airlines financial results: 4Q2014 vs 4Q2013 and CY2014 vs CY2013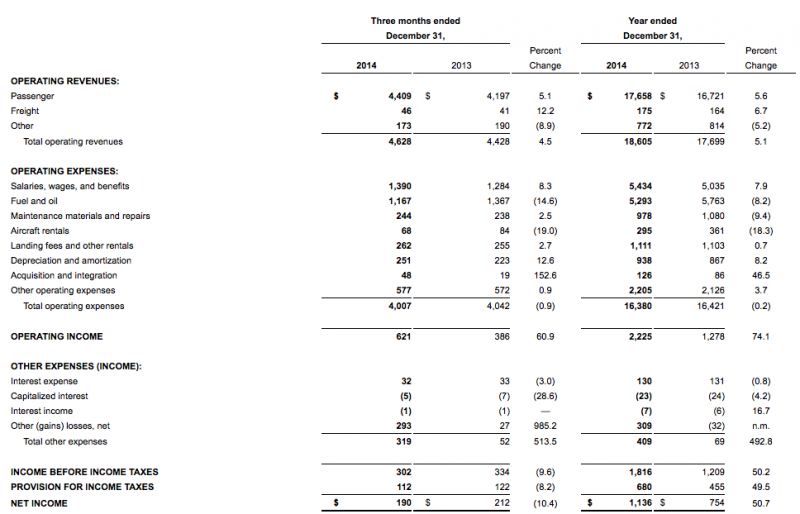 The airline's top line revenues grew 4.5% and 5.1%, respectively, in 4Q2014 and CY2014 to USD4.6 billion and USD18.billion. Southwest's operating expenses in each time period remained essentially flat, which created a 61% rise in operating income during 4Q2014 to USD621 million and a 74% jump for CY2014 to USD2.2 billion.
Southwest projects flat unit revenue growth in 1Q2015
On a unit basis, Southwest's yield for 4Q2014 and CY2014 increased by 0.7% and 2%, and passenger unit revenues for the quarter and full year grew 2.6% and 5.1%. The airline's unit costs excluding fuel, special items and profit sharing increased 1.2% in 4Q2014 and 1.9% for CY2014.
Southwest Airlines unit revenue, unit cost and yield performance: 4Q2014 vs 4Q2013 and CY2014 vs CY2013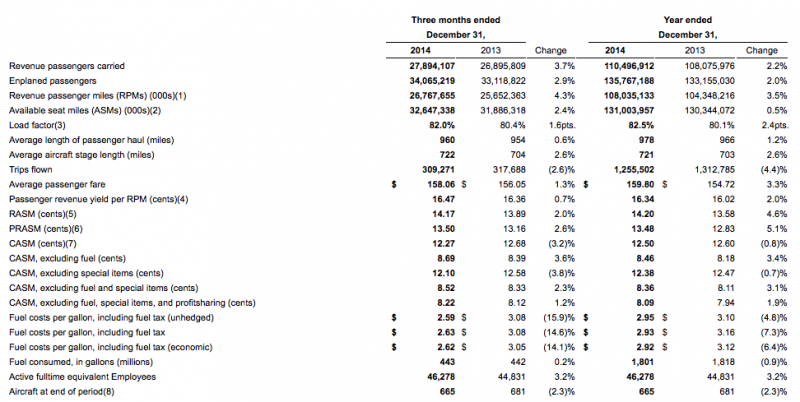 Southwest expects its unit costs excluding all those items to fall 1% to 2% in both 1Q2015 and CY2015. It projects 6% capacity growth during 1Q2015 and a flat passenger unit revenue performance. "Our business remains steady," Southwest CFO Tammy Romo recently told analysts and investors. "Although I would alert everyone to be mindful of the distortions in analysing our performance on a unit basis and as we point out, that's caused by the increased utilisation of the fleet, the increased stage length, the increase in the gauge, all leading to very healthy ASM growth.

The airline estimates that its stage length is growing 3% to 4% in 1Q2015 (driven in part by new longer-haul service from Dallas Love Field), and a 2% to 3% rise in seats per trip as part of a fleet modernisation programme. Ms Romo said the additional seats are "being produced at a minimal costs, so very cost effective growth for us here in 2015.

With the conversion of some AirTran routes, its own push from Love Field made possible by the lifting of the Wright Amendment that prohibited certain longer flights from the airport and the introduction of new international service, Southwest has a larger than normal number of routes under development, which is also creating some pressure on unit revenues. Nearly 20% of Southwest's capacity fell into the under development category in 4Q2014.
Southwest keeps an eye on the energy sector, does not see domestic weakness
Other US major airlines are also predicting tepid passenger unit revenue growth during 1Q2015. Delta estimates a flat performance driven in part by the effects of winter storms that ravaged the US during 1Q2014. United is estimating a 1% rise to 1% drop in its unit revenues. A number of factors are driving United's estimates including its conclusion that some signs of softness in the domestic market emerged in late 2014 that are continuing into 1Q2014. United expects its domestic capacity in 1Q2015 to be flat to down 1%, and Delta has also outlined plans to cut 1.5ppt of its domestic schedule beginning in Mar-2015.

See related reports:
United Airlines continues to post solid financial gains, numerous revenue headwinds ahead in 1Q2015
Delta Air Lines finishes a solid 2014 ready to face currency headwinds and macro pricing pressure

Southwest, which has roughly 96% of ASMs deployed into the domestic market, has not made any changes to its outlook. Ms Romo explained that adjusting for developing markets during 4Q2014, "we have PRASM gains realised really across all haul lengths. We saw strength in both leisure and our business passengers...".

Company CEO Gary Kelly concluded that Southwest's stage length increase that increased 2.6% in CY2014 and upgauging created a two point adjustment in its unit revenues for the year. "So it really takes the year which was up 4.6% [RASM], it takes up to 6.6%, and the fourth quarter...so..softness is not a word that makes any kind of sense".

Mr Kelly did make similar remarks to United's executives regarding the effects of lower oil prices on the energy industry. "The change in energy prices is no doubt going to ripple through the oil and gas economy, and we serve Texas [which is dependent on that sector] in a big way." Southwest is headquartered at Dallas Love Field, and its largest domestic route measured by seats for 26-Jan2015 to 1-Feb-2015 is Dallas to Houston Hobby.
Southwest Airlines top ten domestic routes by seats: 26-Jan-2015 to 1-Feb-2015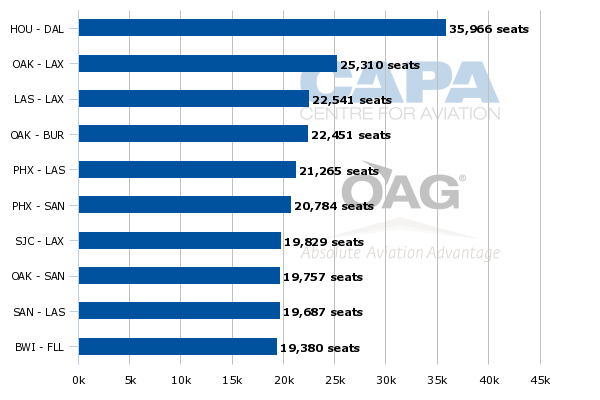 United also stated it was monitoring the impact of lower oil prices on its energy related corporate traffic. The oil industry is a significant driver of the economy in Houston, which is United's top base measured by seat deployment for the week of 26-Jan-2015 to 1-Feb-2015.
Southwest is not providing clear guidance on how it aims to use cash from fuel savings
Similar to most US airlines, Southwest enjoyed significant benefits from the fall in oil prices in 2014. During 4Q2014, Southwest's top line fuel expense fell 14.6% and decreased 8.2% for CY2014. Ms Romo stated that during 1Q2015 Southwest has "neutralised its hedge...and we are now participating in 90% of the market drop as a result". Based on its hedge position and market prices, Southwest expects to pay USD1.90 per gallon for fuel in 1Q2015, and forecasts approximately USD1.7 billion in fuel savings in CY2015.

Both United and Delta have stated that cash windfalls stemming from lower fuel prices would be used for continuing balance sheet cleanup and shareholder rewards. Southwest has not made any definitive declarations as to how it plans to use its fuel savings.

Mr Kelly observed that it was a high quality problem. "We'll be thoughtful as to our uses of additional cash, but as a footnote, I would add that given the extreme volatility that we're experiencing in the oil markets, it's anybody's guess what will happen next." He stressed that while Southwest has no plans to change its growth projections, "after 2015 we'll take a look at that or we'll just run a higher cash balance.
"But if nothing else, it will preempt the need to do any debt financings that we might have been contemplating over the next several years and we do have a fair amount of debt that's coming due over the next 36 months".

All the US airlines are now actively touting their shareholder returns. Southwest estimates it generated USD1.1 billion in free cash flow in 2014, which was returned to shareholders through USD955 million in share repurchases and USD139 million in dividend payments. Delta estimates that it returned USD1.35 billion to shareholders in 2014 through USD1.1 billion in share repurchases and USD251 million in dividends. United launched a share repurchase programme in 2014 and estimates it spent USD320 million in share buybacks.
Southwest Airlines' challenge: balancing labour and shareholder desire for growing returns
During 2014 when Southwest appeared to be on a course for exceeding its goal of 15% ROIC, the airline fielded questions about potentially raising that target. But for near term Southwest is keeping its current goals intact, as Mr Kelly concluded, "We've got some catching up to do."

Southwest is also in contract negotiations with several labour groups, and during the last couple of years it seems that tension has strengthened between employees and management. Ironically, the airline's strong financial performance will likely continue to fuel that tension.

Unfortunately the unresolved contracts will continue to cast at least a faint cloud over Southwest as it works to forge contracts to create a framework to keep its costs in line. As its financial strength continues to grow, Southwest must strike a delicate balance between sharing the gains with employees and satisfying shareholder demands for higher returns.