Southwest Airlines eyes expansion & codeshares for international growth: CAPA Latin America Summit
Analysis
Southwest Airlines appears to be moving closer to forging interline and codesharing pacts with other airlines, now that it has the technology in place to foster those relationships, and has a framework to negotiate codeshare and interlining tie-ups with its pilots.

The airline believes the business case for creating new airline partnerships remains robust, and codeshares could provide Southwest with an additional revenue stream that could reach millions annually.

As Southwest evaluates potential airline partners, the airline continues its international expansion, capping off 2017 with the introduction of a new market, Turks and Caicos. For now, Southwest is obviously targeting point of sale US for its international network, but the airlines is examining expansion of its international services – at some point – deeper into South America, as new generation narrowbody aircraft open up new route possibilities.
Southwest Airlines has an optimal position in the US for generating codeshare revenue
Southwest is moving closer to having the capability to forge interline and codesharing partnerships with other airlines, now having completed adoption of the Amadeus reservation system earlier in 2017.
Speaking to CAPA TV at the recent Latin American Aviation Summit in Cartagena, Colombia, Southwest Airlines director of international planning Steven Swan stated that forging partnerships is "something we're focused on right now", and Amadeus "gives us the foundation to go ahead with that". However, Mr Swan remarked that there's still a lot of technology work to be done to enable airline partnerships.
Southwest Airlines director of international planning Steven Swan, at CAPA's Latin America Aviation Summit

Joining Mr Swan at the conference was Southwest's managing director of business development, David Harvey, who added that while developing codesharing and interline partnerships drives a certain level of complexity, there is "absolutely value there" as the company examines the business case for airline partnerships.

Southwest's position in the US market is attractive to potential partners. It is the second largest domestic airline based on traffic share.
US airline domestic market share from Jul-2016 to Jun-2017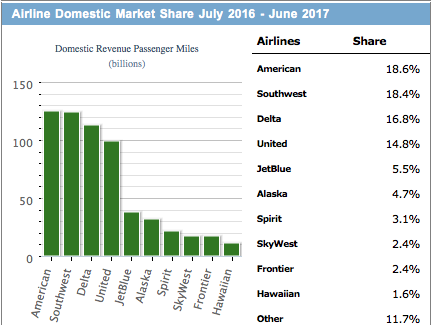 The airline has calculated that it has a leading market share (measured by domestic passenger boarded) in several US metro areas, including the Los Angeles Basin, the San Francisco Bay area, Denver and Las Vegas.
Southwest market share in selected cities for the 12M ending 31-Mar-2017, based passengers with domestic origins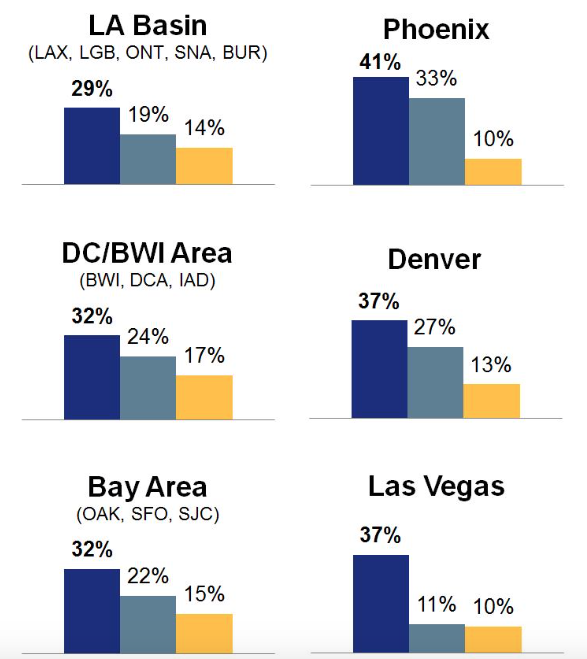 Smaller US airlines, including Alaska Air Group and jetBlue, are recording solid revenue from their codesharing pacts. Alaska has leveraged its leading position at its largest base in Seattle to create numerous codeshare agreements; before its acquisition of Virgin America in late 2016, Alaska had posted approximately USD486 million in revenue from codesharing agreements in 2014 (from domestic codeshare partners), and approximately USD169 million in interline revenue.

As Alaska has moved to grow its network organically, and through the Virgin America acquisition, its codeshare revenue from domestic partners has decreased.
JetBlue has used its leading positions at New York JFK, Boston and Fort Lauderdale to forge numerous codesharing partnerships. JetBlue posted close to USD120 million from partnerships (codeshare and interline) in 2013, which was before a push by the airline to establish two-way codeshares.

See related report: American and jetBlue's interline termination reflects the realities of US airline consolidation
Southwest makes an effort to explain codeshare benefits to employees
Historically, potential codeshare relationships have been a sensitive issue for Southwest's pilots, and the latest collective bargaining agreement that management struck with its pilot group (in 2016) stipulates that the airline has to negotiate with pilots for codeshare approval on a case-by-case basis.

During 2017 Southwest has attempted to explain the benefits of codesharing to its employees. The news outlet The Chicago Business Journal has cited an internal memo from company SVP of network Andrew Watterson in which he stated that long haul partners could increase Southwest's shoulder flying without displacing its current customer base.

Although it could be some time before Southwest enters into fully fledged codesharing agreements, the airline is working behind the scenes to lay the groundwork to create those partnerships in the mid to long term.
Southwest is putting the tools in place for longer haul destinations
Southwest's seats deployed into international markets are forecast to grow approximately 37% year-on-year in 2017, driven in part by the opening of a new international terminal in Fort Lauderdale that the airline has used to launch new services, including Grand Cayman and Turks and Caicos, which are new markets for Southwest.
Other international routes that Southwest has added, or plans to introduce from Fort Lauderdale in 2016-2017, include Nassau, Montego Bay, San Jose, Belize City, and the Cuban cities of Havana, Varadero and Santa Clara.
Mr Swan said that flights from Fort Lauderdale to Havana were doing well, but the airline had dropped flights to Varadero and Santa Clara due to lack of demand.
Southwest Airlines annual international seats from 2012 to early 2018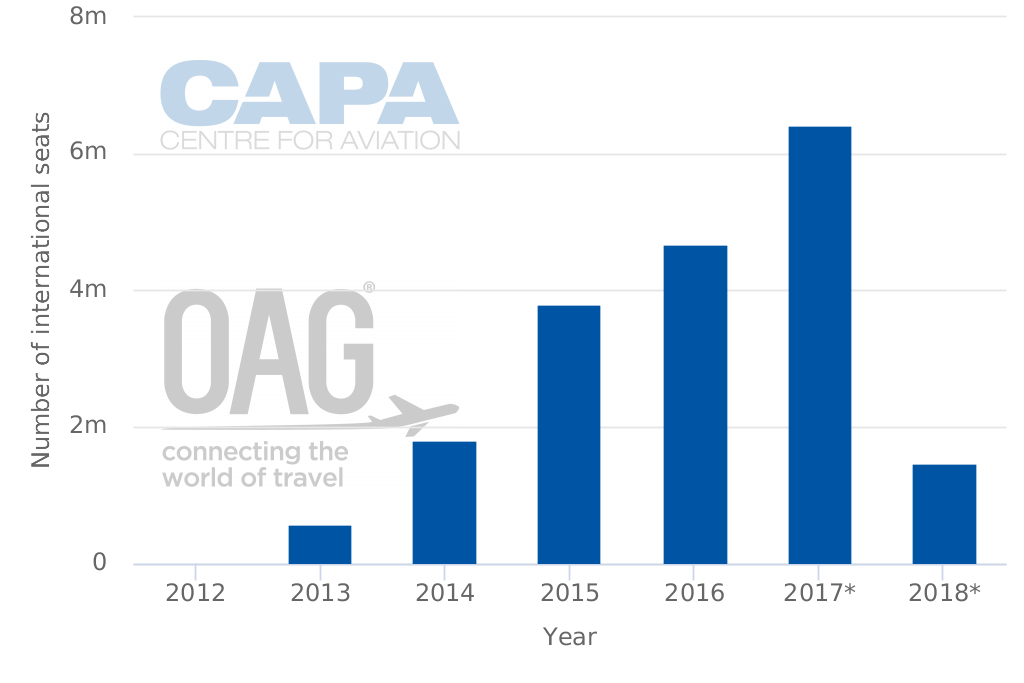 See related report: Cuba's alluring new mystique quickly fades as US airlines face overcapacity and sluggish demand

Southwest's furthermost international point is San Jose, Costa Rica, and Mr Swan remarked that additional technology development would be necessary in order to sell into markets deeper within Latin America.
Southwest route map 2006 versus 2016 - Blue - 2006 - Red-2016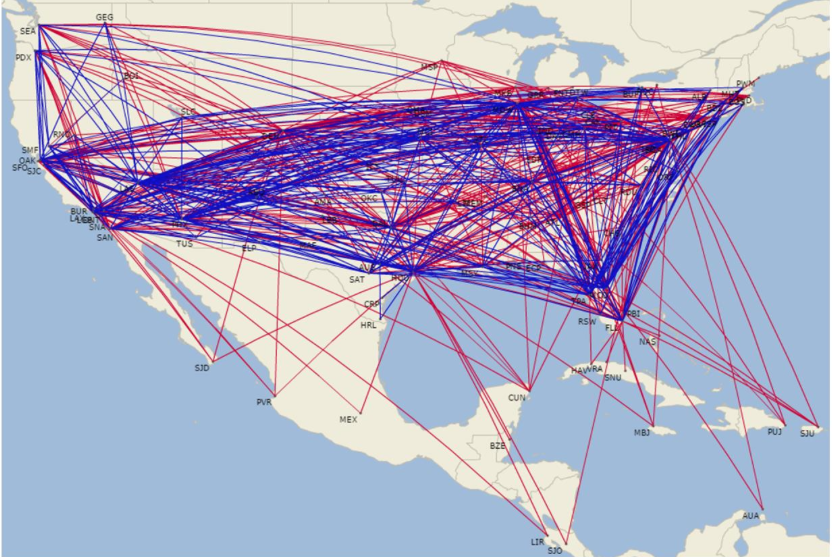 Once that technology is in place, Southwest is likely to explore new market opportunities in South America.
Operationally, the Boeing 737 MAX gives Southwest range to reach longer haul routes in the region, and as the airline becomes more comfortable operating the aircraft, it will also likely look to maximise the aircraft's operational envelope. The range of the 737 MAX 8 is about 6690km, compared with 6510km for the 737-800.
Southwest Airlines fleet summary as of 25-Sep-2017

For now, Southwest's main focus in its international markets is US consumers, said Mr Swan.
Most of the airline's international routes are to beach markets, with the exception of visiting friends and relatives (VFR) operations to San Jose, Costa Rica, and Mexico City.
Mr Swan said that US consumers had become more familiar with where Southwest flies internationally, and as that awareness is building the airline is starting to see stronger performance in international markets during off peak periods.
International expansion and codeshares are revenue drivers for Southwest
Even as Southwest has recorded solid international growth during the past couple of years, its non US destinations still represent just a fraction of its total ASKs: 3.3% for the week of 25-Sep-2017 (based on data from CAPA and OAG).

The airline's international growth will continue to be measured. However, Southwest is also carefully crafting a longer term strategy for its international network that includes longer haul destinations and, eventually, codesharing relationships. Those two elements will help Southwest enter a new chapter in its revenue evolution.