Southwest Airlines aims to wrestle rights to serve the Houston-Mexico market from United
Southwest Airlines is once again taking aim at United in Houston, arguing that United should relinquish some of the route rights it holds to destinations in Mexico in order for Southwest to gain access to those markets.
During 2012 Southwest leveraged a campaign to launch international service from Houston Hobby, a move strongly opposed by United, which is the largest airline at Houston Intercontinental. Southwest prevailed and now aims to launch transborder flights from Hobby in late 2015.
Route authorities in some of Southwest's desired markets between Houston and Mexico are full, prompting Southwest to argue that designations held by both United and its regional affiliates in essence blocks new low-cost competition in the market. Ironically, ULCC Spirit worked to gain access to some of those markets prior to Southwest seeking approval for launch.
Mexico seems like a logical choice for Southwest's Houston service
Southwest and United in 2012 argued for and against broadening Hobby's reach to international flights, with each airline offering studies to show the benefits and detriments of the proposed changes to Hobby's route structure.
Southwest ultimately prevailed in gaining support from the city of Houston, and now a new international terminal at Houston Hobby is set for completion in late 2015.
See related report: Southwest intensifies its campaign to launch international service from Houston Hobby
During that time Southwest has assumed all of AirTran's international service as it works to complete the merger with its one time smaller rival by YE2014. Presently, Southwest offers flights to San Juan, Montego Bay, Cancun, Los Cabos, Mexico City, Nassau and Punta Cana. During 2015 it is adding new service from Baltimore to San Jose, Costa Rica and from Orange County to Puerto Vallarta.
It is not surprising that Southwest seeks to add new service from Hobby to Cancun, Mexico City, Puerto Vallarta and Los Cabos along with San Jose and Belize in 4Q2015. Although international flights remain a small portion of Southwest's overall operation – 2% for 15-Dec-2014 to 21-Dec-2014 (according to data from CAPA and OAG) – Mexico is the second largest country served by Southwest based on seat deployment. The airline no doubt wants to build on existing scale in international markets
Southwest Airlines international capacity by country (number of seats): 15-Dec-2014 to 21-Dec-2014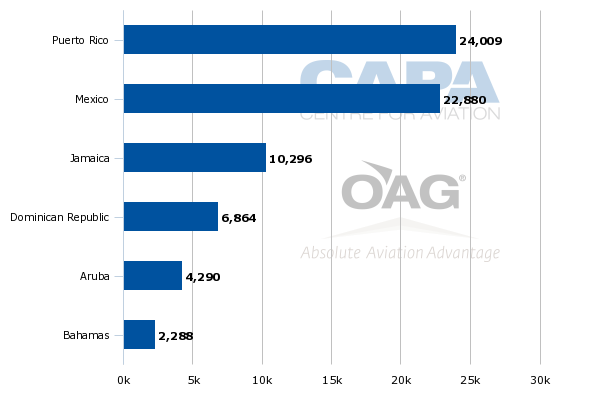 Southwest presently serves Cancun from Atlanta, Austin, Baltimore/Washington, Chicago Midway and Denver. It operates service between Mexico City and Orange County and San Antonio and flights from Los Cabos to Denver.
Southwest is shut out of two Mexican markets it aims to serve from Houston
Under the current Mexico-US air services agreement, two airlines from each country are designated to operate on most city pairs, and Houston Intercontinental and Hobby are considered a single market. There are certain markets that allow for three airlines including Cancun, Los Cabos and Puerto Vallarta. A new agreement is set to take effect in early 2016 that lifts the restrictions, but Southwest plans to launch service in late 2015.
Presently, one US airline designation is available from Houston to Puerto Vallarta and Cancun. In the Houston-Mexico City market United holds one designation and its partner ExpressJet holds the second remaining authority. Between Houston and Los Cabos, United and its partner SkyWest each hold one route designation and Spirit holds a third. During 2014 Spirit applied for and won approval to introduce service from Houston Intercontinental to Cancun, Los Cabos, Mexico City Toluca, San Jose, San Pedro Sula and San Salvador.
See related report: Spirit Airlines makes a new push from Houston adding some new competition for United and Southwest
It is not clear why Southwest waited until now to seek approval for its proposed service from Houston to Mexico given that it has had plans in place to operate international service from Hobby for over a year, and has had the benefit of gaining first hand knowledge of transborder flights through AirTran's international service. But now Southwest is taking aim at United, arguing no justification exists to allow United and its partner airlines to continue to hold dual authorities that would block competition.
Will Southwest win the latest battle for International service from Houston?
Southwest's argument for removing one of United's designations rests on the US government granting those authorities when the applications were unopposed and "did not impede any other carriers from entering those markets", the airline stated in its route authority request.
It is hard to predict the priority US regulators will place on considering or approving Southwest's request. As of 17-Dec-2014 United had not submitted a response to Southwest's rationale for obtaining route rights. But Mexico is a key market for United. Data from CAPA and OAG show that for the week of 14-Dec-2014 that United is the largest airline operating between the US and Mexico, and Houston-Mexico City is its largest international market.
United States of America to Mexico (seats per week, one way): Week of 16-Dec-2013 vs 15-Dec-2014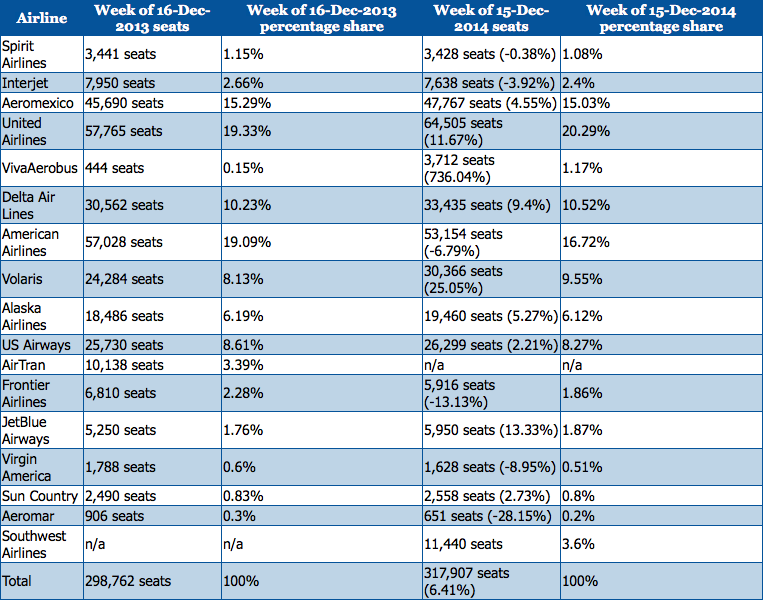 United Airlines top 10 international routes by seats: 14-Dec-2014 to 21-Dec-2014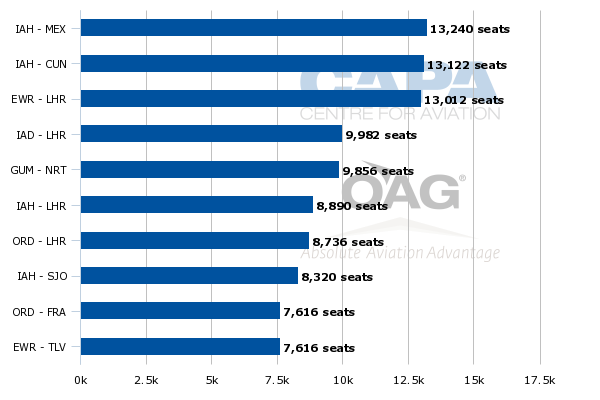 The schedule superiority that United and its partners are able to offer in Houston-Mexico City market in particular seems to be something that the airline would aim to hold onto, given that Southwest is targeting a service date just three months ahead of the new air services agreement between the US and Mexico taking effect.
Spirit injects low fare competition into Mexico well ahead of Southwest
Spirit is launching service to Mexico City's alternative airport Toluca as well as Los Cabos from Houston Intercontinental in Mar-2015. Southwest is basing its argument for United relinquishing some of its service designations on the fact that its proposed flights will provide new low fare competition between the US and Mexico.
The argument is diluted a little as Spirit is injecting low fare competition into both Mexico City (through flights to Toluca) and Los Cabos roughly seven months before Southwest aims to start service, something Southwest did not acknowledge in its request to gain approval for service to Mexico City and Los Cabos.
Southwest could make an argument that it will likely offer more service than Spirit in the market, ultimately offering a larger percentage of lower fares, but Spirit's base fares are much lower than Southwest, so the US government will need to take all those factors into consideration when examining Southwest's request.
Southwest touts connections it can offer on its proposed Mexico service
In two other markets from Houston where Southwest should seemingly get approval to start service – Cancun and Los Cabos – Spirit will already have an established presence from Intercontinental once Southwest starts service. Mexican LCC VivaAerobus is also launching service from Intercontinental to Cancun prior to Southwest's debut of service to Cancun from Hobby.
Southwest CEO Gary Kelly recently explained that the airline was targeting leisure customers based in the US for its new international flights, so the airline does not likely view VivaAerobus as a threat.
Southwest is also touting its ability to connect passengers to Mexico from destinations that presently have no direct links to the cities it plans to serve – 26 from Mexico City and 22 from Los Cabos. It also estimates connections from 13 US cities in Hobby to Cancun where no direct service exists and 24 from Puerto Vallarta. Houston is also a significant O&D market for Mexico, so the US government must also evaluate the benefit of Southwest's proposed connections as it decides whether to strip authority from United (see background information).
Spirit gets a jump on market stimulation even if Southwest succeeds in gaining access
Southwest makes some reasonable points in its argument to gain access to its proposed new markets from Mexico. But regulators should also question why the airline waited to apply for authorisation given Southwest won the battle to launch international service from Houston Hobby more than two years ago in 2012.
Perhaps Southwest did not factor in Spirit aiming to get a jump on new international service from Houston as Spirit has been focusing on US domestic expansion for the last two to three years. Yet regulators cannot ignore the same stimulative effects Spirit will have in its new international markets from Houston Intercontinental, where it will compete directly with United, and they will certainly have to carefully scrutinise the benefits of rejigging route authorities for such a short period of time before restrictions are significantly eased.
Southwest could ultimately prevail; but Spirit will no doubt have a nice lead time in getting the jump on stimulating the Houston-Mexico market.
Background information
Southwest Airlines estimates of O&D and connecting passengers from Houston to Mexico City: CY2013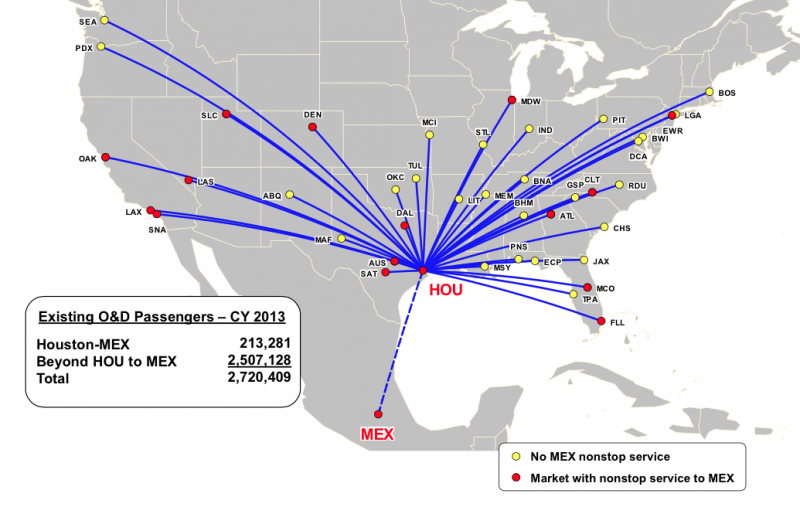 Southwest Airlines estimates of O&D and connecting passengers from Houston to Los Cabos: CY2013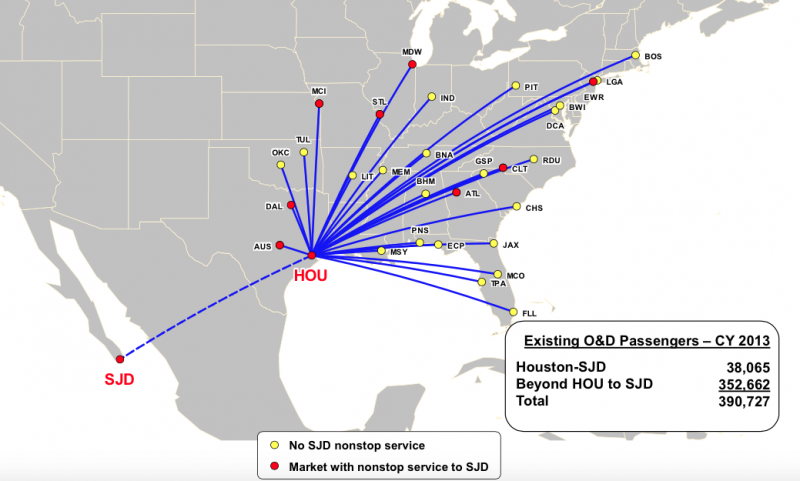 Southwest Airlines estimates of O&D and connecting passengers from Houston to Cancun: CY2013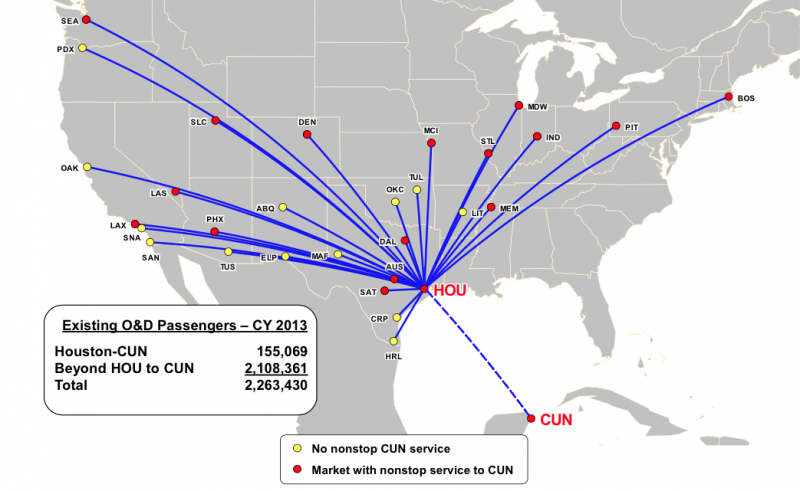 Southwest Airlines estimates of O&D and connecting passengers from Houston to Puerto Vallarta: CY2013