Smaller regional jets doomed? Pinnacle discusses expected industry changes
2015 is shaping as the year of massive change in US regional operations, as the fixed-fee contracts for 307 50-seat regional jets expire, according to Pinnacle Airlines, Inc CFO Peter Hunt who spoke before last week's Next Generation Equity Research Conference in New York. Indeed, between next year and 2016, contracts covering 468 aircraft will expire with the likely changes being the wholesale shedding of more 50-seat regional jets.
Noting the shift to larger regional jets and smaller mainline equipment, Hunt said both Pinnacle subsidiaries – Pinnacle Airlines and Colgan Air – are changing to meet the expected market changes. He indicated that the lower regional airlines can get their costs, the more apt they are to win the deal, and Pinnacle's choice of the Bombardier CRJ 900 and the Q400 are designed to do just that.
Regional/Major Contract Expiration Dates
Hunt emphasized that the Q400 – with 15 delivered and 14 in service, another 15 on order and 30 optioned – Colgan Air provides an economic solution to mainline service issues given the fact that it runs below the cost of a 50-seat regional jet. It burns 25% less fuel than 76-seat jets. In addition, the operating cost is below a 50-seat jet and with 38 more passengers, quite a premium considering it flies at the same cruise speed as its 50-seat jet counterparts.
It has an ambitious growth schedule next year with the last of the 15 on order set for delivery by August. The new aircraft are set to open up new flying for Colgan, historically a Northeast airline, serving Continental's Houston hub.
Pinnacle Airlines (red) & Colgan Airlines (blue) networks
Pinnacle successfully repositioning itself
The company – once solely reliant on Northwest as a partner – suffered along with all the other Northwest Airlinks during the mainline carrier's bankruptcy. But since Northwest's emergence from bankruptcy, Pinnacle, in new deals cut with the major carrier, began positioning itself for the future. The primary change to its Airlink deal was the ability to contract with other mainline carriers to provide fixed-fee lift. Today, it contracts with four out of the five major carriers with Delta being its largest partner.
While growing its Continental Express program with Pinnacle Airlines and its Continental Connection program with Colgan Air, the company will be shrinking its United Express and US Airways Express programs. The United program will shrink from the current 7% to 4% by 2011 while US Airways will go from 5% to 4%. It also plans a 15% growth in other, unnamed carriers. In the meantime, Delta will go from the current 75% to 57% by 2011.
Pinnacle's diversification strategy impacts: 2006, 2009* and 2011*
The CRJ-900 has seat mile costs comparable to next generation narrow-bodies. However, they are also less expensive, said Hunt, pointing out that the CRJ 700 is 10% less expensive to operate than the ERJ 170 and the CRJ-900 is 9% less expensive to operate than the ERJ 190
Since Northwest's emergence from bankruptcy, the company has driven down costs and improved service, said Hunt, and has remained consistently profitable. Since its acquisition of Colgan in January 2007, it has restructured the company and, in an impressive feat, brought the consistently money-losing operation, largely dependent on the Essential Air Service subsidy program, into profitability over the last 18 months. Today, it enjoys a 10+% operating margin just like consistently profitable Pinnacle Airlines.
Pinnacle Airlines' margins (%)
Consistently profitable
Through the third quarter, the consolidated company has clocked in over USD60 million in profits.
Pinnacle Airlines' operating income* (USD, '000): 1Q2008 to 3Q2009
Riskier business ahead
This is not surprising since US regionals have always been profitable with their cozy fixed-fee contracts. That is one of the reasons the next contracts will look very different than those cut in the immediate post-9/11 period. US Airways Express President, Dion Flannery, Senior Vice President Delta Connection Don Bornhorst and Vice President Airport Operations & Planning Cindy Szadokierski all agreed that regionals will have to take on more risks in the next contract cycle.
Profitable airlines
While it restructuring of Colgan to profitability, it was also taking delivery of the Q400s that would transform the carrier, and growing Pinnacle which had shrunk dramatically with the Northwest bankruptcy. While the rest of the regional airline industry was reporting dramatic capacity cuts, Pinnacle was reporting equally dramatic growth, a testament to just how far back it had been cut. All this, while watching the bottom line. As with all airlines, it was increasing liquidity and reducing debt by USD158 million this year alone and eliminating USD120 million in convertible notes coming due next year. It expects to finish the year with $80 million in cash.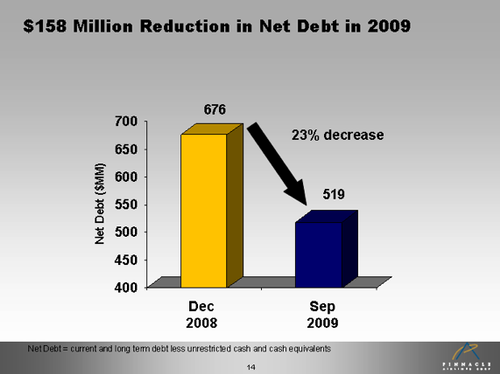 The company began the year with tragedy when a Q400 crashed on approach to Buffalo. The accident sparked a firestorm of criticism, not only of Colgan and Pinnacle, but for the entire regional airline industry. So, it was not surprising that Hunt reported Pinnacle is the only US regional to incorporate all 14 of the airline industry's voluntary safety programs into its operation. In addition, Colgan will complete its transition incorporating these same programs next year.