Skymark Airlines Part 2: shrinking to achieve profitability with 33% capacity cuts, A330 grounding
Analysis
Having declared bankruptcy, Skymark Airlines is seeking to shore up revenues and cut costs by unwinding its aggressive growth of recent years. Skymark will cut 33% of capacity in 2015 compared to a year prior, returning to its size from 2010/2011. Skymark will reduce frequency or cut routes in addition to withdrawing what was to be its domestic flagship A330 fleet. Skymark's final commercial A330 flight was on 31-Jan-2015 after only eight months of service.
Skymark made a costly error buying A330s, but this only compounded its weak domestic position. Just a few years ago Skymark was profitable but became loss-making due to aggressive growth and as its focus became blurred. This climaxed with the introduction of large capacity A330s that added seats but no holistic customer proposition, for example including corporate access or loyalty programme. The A330s saw Skymark grow Tokyo Haneda-Fukuoka capacity by 46% but passenger volumes increased at a slower 18%. Load factors declined an astonishing 25ppt.
The airline's weak A330 performance was coupled with high introductory costs that did not appear to be adequately planned for. This was one of many decisions that ultimately led to Skymark's bankruptcy and the exit of CEO Shinichi Nishikubo, along with his personal investment in the airline.
This is Part 2 of a report on Skymark's post-bankruptcy recovery.
See related report: Skymark Airlines bankruptcy and CEO Nishikubo exits. Now to re-structure. The airline has a future
Skymark's A330s served two domestic routes with plans for more, and possibly Hawaii
Skymark took delivery of its first two A330s in Feb-2014 but did not place them into service until Jun-2014 due to (costly) delays as the airline was not sufficiently prepared for the aircraft, a result of too many projects (such as the A380) and not enough delegation. Skymark in Jan-2015 had six A330s, all with Trent 700-300s and leased (five from Intrepid and one from CIT, according to CAPA's Fleet Database). Skymark was due to take 10 A330s in total.
Skymark is looking to sub-lease the existing aircraft while discussing with Airbus options for the remaining four aircraft, due for delivery in 2015. Although the aircraft are new, they have high cycle counts due to their use in the domestic market.
The A330s launched on the Tokyo Haneda-Fukuoka route and that remained their primary sector; use on Haneda-Sapporo was smaller. A330 service to Okinawa was planned while the medium/long term offered the proposition of using the A330s on medium-haul international routes, such as to Hawaii, a lower-risk option than proposed A380 service to New York or London.
Skymark's A330 was the first A330 in the Japanese market, and the first Airbus widebody in the market since the A300 in the early 1990s. Skymark's A330s and A380s, coupled with A320s at other airlines, were to be a turning point for Airbus in Boeing-dominated Japan. Airbus has emerged a little the worse for wear, but has a solid customer in Japan Airlines' order for A350s.
See related report: JAL selects Airbus A350s as it seeks to down-size aircraft capacity due to competition and costs
Skymark intended to grow through up-gauging as 271-seat A330s replaced 177-seat 737s
Skymark uniquely outfitted its A330s in all premium economy configuration seating 271, 55% more than its 177-seat 737-800s. Skymark's Tokyo Haneda base is slot-restricted and Skymark intended to grow through up-gauging; at Haneda, ANA and JAL have considerably more seats per movement than Skymark due to widebody usage.
The A330s saw a "Green Seat" configuration, named after the more spacious seats on Japan's high-speed trains. While the train seats are not green, Skymark's were. This was a 2-3-2 configuration boasting powerports, drink tables, and padding between seats for greater privacy – relatively inexpensive creature comforts reckoned to give Skymark an advantage over ANA and JAL's cramped interiors. Free wifi was offered (in lieu of any embedded in-flight entertainment). While Skymark's configuration was more generous than ANA and JAL, its cost base was also lower.
See related report: Skymark Airlines offers all-premium A330s on domestic routes. It could only work in Japan?
The A330 project was born out of the A380, which Skymark also intended to operate in all-premium configuration. But the costs and distraction of the A380, and the domestic market's change from profits to losses, doomed the A330's chances. The A330 was also a risky growth option, especially since Skymark concentrated the aircraft's deployment on two routes (almost just one), leading to large growth. Skymark never addressed why it did not first move to large 737 variants to test the waters.
See related reports:
Skymark operating profit (loss) (JPY) and margin: 2007-1H2014
Premium product meant well but other strategic initiatives lagged
The A330 of course brought higher costs. The tradeoff was supposed to be growth in absence of slot growth opportunities. But Skymark never realised the A330's potential. Skymark's fares were already significantly lower than ANA and JAL and prices on A330 flights were not raised despite a significantly better product than the competition.
Corporate stickiness was restricted as Skymark did not develop this channel. Even its consumer proposition was not fully fledged; it is common for Japanese consumers to change tickets and Skymark did not immediately introduce ticket flexibility.
A330 introduction led to a load factor blowout. Haneda-Fukuoka load factor declined 25 points
From 2010 to 2013, Skymark saw little variation in its capacity on the Tokyo Haneda-Fukuoka route, Skymark's largest and the route that eventually saw the largest A330 deployment.
Skymark's flat capacity was rewarded with load factors typically above 85% and sometimes over 95%, giving Skymark a scale advantage compared to sub-70% load factors from competitors ANA and JAL. However, in the fiscal year commencing 01-Apr-2013, Skymark started double-digit growth that climaxed with the roll-out of its A330s, replacing smaller 737s. Skymark's capacity on Tokyo Haneda-Fukuoka peaked in Nov-2014 with 170,000 monthly seats – an increase of 60% from two just two years prior. Slower passenger growth saw the load factor gradually erode to 63% in Dec-2014 – a 25ppt drop from two years prior.
Skymark Tokyo Haneda-Fukuoka monthly seats, passengers (left axis) and load factor (right axis): fiscal year commencing 01-Apr-2010 through Dec-2014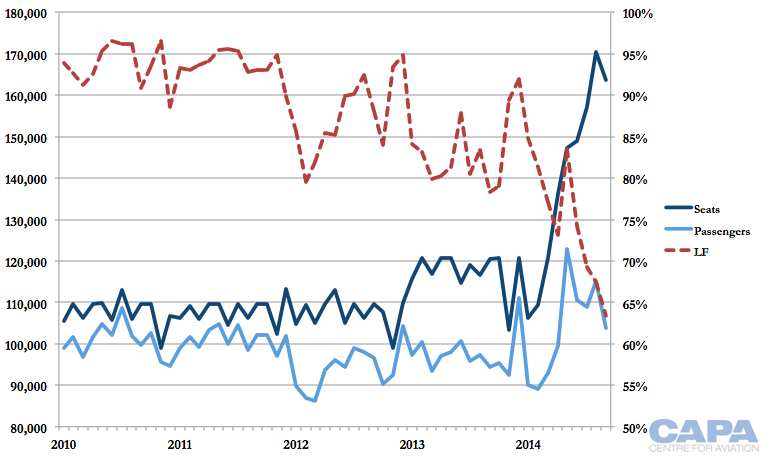 The imbalance between capacity and passenger growth became more clear as Skymark continued to grow. In Nov-2014 Skymark's capacity was up 46% from a year prior but passenger volumes were up only 18%.
In recent times, Skymark on the Haneda-Fukuoka route saw passenger growth exceed volume growth only once: in Aug-2014 during the very popular summer travelling period. Yield information is unavailable for the route but management remarks indicate that yields were also weak.
Skymark Tokyo Haneda-Fukuoka year-over-year monthly change in seats and passengers: Apr-2013 through Dec-2014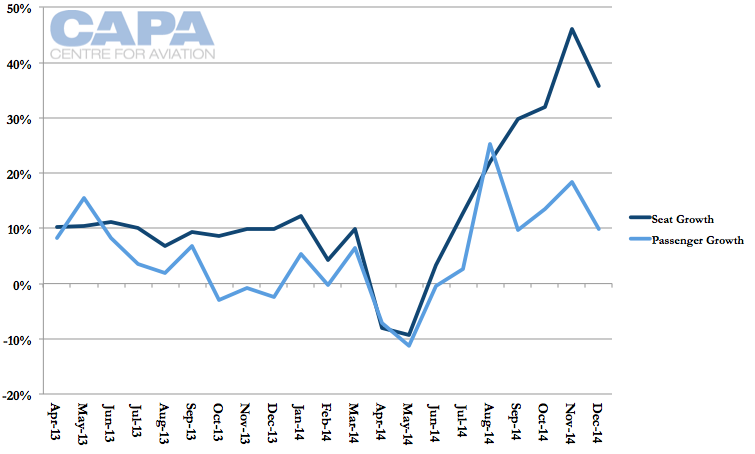 Skymark in Apr-2014 decreased Haneda-Fukuoka frequencies from 11 to 10 daily but restored its 11th frequency in Oct-2014 according to OAG data. Capacity grew with the introduction of the A330 in Jun-2014. That month the A330 operated 25% of Haneda-Fukuoka flights (marked in text on the graph below), increasing to 90% of flights by Oct-2014 as A330s replaced 737s, according to OAG.
Skymark Tokyo Haneda-Fukuoka monthly seats and passengers (left axis) and average daily frequency (right axis): Apr-2013 through Dec-2014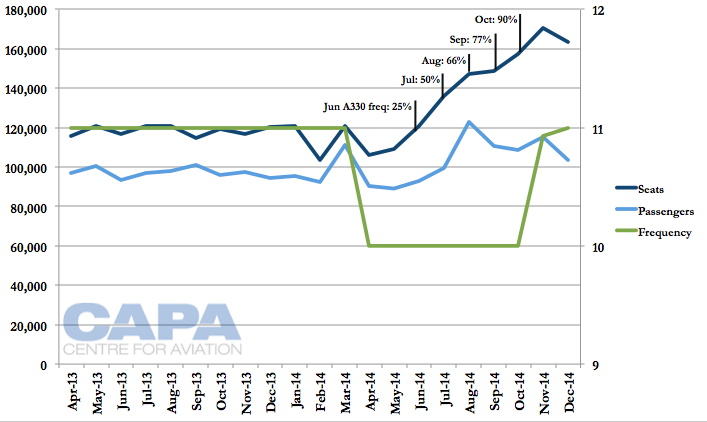 If Skymark were to maintain large capacity A330 service on the route and return to its previous days of 90% load factors, it would have needed about seven daily flights – not 11 – based on the passenger volumes it carried. However, this frequency reduction could have seen passenger numbers decreased as passengers favoured the higher frequency service from ANA (25 daily) or JAL (17 daily). The hyper-frequency from ANA especially stands out. ANA reducing four daily flights would be a minor move since it would still typically have a half hourly service, but for Skymark to reduce its schedule (already lower than ANA or JAL) would mean a gap of around two hours between flights.
Skymark's product on the A330 was unique to the aircraft type. There was a plan to bring premium seats to the 737s, creating a dual-class configuration. This plan was dropped as Skymark's workplate became full with projects. How it would have worked is unclear: the A330 flights were priced the same as the 737 flights, so a dual-class 737 would presumably have seen Skymark need to overhaul its pricing. Ultimately, having premium A330s and regular 737s precluded Skymark from using a coherent mixture of aircraft to find a balance between growth and a frequency focus.
Skymark's passenger volumes grew with the market. But capacity was far above market average
Skymark's passenger growth in the Tokyo Haneda-Fukuoka market was broadly in line with the average. In the fiscal year commencing 01-Apr-2013, the Haneda-Fukuoka market grew 4.8% and Skymark carried 3.9% more passengers, according to MLIT and Skymark figures. In the first half of the fiscal year commencing 01-Apr-2014, the market grew 4.2% and Skymark grew 3.1%. Skymark's slightly lower-than-average growth could be explained by competitors growing through cheap capacity (trading yield for load factor) as well as having a stronger proposition, such as frequency and loyalty programme.
Tokyo Haneda-Fukuoka passenger growth: 2011-1H2014 vs prior period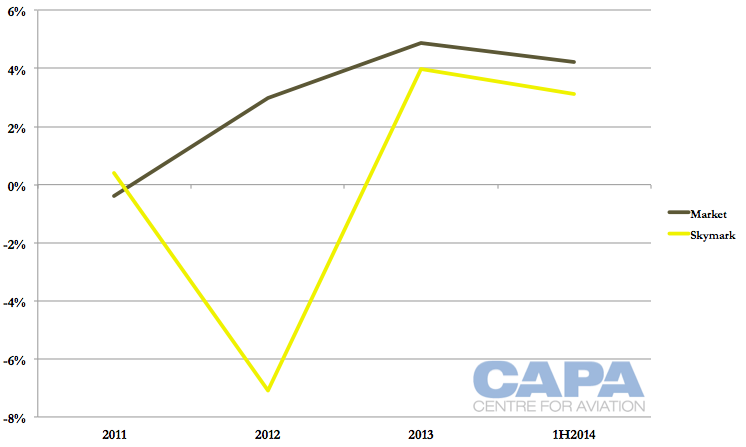 However, it is vastly different story when looking at capacity growth. In the fiscal year commencing 01-Apr-2013, the market grew seats by 5.1% but Skymark grew 9.3%. In the first half of the fiscal year commencing 01-Apr-2014, the market contracted 2.5% but Skymark grew 8.3%. These figures are the latest through 30-Sep-2014. The period after this saw higher growth – and deterioration – at Skymark.
Such high growth rates have been successfully carried out in other markets but have been accompanied by a strong across the board proposition and service improvement, ranging from changes in frequency to increased destinations to improvements in product, partners, loyalty programme and a corporate access rate. While Skymark did later promote greater ticket flexibility than what ANA and JAL offer, its primary point of differentiation was only a better product, and it would have had limited appreciation given the short one hour flight times in Japan.
Tokyo Haneda-Fukuoka seat growth: 2011-1H2014 vs prior period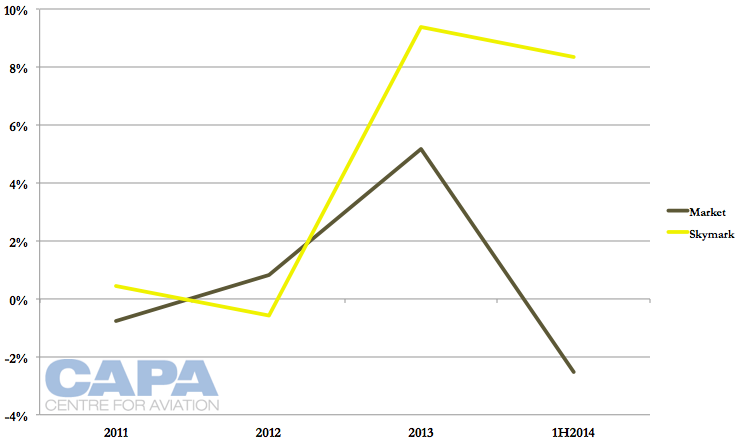 Skymark also deployed the A330 on Tokyo Haneda-Sapporo route and saw similiar affects
Skymark in Aug-2014 introduced the A330 on one of eight daily flights between Tokyo Haneda and Sapporo, Skymark's second-largest route. This was the only other route to see A330 service. Skymark in Oct-2014 planned to expand A330 service on the Haneda-Sapporo route from one to four daily flights starting in Dec-2014, according to Airline Route. Skymark's data indicates it later backtracked from this plan.
The A330 brought a similar impact to this route as Haneda-Fukuoka: the A330 brought an increase in capacity but this growth was higher than passenger growth, causing the load factor to decline to 67% in Dec-2014, down 12ppt a year prior and 9ppt from two years prior.
Skymark Tokyo Haneda-Sapporo monthly seats, passengers (left axis) and load factor (right axis): fiscal year commencing 01-Apr-2010 through Dec-2014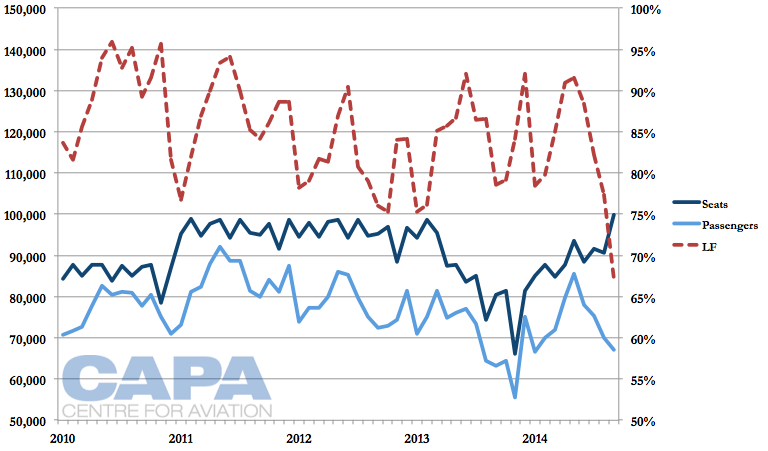 Prior to the A330 introduction, passenger growth had been higher than capacity growth. But after the peak Aug-2014 travelling period, passenger growth was slower than capacity growth.
Skymark Tokyo Haneda-Sapporo year-over-year monthly change in seats and passengers: Apr-2013 through Dec-2014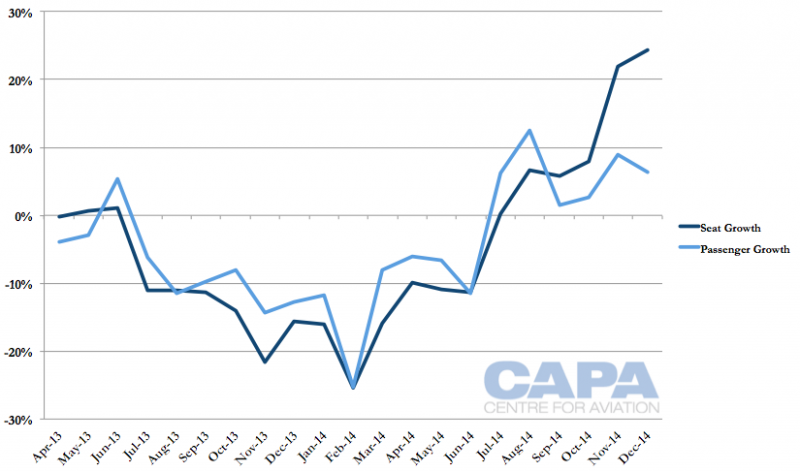 For all of the A330's time on the Haneda-Sapporo route, Skymark saw higher passenger volumes each month compared to the same month a year prior. So Skymark was able to grow the market, but not with as much capacity as it injected. Note that between Nov-2013 and Apr-2014 Skymark reduced frequency on the route from eight daily flights to seven.
Skymark Tokyo Haneda-Sapporo monthly seats and passengers (left axis) and average daily frequency (right axis): Apr-2013 through Dec-2014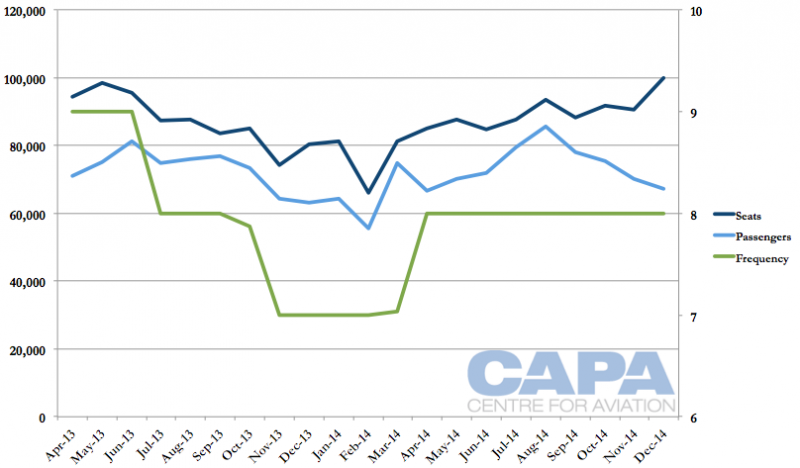 The A330 exacerbated growing pains, but non-A330 routes also saw load factor declines, as CAPA previously looked at.
Skymark available seats and load factor: 2007-1H2014
Skymark load factor on Tokyo Haneda routes and overall system: FY2010 to 8MFY2014
ANA, JAL and Skymark domestic load factor: 2008-2014
Skymark is now shrinking into profitability with 2015 capacity down 33%
In addition to grounding the A330 fleet on 01-Feb-2015, Skymark plans to cancel or reduce frequency on a dozen routes, with more to come. Newly appointed president and CEO Masakazu Arimori said Skymark's schedules would be trimmed commencing 29-Mar-2015, the start of northern summer 2015 schedules. (Given the severity of the situation, perhaps the cancellations should be accelerated, as occurred with the A330 grounding.) In Feb-2015 Skymark operates 152 daily services covering 23 nonstop routes, but this will be reduced to 126-128 daily flights.
The changes as of 02-Feb-2015 are:
Notably none of the services are to/from Tokyo Haneda. Additional cuts are reportedly likely on Kobe-Kagoshima, Kobe-Sendai and Yonago-Okinawa Naha routes.
Skymark says the changes will equate to a 15% reduction in services. This figure is in reference to decreasing from 152 flights to 126. However the decrease in capacity will be far greater. Based on Skymark's statement of having 126-128 daily flights on 177-seat 737s, Skymark's Apr-2015 capacity will be down approximately 33% from a year prior. If no capacity adjustments are made, Aug-2015 capacity will be down nearly 40%. This includes the decrease from 152 to 126-128 daily flights, the withdrawal of A330s and previous route cuts (such as from Tokyo Narita).
Skymark's capacity for the financial year commencing 01-Apr-2015 (marked 2015/2016 on the graph below) will be its lowest since the 2010/2011. Skymark is effectively unwinding four years of growth. Early 737 lease returns are likely. Skymark appears to be hesitant to have job cuts (always sensitive, and especially in Japan) but the airline will surely be over-staffed.
Skymark monthly seat capacity: Apr-2010 through Mar-2016F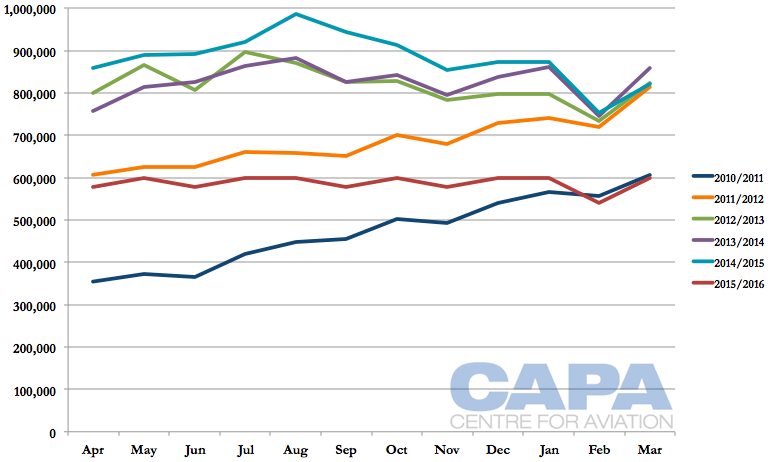 Skymark's lesson: aviation is about more than aircraft
Skymark's new management has cited the problems of lease costs exacerbated by a depreciating yen and costs of operating a second aircraft type. They are surely being diplomatic to the former management's errors. Local reports indicate there were a muddled response about why Skymark did not hedge currency if it was so vital, and further the yen's depreciation was expected. The operating costs of a second aircraft type should have been known, as too should have been the impact of adding six A330s in under a year and 10 over two years. This widebody growth is significant, and especially so in Skymark's case as it had previously operated 20-odd 737s, meaning there was a leap to take five A330s. (This ignores the bigger prospect of A380s.) There was also a clear mis-calculation about growing its largest route (Haneda-Fukuoka) by 46% – and this in a low-growth economy.
Skymark's new management may be looking to the future rather than attribute blame. But Mr Nishikubo self-indicts himself over his top-down management style that saw him micromanage to a negative effect and precluded managers from questioning the business case of various matters. In a goodbye message to employees, as reported by Yomiuri Shimbun, he wrote: "I've been president for 12 years, but I'm more like a dictator... I think I'm a scary person. These days no one will go up against me."
Mr Nishikubo was a visionary that transformed Skymark and made it the rare efficient airline in Japan. But as Skymark took on too many projects, it was too much work for one person, and there was no delegation. Mr Nishikubo may have left, but his impact is still felt. Relief from his departure was agonised by tone-deaf parting words: "I toiled, drank, laughed, flew and loved. Thank you and good-bye!"
The atmosphere at Skymark is less than relaxed, as evidenced by the capacity cuts. Skymark on 04-Feb-2015 updated its rehabilitation proceedings, with the carrier to submit a restructuring plan by 29-May-2015. The full timetable is as follows:
Notification deadline of rehabilitation claims (by creditors): 18-Mar-2015;
Submission deadline for property evaluation form and report (Civil Rehabilitation Law article 124 and 125): 14-Apr-2015;
Deadline for submitting statement of approval/disapproval: 15-Apr-2015;
General investigation period of rehabilitation: From 22-Apr-2015 to 08-May-2015;
Deadline for submitting a proposed rehabilitation plan: 29-May-2015.
Third pillar status might not be enough to save Skymark
While Skymark works towards the future, some uncertainty remains, with MLIT minister Akihiro Ota saying the ministry "never said Skymark should remain in business as a third pillar" (with ANA and JAL the first two pillars), as reported by Yomiuri Shimbun.
As CAPA previously noted, it is an interesting academic exercise to consider if Japan's new LCCs, which are stimulating traffic, could make better use of Skymark's Haneda slots, which the airline does not own (they belong to the government, unlike their status in some other markets). However, various outlets have already questioned the feasibility of LCCs becoming the new third pillar, citing the usual (and wholly unfounded) safety concerns. It is probably too radical for Japan not to support Skymark.
The going will get tough. ANA will consider financial involvement in Skymark. This possibility is made easier by Mr Nishikubo's exit (he derided ANA and JAL) but means ANA's position in the domestic market will only grow larger, an outcome Tokyo may not like. Smaller JAL faces investment restrictions until Apr-2017 owing to its 2010 bailout. ANA remains interested in codeshare talks while JAL is less interested, but the larger factor now at play is with Skymark. There is less urgency to codeshare with Skymark cutting capacity since there will not be as many unsold seats that could be filled with codeshare sales. One Japanese outlet reported Skymark ended codeshare talks, but Skymark said it was still evaluating the situation.
See related report: Skymark Airlines codeshare with incumbents is low-risk to Japan – but perhaps a concern for ANA/JAL
There are many factors at play, but Skymark's needs are clear. It must return to its efficient practices that it once excelled in. It must define a vision and execute it. Facing LCC competition, and realising ANA and JAL were doing too well in the domestic market, Skymark rightfully tried to move upmarket. Its biggest initiative was also its most expensive: new aircraft. Many low-hanging fruits were igored.
The story is very domestic Japan but the implications are global: you rarely go out of business by flying too little, and aviation is about more than shiny new toys. Skymark may get a second chance, but hopefully they and others will not repeat the same mistakes.