SkyExpress: Russian LCC secures investor backing after rumours of financial problems
There has been a lot of speculation in the media over recent months about the future of Russia's first LCC, SkyExpress.
Last month, Evgeny Bachurin, head of Russia's Aviation Authority, Rosaviatsia, threatened the carrier with the loss of its operating license if it did not reduce its debt levels.

In response, SkyExpress denied having any extraordinary debts or operational disruptions. Its major airport partner, Moscow Vnukovo Airport, also issued a statement saying there were no difficulties between the LCC and the airport.

Last week, however, to reinforce the balance sheet, Rossiya Airlines CEO, Vitaly Vantsev, reportedly acquired a 39% stake in SkyExpress. This makes him the largest shareholder in the carrier. The holding is apparently in his own name and SkyExpress is not to be included in the Rossiya Airline alliance.

The airline, which commenced operations in Jan-07, focuses on domestic Russian services, predominantly from its base at Vnukovo Airport. It was established the previous year by a consortium of investors, including KrasAir CEO, Boris Abramovich, the European Bank for Reconstruction and Development (EBRD), and Altima Partners.

But things change. In Oct-08, Boris Abramovich was clearly no longer in any sort of directive role. The arrival of Mr Vantsev will reinforce this. There may be more.

The EBRD went out on a limb to invest in this untested sector, with a USD10 million stake in Jan-07 and there are rumours that the Bank is looking to withdraw now that the airline is maturing (this was staunchly denied in an "official statement" by SkyExpress management in October, indicating that "the Bank continues to be very actively engaged at the Board level and to support the airline's financial and business planning.").

Despite the headwinds that an LCC encounters in the Russian market, SkyExpress has secured a decent part of the domestic market, settling in at fifth position in terms of passenger numbers in Russia's crowded marketplace.
Russian domestic passenger numbers by airline: Jan-08 to Sep-08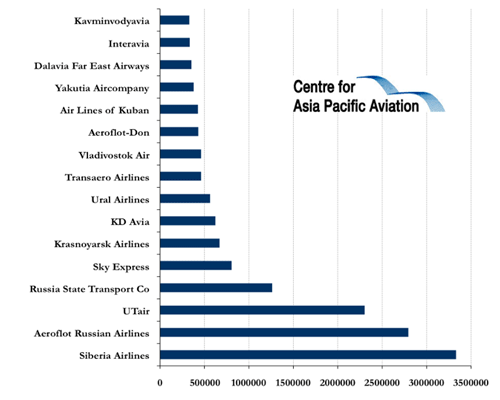 Apart from being the first LCC to enter the market, the carrier has to contend with a Russian population that largely still prefers the safety of rail travel to what used to be the lottery of the air in the old Soviet Union. And it also has the challenges of government regulation, often inadequate airport infrastructure, and the need to operate over long stage lengths.

SkyExpress currently operates a fleet of nine B737-300s and -500s across destinations including Moscow Vnukovo, St Petersburg, Samara, Tyumen, Ekaterinburg, Sochi, Murmansk, Rostov-on-Don, Chelyabinsk, Perm and Kaliningrad.
SkyExpress Domestic route network, Dec-08
The LCC also operates charter services to Turkey and the Middle East, a departure from type which it undertook in order to capitalise on opportunities beyond the cutthroat domestic market.
SkyExpress capacity breakdown by routes from Moscow (seats per week as % of total): Week commencing 01-Dec-08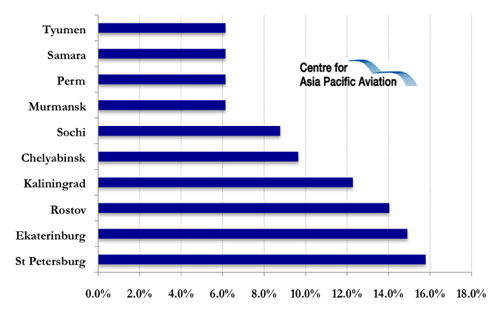 Indeed, this traffic may increase. With its new funding, there is room for growth as Moscow government-owned Atlas-Soyuz is winding back its service.

Its scheduled traffic is performing reasonably well, but SkyExpress will be pleased to be paying less for its fuel these days, as percentage load factors are now down in the mid-60s.

Sky Express increased passenger numbers by 13% year-on-year in Sep-08, as traffic (RPKs) increased 10% year-on-year for the month. However, load factor slipped 3.8 ppts to 64.7%.
Sky Express traffic highlights: Sep-08
| | | Change |
| --- | --- | --- |
| Passenger numbers | 95,078 | +13% |
| Traffic (RPKs) (mill) | 122.4 | +10% |
| Passenger load factor | 64.7% | -3.8 ppts |

As a private airline, it is not particularly forthcoming with data and reports this week indicate that Oct-08 passenger numbers were 83,600, somewhat down from the September levels.

But things look to be stabilising for the country's groundbreaking LCC. Having a new and established shareholder will change the scenery at SkyExpress, but the vantsev funding should set it on a solid path.