Singapore market set for more competition and potential over-capacity
Analysis
Competition in the fast-growing Singapore market could further intensify as Qantas looks at potentially establishing a new full service carrier. The prospect of a second legacy operator for Singapore comes as the country's flag carrier, Singapore Airlines (SIA), has seen profits significantly erode in recent months due to a combination of weak load factors and high oil prices.
SIA already faces growing low-cost competition in Singapore, including from Qantas' Singapore-based affiliate Jetstar Asia. A second Qantas affiliate or joint venture could be established in Singapore by the end of this year as part of a plan by the Australian airline group to further enhance its presence in the fast-growing Asian market and improve the profitability of its international operation. The new airline, if launched despite union opposition in Australia, would allow Qantas to open new routes from Singapore to Asian and European destinations under a significantly lower cost structure than if services were operated with Australian-based aircraft and crews.
The Qantas group, including Jetstar and Jetstar Asia, already serves about 30 destinations from Singapore's Changi airport. But its presence is limited in some of the biggest Asian markets, such as China and India. To India, Qantas currently only operates three weekly flights to Mumbai from Singapore. To mainland China Jetstar Asia only serves four secondary cities as low-cost carrier access to Beijing and Shanghai remains a major challenge.
Jetstar route network from Singapore: As at 16-May-2011
Jetstar.png" alt="" />
Qantas route network from Singapore: As at 16-May-2011
Qantas.png" alt="" />
As a full-service widebody operator, the new Qantas affiliate could potentially receive Singapore's second carrier designation in the lucrative Beijing and Shanghai markets as well as to other major Asian cities such as Seoul, Tokyo, Mumbai and New Delhi. SIA is now the only Singaporean carrier serving all six of these major markets although each route is served by at least two carriers from the other relevant country.
Qantas, which currently only serves London and Frankfurt in Europe, also has long been interested in re-establishing a larger European network. But more European flights are generally seen as unviable if operated under Qantas' current long-haul structure due to the high cost of operating such flights with Australia-based crews. The new carrier would have lower costs due to the lower wages in Asia and its better geographic position, which allow European flights to be crewed with only one layover rather than three.
The new Singapore-based carrier would feed Qantas' existing flights and also provide new competition in the local Singapore market, which has been rapidly growing driven by fast economic growth that reached 15% in 2010 and another 9% in 1Q2011. Singapore's booming economy helped fuel a 13% jump in traffic at Changi in 2010 to 42 million and another 8% increase in 1Q2011 to 3.71 million passengers.
Singapore Changi passenger numbers: Jan-2009 to Mar-2011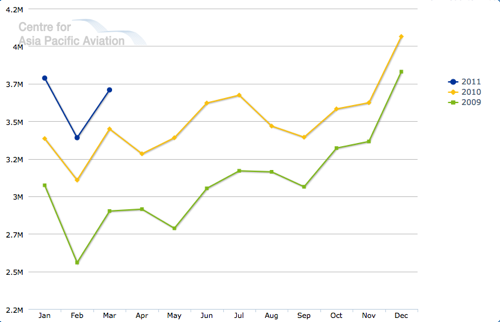 Corporate premium travel, in particular, has been growing fast in the local Singapore market as foreign companies continue to expand their operations in the island and choose Singapore as their regional headquarters. Qantas also looked at establishing a local presence in Malaysia, either through a new joint venture carrier or acquiring a stake in Malaysia Airlines. Qantas has apparently ruled out the Malaysian alternative and is enticed by Singapore's larger local premium market and liberal air transport policy.
But there are signs of over-capacity in the Singapore market, a situation which could be exacerbated if Qantas expands. SIA saw its traffic drop by 1% over the first three months of 2011 despite a 5% increase in capacity, resulting in a 4.5 percentage point drop in load factor to 74.5%. The weaker load factor and a 34% increase in fuel costs drove a 38% drop in SIA Group's fiscal 4Q2010/11 net profits to SGD171 million, reversing a trend of improving profitability over the first three quarters of the fiscal year.
See related article: High fuel prices and weak load factors erode SIA's profits
SIA, which is planning to expand capacity by another 6% this year, is warning its outlook for FY2011/12 is murky due to the continuing "twin challenges of near term weakness in load factors and high fuel prices". SIA executives told analysts at the end last week that it expects yields will be flat in FY2011/12 as the additional capacity from SIA and competitors make it difficult to pass on the higher fuel costs to the consumer. Based on May-2011 schedules, capacity at Changi was up 14% year-over-year.
In briefing analysts on the carrier's FY2010/11 results, SIA CEO Goh Choon Phong said reduced demand on Japanese, European and US routes is accounting for most of the recent system-wide load factor reductions. On Japanese routes Mr Goh says traffic has dropped by 30% since the Mar-2011 earthquake and "it will take at least a few months" for the market to recover.
Mr Goh declines to say if SIA has a plan for responding to potential new competition from rival Qantas. But he points out that SIA is used to competing with other carriers and the Singapore market currently doesn't suffer from a lack of competition. "A lot of airlines operate to Singapore. In that sense we are not new to competition. You do see a lot of capacity has been added to Singapore. We are very liberal and that's good," Mr Goh says.
SIA currently has a 41% of the market at Changi when including flights operated by its regional unit Silkair. The two carriers combined serve about 90 destinations from Singapore. SIA also has a stake in low-cost carrier Tiger Airways, which is the second largest carrier at Changi after SIA with a 7% share.
Singapore Changi Airport capacity (seats) share by carrier: Week commencing 16-May-2011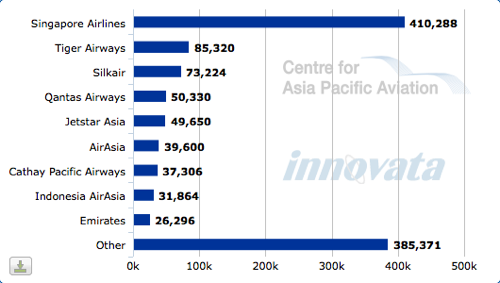 Jetstar Asia has been growing rapidly over the last year, recording a 46% increase RPKs over the last six months of 2010 on a 47% increase in capacity. Jetstar Asia is now the fourth largest carrier at Singapore Changi just behind Qantas, with 4.1% of the market not including flights operated by Valuair and Australia-based Jetstar. Valuair is another Singapore-based carrier, following a low-cost model with some frills, that was acquired by Jetstar Asia in 2005. Valuair has since been used by Jetstar Asia to operate some flights to Indonesia.
As a result Qantas now hold two of the five passenger airlines certificates issued in Singapore while the SIA Group involved in the other three (SIA, Silkair and Tiger). Qantas and a local partner may now lodge an application with Singapore's CAA for yet another AOC. But potentially Qantas could fast track its new airline project by simply using the existing Valuair AOC for the new Singapore-based full-service operation. This could in particular be an attractive option if the local partner that Qantas uses for Jetstar Asia, Dennis Choo, also emerges as the local partner for the new airline. Mr Choo has owned 51% of Jetstar Asia and Valuair since 2009, with Qantas owning the remaining 49%. Qantas is expected to set up the new Singapore-based airline with a similar 51%/49% ratio, as 49% is the maximum allowed under Singapore regulations.
The new Qantas affiliate could raise the stakes throughout the Asia Pacific region as other flag carriers potentially may feel a need to also establish new carriers outside their home markets. Mr Goh wouldn't say what SIA may have up its sleeve but points out that SIA "also has opportunities" to launch operations outside Singapore. SIA for several years lobbied the Australian government for rights to operate in the Australia-US market, a campaign it could resume citing reciprocity if Qantas is successful at expanding out of Singapore. But the Australia-US market is no longer as enticing given the entry of Delta Air Lines and V Australia, which have broken the Qantas-United duopoly and significantly pushed down fares.
SIA at this point seems more interested in securing fifth-freedom rights from China, in particular for passenger flights from Beijing and Shanghai to the US. But Mr Goh says he does not see an opportunity to launch such flights anytime soon as the US-China bilateral is unlikely to open up to allow fifth-freedoms for SIA in the near term. He also says "slots in those two cities are not available so we'll have to wait for that".