Singapore Airshow 2014. A CAPA preview Part 2: Boeing ramps up production as backlogs climb
Analysis
Boeing delivered a record 648 aircraft in 2013 and the manufacturer is set to continue to break its own delivery records in 2014. With plentiful demand for its narrowbody and widebody aircraft, Boeing continues to raise production even as its backlog continues to build, now standing at a record 5,080 aircraft.
Although wary of raising output too high, given issues with sections of its supply chain and its own manufacturing facilities, Boeing is also confident that there will be no production bubble. The company plans to deliver between 715 and 725 aircraft in 2014, an increase of around 10%, as it increases deliveries of its popular 737NG and 787 families.
Boeing booked 1,355 net orders in 2013, its second highest annual sales performance on record. The company's orders have been buoyed not only by the continued popularity of the 737 MAX, a re-work of the 737NG with new engines and enhanced aerodynamics, as well as by the launch of two new programmes, the long-awaited 787-10 and the 777X, which recorded better than 400 orders between them in 2013.
Boeing 2013 orders and deliveries
| | | |
| --- | --- | --- |
| Aircraft | Orders | Deliveries |
| | 1046 | 440 |
| | 12 | 24 |
| | 2 | 21 |
| | 113 | 98 |
| | 182 | 65 |
| Total | 1355 | 648 |
Like main rival Airbus, which also had a spectacular 2013 in terms of sales, Boeing does not expect a repeat of 2013 ordering levels this year. Still, it will look for a book-to-bill ratio of better than one for the year. Global economic growth is recovering, albeit slowly, and the availability of financing for aircraft purchases continues to improve, with falling export credit agency support and traditional banks being augmented by new and alternative sources of finance.
See related report: Singapore Airshow 2014: CAPA view on the year's outlook for airframe manufacturers. Part 1: Airbus
737 production is reaching record levels and MAX orders continue
Boeing's backbone is the 737NG family of aircraft. At the beginning of Feb-2014, the company began producing the aircraft at a record rate of 42 aircraft per month, raising it from the previous rate of 38 per month. Since 2010, production of the 737NGs has increased about 33%, increasing from 31.5 per month to the present rate, with aircraft at that new rate due to start deliveries in 2Q2014.
The 737 production rate is scheduled to increase to 47 aircraft per month in 2017, when the 737 MAX enters service. Boeing has already confirmed that it is considering further increases, with 50 aircraft per month a possibility by 2018 or 2019. When the 737 MAX production line at Renton is operational, Boeing will have the capacity to produce as many as 60 narrowbody aircraft per month, although the manufacturer is not considering production rates that high at the moment.
With airlines profitable once again, strong demand from Asian customers and recovering economies in North America and Europe, Boeing continues to see a strong market for narrowbodies. The company has already logged 30 orders for 737 aircraft over the first month of the year.
Key to narrowbody sales success in 2014 will be the 737 MAX. The update to the venerable aircraft family has received better than 1,760 737 orders since the launch of the programme in 2011, a third of which are from North American carriers. There are another 70 aircraft for which MoUs have been signed, but are so far without a firm purchase agreement. 737NG sales will continue as well, but with production slots becoming scarce.
737 MAX orders by year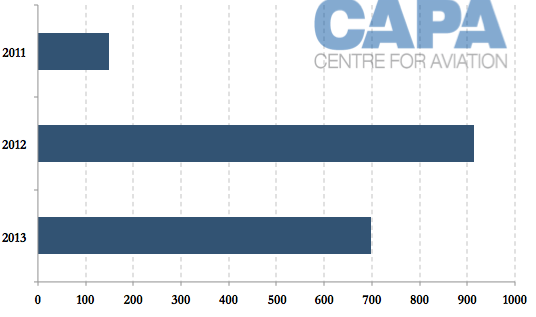 Boeing has several major sales campaigns in the works, and could quite comfortably book another several hundred 737 MAX orders in 2014. Major, fast-developing carriers in Asia-Pacific, Middle East and Latin America have all signalled they are considering 737 MAX orders as part of their future fleet plans.
The most promising market is India, where Jet Airways, SpiceJet, GoAir and Indigo have all been linked to potential large orders in 2014. Indonesian national carrier Garuda Indonesia, a major 737NG operator, is also considering the aircraft and is due to make an announcement on its future narrowbody fleet during the first half of 2014. Copa Airlines, which also already operates a large 737NG fleet, is in a similar position. Thai LCC Nok Air is also due to make a fleet decision early this year.
Outside the developing markets, there are also several major orders that Boeing could pick up in 2014. Ryanair CEO Michael O'Leary has suggested that the LCC could order 150 to 200 737 MAXs before the end of 2014, despite the carrier having already committed to 175 737NGs mid-way through 2013. A senior Ryanair working group is continuing to evaluate the benefits of the aircraft.
Despite some concerns about economic and currency weaknesses blunting orders in some developing markets, Boeing sees few signs that ordering in the narrowbody market will tail off. With international travel continuing at or above its 30-year average of 5.2% and domestic markets like India and China still achieving double-digit levels of growth, its narrowbody products are having little trouble finding buyers.
787: 2013 was another troubled year but there are clearer skies ahead
2013 was a mixed year for Boeing's 787. Boeing suffered through a 100-day grounding early in the year of the global 787 fleet, which stood at 65 aircraft at the time, due to a number of incidents with the 787's electrical system and lithium-ion batteries, including two cases of 'thermal runaway'. The aircraft's problems were compounded in Jul-2013, when an Ethiopian Airlines 787 parked at London Heathrow caught fire after a wiring short in the battery pack of its emergency locator beacon.
Minor issues continue to crop up with the aircraft's brakes, electrical and hydraulic systems. False warning messages, most of them software related, have also affected dispatch rates. Boeing is planning an update to the 787's software, to be introduced later this year, which it expects will relieve many of the issues related to false pilot warnings.
Boeing has admitted that the reliability of the 787 is not satisfactory for its customers or itself. Aircraft dispatch reliability has improved from around 97% in 3Q2013 to around 98% at present, but remains short of more mature aircraft like the 777 family, which boasts a 99.4% reliability rate. Boeing is working directly with operators to provide better tools to correct the issues, as well as proactively dispatching maintenance technicians to destinations served by the 787 and enhancing the inventory of parts at maintenance depots. Despite this, problems have continued to crop up through the early part of 2014. Given the high media profile of the aircraft, even small problems are widely reported, compounding the aircraft's reputation.
On the positive side for Boeing, it took 182 orders for 787s during 2013 and managed to raise 787 production through the year, delivering 65 aircraft, raising the in-service fleet to better than 150 aircraft with 16 operators. Boeing increased the build rate on the 787 programme three times in just under 12 months, raising output from three to five per month in Nov-2012, increasing to five per month in May-2013 and then going to 10 per month – a record for a Boeing widebody – in Jan-2014. With production at this level, Boeing expects to deliver 110 787s in 2014.
With a healthy backlog of more than 900 aircraft, Boeing has already committed to increase the 787 production rate to 12 per month in 2016 and to 14 per month by the end of the decade.
Boeing 787 order backlog by variant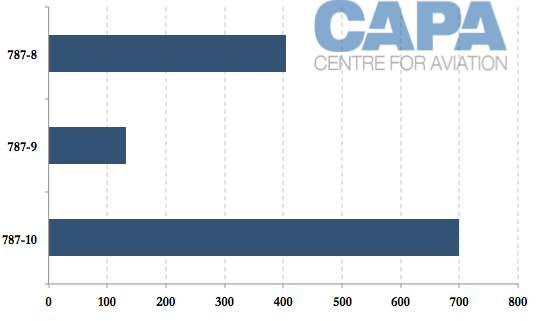 The increase in production has not been without its difficulties however. Boeing's second 787 assembly line in South Carolina has struggled to meet its production rate commitment and maintain quality controls. Boeing has been forced to "travel" some work to its main 787 assembly line at its traditional heartland in Puget Sound, as well as hire several hundred machinists and inspectors in South Carolina, to ensure that assembly work at the site does not slow overall output.
Boeing stated in Jan-2014 that while it has some "challenges to address" with 787 production it sees "no risk to the programme's ability to meet its commitments". At the 10 per month rate, the main production facility at Everett is expected to output eight aircraft per month from its two lines, while South Carolina will produce two per month.
Also in production are the first examples of the 787-9, an enlarged version of the baseline 787-8 with capacity for an additional 30-40 passengers, at a small cost in range. The aircraft is currently in the midst of its 10 month flight test programme, but has already made a visit to launch customer Air New Zealand in Jan-2014. Air New Zealand is scheduled to take delivery of its first 787-9 in Jul-2014, and is due to take a total of three from Boeing this year.
Certification of the 787-9 will be one of Boeing's major challenges and achievements for 2014. If its debut with Air New Zealand is successful, Boeing may see a number of new orders for the type in 2014. The 787-9 already accounts for 404 of the total of 1,031 787 orders Boeing has received, and with its range/capacity combination, the aircraft is set to become the mainstay of the family.
In late 2013, Boeing took the long awaited step of launching the 787-10, a double stretch of the 787 with capacity for up to 330 passengers. The aircraft was an immediate sales success, with Boeing taking in 132 orders for the variant.
Initial customers include Etihad Airways, United Airlines, British Airways, Singapore Airlines and lessors GECAS and Air Lease Corp. Boeing will increasingly start devoting resources to the 787-10 design and development through the year, but the company is getting an early start by testing some systems and equipment on the 787-9. Firm configuration for the aircraft is expected around 2016, with entry into service projected for 2018 or 2019.
Boeing will look to continue the 787's sales success and end its reliability issues in 2014. The company will look to use the attractiveness of the newer variants to build on the successes of the 787-8, although with the A350 XWB due to enter service in 4Q2014, it will face renewed competition in the segment.
777X: Boeing's biggest twin wins big orders
Low risk and maximum payoff. It is a strategy that makes sense in aviation manufacturing, where the cost of developing a new product is now measured in the tens of billions of dollars and, as the 787 has shown, bringing in new technology comes with risks all of their own. Boeing's strategy with the 777X is exactly that – take an existing, highly-successful platform and re-work it to bring the double-digit enhancements to fuel burn and operating costs that airlines are looking for.
After years of anticipation, Boeing began to offer the aircraft to customers in May-2013 and formally launched the programme in Nov-2013. Featuring a stretched fuselage, new engines, an all-new composite wing with folding wing tips, cockpit and other systems derived from the 787 and other enchantments, the 777X will offer 12% lower fuel consumption and 10% lower operating cost, exactly what airlines want in the era of high fuel prices. Airlines such as Emirates, Air France-KLM and Lufthansa were consulted heavily on the initial specifications – the Europeans reportedly wanting a say in performance specifications so that the aircraft did not overly emphasise ultra long-haul.
The 777X, to be renamed at a later date, will encompass two aircraft. The 777-8X, with capacity for around 350 passengers and range of 9,300 nm – which will put it into direct competition with the A350-1000 – and the 777-9X, with capacity for around 400 passengers and range of 8,200 nm, a niche that the aircraft will have to itself. Boeing believes that the upshift in aircraft size will favour the larger aircraft, with Boeing Commercial Airplanes VP and general manager of airplane development Scott Fancher stating the 777-9X "fits in the heart of where we think the market will go".
The aircraft has met with immediate success, and the customer list is an indication of where the strength in global aviation lies at the moment. Lufthansa signed for 34 aircraft before the programme was officially launched. The 'Big Three' GCC carriers weighed in heavily as well at the Dubai Airshow, with Emirates ordering 150 aircraft (the single largest aircraft order ever, by value), Qatar Airways ordering 50 and Etihad Airways ordering 25, a mix of the 777-8X and the 777-9X. Following the orders from the Middle East, Cathay Pacific Airways announced its own order for 21 aircraft.
With its high capacity and ability to operate ultra long-haul sectors, the 777X will appeal to airlines that are true global connectors. The list price of USD350-375 million and the estimated entry into service timeframe of 2020 to 2021 means customers will be airlines that are successful now and also have a long-term vision for the future. It will also appeal to customers that are replacing their 777-300ERs and 747-400s.
This most likely group of customers are major hub operators with global networks, a group of airlines that already favour the 777-200ER, 200LR and 300ER. All Nippon Airways, Korean Air and Singapore Airlines in Asia-Pacific have all indicated they are evaluating or may consider the 777X. International Airlines Group partner British Airways has also stated the 777X may be the aircraft it chooses to replace its ageing fleet of 747-400s, of which it operates 57, even though it is already an A350-1000 customer.
Air France-KLM is also assessing the aircraft, although an order may not be forthcoming until 2015 due to conditions of the carrier's debt covenants. In North America, United Airlines is interested in using the aircraft to respond to competition from the Middle East. Other customers could include Air Canada, Eva Air, Air India and Jet Airways.
747-8: Boeing's weakest link
2013 was not a strong year for the 747-8 programme. Slow sales and cancellations led Boeing to cut production rates twice during the year: from two to 1.75 per month in Apr-2013, dropping to 1.5 per month in Oct-2013. The first 747-8 delivery at the new production rate is expected in early 2014. Boeing has an order book for just 55 747-8, having delivered 65 aircraft to the end of 2013.
| | | |
| --- | --- | --- |
| Airline | 747-8I | 747-8F |
| | 5 | |
| | 2 | |
| BBJ/VIP customer(s) | 1 | |
| | | 4 |
| | | 1 |
| | | 2 |
| | 10 | 3 |
| | | 9 |
| | 10 | |
| | | 2 |
| | 4 | |
| Unidentified customer(s) | 2 | |
| Total | 34 | 21 |
Boeing expects orders to recover for very large aircraft, but with aircraft like the 777X and the A350-1000 due to enter service in the foreseeable future, orders for the freighter variant are expected to outweigh those for the passenger variant. Boeing expects long-term average growth in the air cargo market to begin returning in 2014, and forecasts global demand for 760 large aircraft (such as the 747-8) over the next 20 years.
However, even the cargo market may not prove a saviour for the aircraft. With bellyhold capacity coming into the market at never-before seen rates, cargo load factors are staying low. IATA reported that during 2013, load factors fell to 45.3%, with capacity (+2.6%) growing faster than demand (+1.4%), and forecasting that 2014 will be a "challenging year" for the cargo industry.
A ray of hope for Boeing comes with the performance enhancements that are on the way for the aircraft. In Oct-2013, Boeing delivered the first 747-8 with performance-improved GEnx-2B engines as part of the aircraft's Performance Improvement Package (PIP). The two other components of the PIP, Flight Management Computer (FMC) software upgrades and reactivation of the horizontal tank fuel system on the 747-8 Intercontinental, are expected to enter service later in Feb-2014 and during the early part of 2014, respectively. The PIP will enhance fuel burn by 1.8%.
If Boeing is to be "building and delivering the 747-8 for decades to come", as Eric Lindblad, vice president and general manager 747 programme, said in May-2013, the company will need a stronger sales performance this year; otherwise another cut in production may be necessary.
Boeing's revenue to climb as output tops 700 aircraft, but the outlook is more muted
Even with climbing global economic activity, a strong IATA 2014 airline industry profitability forecast, a compelling new narrowbody and widebody product offerings and record deliveries, Boeing's initial outlook for 2014 has been surprisingly cautious. Defence and space markets are expected to continue to decline as a share of its business, as military spending shrinks and commercial demand grows. Boeing expects commercial aircraft revenue of USD57.5 - 59.5 billion in 2014, around two-thirds of total revenue.
The company is working to convert its record backlog into profitable growth, while at the same time executing on its aircraft development programmes and drives in productivity and affordability gains. Operating cash flow is forecast to fall by around 20% in 2014, as Boeing moves to invest approximately USD3.2 billion in R&D and USD2.5 billion in capital expenditures.
With a firm order backlog of 5,080 commercial aircraft at the end of 2013 representing close to eight years of production, Boeing can afford to keep ramping up production. Narrowbody and widebody aircraft production rates are hitting all-time highs, and Boeing expects its commercial aircraft arm to play an increasingly important contribution to its revenue and bottom line.
Coming off record earnings per share in 2013, the company has marginally raised its profit outlook for 2014, anticipating another solid year for its commercial aircraft segment, offsetting the tough operating environment for its military space and security units. Margins at the commercial aircraft unit are forecast around 10%, with higher deliveries contributing to revenue growth of around 11-12% for 2014.