Singapore Airlines' traffic may have hit bottom, but load factors still falling
Analysis
Singapore Airlines (SIA) reported a 13.2% reduction in RPKs in Jul-2009 – an improvement on the 20%+ falls reported in Mar-2009 and May-2009 – suggesting volumes may have indeed bottomed. But the airline warns that the ongoing global economic slowdown continues to impact travel demand, reflected by its load factor, which eased 1.3 ppts to 79.7% despite significant promotional efforts. SIA's load factors have now fallen in each of the past 12 months.
Singapore Airlines RPK growth and ASK growth: Aug-08 to Jul-09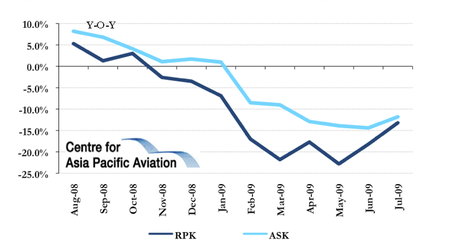 Load factors falling in almost all regions
The traffic decline outpaced the reduction in capacity (ASKs) of 11.8%, following the planned reduction in frequencies, termination of services to Los Angeles (via Taipei), Osaka (via Bangkok), Amritsar and Vancouver (via Incheon), as well as the transfer of Hyderabad operations to SilkAir.
With the exception of East Asia and West Asia and Africa, all other route regions registered lower PLFs compared to last year.
Singapore Airlines PLF growth by region in Jul-09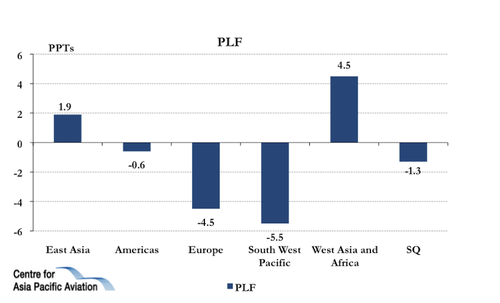 Cargo capacity cuts exceed demand falls
Overall cargo carriage (FTKs) fell by 14.6%, at a slower pace compared to the reduction in systemwide cargo capacity of 18.9%. This resulted in the 3.3 ppt improvement in cargo load factor.
Singapore Airlines FTK growth and AFTK growth: Aug-08 to Jul-09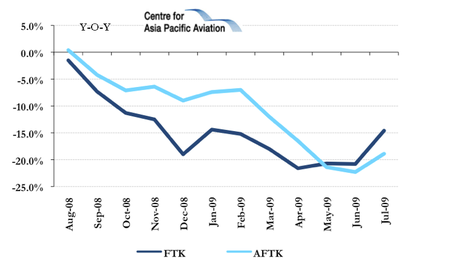 SIA noted all route regions registered improvements in cargo load factors, "due to better capacity management and sales efforts".
Singapore Airlines cargo load factor growth by region in Jul-09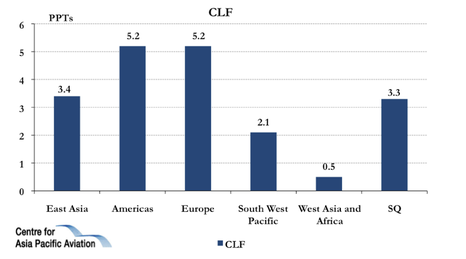 Outlook: Tricky post-Summer months ahead
SIA faces a big test as the Northern Summer peak holiday period winds down, while it will be hoping the cargo segment starts to pick-up in the pre-Christmas rush.
The airline noted it would continue to monitor traffic movements and make appropriate adjustments where necessary to match capacity to forward demand.