Singapore Airlines suffers rare first quarter operating loss as yields collapse. Outlook grim
Analysis
Singapore Airlines (SIA) has slumped to a SGD28.0 million operating loss in the three months ended 31-Mar-09, against a SGD468.1 million profit in the corresponding period of last year, as passenger and cargo demand, load factors and yields slumped. The airline suffered a pre-tax loss of SGD109.7 million, but tax benefits gave SIA a SGD65.1 million net profit for the period, down 92% year-on-year.
In morning trading in Singapore, SIA stock is up around 3% at SGD12, following announcement of an 'in specie' dividend of "up to" 730 SATS shares for every 1,000 Singapore Airlines shares held.
Cargo yields fall off a cliff
SIA's cargo yields have collapsed to levels below the floors experienced during the Asian Financial crisis more than a decade ago. The airline's cargo yield fell an unprecedented 27.9% in the three months ended 31-Mar-09, despite a 9% reduction in cargo capacity. SIA's cargo yields in the quarter were some 31.3% below their peak in the Jul-Sep-2008 quarter – which dramatically illustrates the enormous challenges facing the global economy.
Singapore Airlines' cargo yield (SGD cents/ctk): 1Q2006-07 to 4Q2008-09
Meanwhile, passenger yields have fallen back to levels last seen in Apr-Jun 2007 – and could fall further in coming quarters, as the downward trend suggests.
Singapore Airlines' passenger yield (SGD cents/pkm): 1Q2006-07 to 4Q2008-09
The carrier noted that advance bookings indicate the drop in demand for air travel is "leveling out", but it warned the probability of a sustained recovery has been "set back" by uncertainties arising from the swine flu outbreak, which continues to spread rapidly.

Passenger numbers and load factors also slumped in the last quarter of the financial year, despite reduced capacity. SIA noted, "action taken to trim excess capacity, together with a strong balance sheet, will help to sustain the Company through the downturn". The carrier did not foreshadow further capacity cuts, possibly as a result of rising competitive pressure, particularly from Middle East airlines.
Singapore Airlines' passenger number growth and passenger load factor growth: 4QFY07 to 4QFY09
Five-year run of yield improvements over
The outlook for yields is poor. SIA noted, "in the near term, promotional pricing and reduced business travel will keep revenue under pressure." SIA's five-year unbroken run of increases in overall (passenger and cargo) yields will have ended in FY2008-09, having peaked in the Jul-Sep-2008 quarter.
Costs still rising in toxic combination

SIA faces a toxic combination of rising unit costs and sharply lower yields. Unit cost growth exceeded unit revenues in every quarter of the last financial year, and the gap could be very difficult to close under current conditions and with thr carrier's own outlook.
Singapore Airlines' yield growth and unit cost growth: 4QFY07 to 4QFY09
Break-even load factor approaches 77%
As a consequence of this conspiracy of events, the cushion that SIA has enjoyed between its actual and break-even load factor has vanished. During the Mar-2009 quarter, breakeven load factors exceeded actuals by around 5 ppts. Much will be needed to pull this equation back.
Singapore Airlines' passenger load factor growth and passenger breakeven load factor growth: 4QFY07 to 4QFY09
Fuel cost falls have dark lining

SIA noted the more than halving in the jet fuel price over the past 12 months is providing some relief. However, these savings will be "offset by progressive settlement of fuel hedges contracted at higher prices". But the effect of these hedges will "tail off over the next 12 months", according to SIA. In other words, even if fuel prices stay low, SIA will continue to suffer hedging losses for another year.

Staff costs (as a proportion of the total) have fallen as fuel rose (over the full year to 31-Mar-09), but more may need to be done in this area in coming months. SIA noted, "with the cooperation of the employees and the unions, several measures have been implemented to manage surplus resources. Efforts to improve efficiency and productivity, and to eliminate wastage and duplication, are ongoing".
Singapore Airlines' staff cost and fuel costs: 4QFY05 to 4QFY09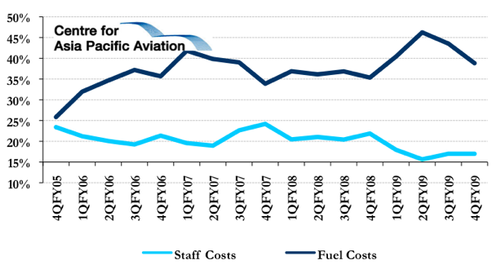 Where to next?
SIA is now entering territory for which it is largely unprepared. With a brand focused on one of the best premium products in the world – and a cost structure which needs to support this product and image – the carrier faces a major dilemma: it can either recast its entire philosophy or try to weather the storm by trimming around the edges.
This second and more likely course means accepting more losses and hoping that its strong balance sheet will support it until the weather changes.
Each of these options has its own, very substantial, risk profile. In this crossroad decision SIA is not alone, but it is arguably more exposed than others, given its heavy strategic reliance on premium traffic and the recent slump in that sector of nearly a third across the region.