Singapore Airlines' net profit declines on cargo fines; yields improve but outlook uncertain
Singapore Airlines, the world's second-largest carrier by market value, reported a 29% reduction in net profitability in 3Q2010 (three months to Dec-2010) as it booked charges relating to antitrust cargo fines in the US, EU and South Korea. Taking out the USD155.5 million in exceptional items, the carrier, which is 55% owned by Singapore state investor Temasek Holdings, would have reported a 20.7% increase in its quarterly profit, as a recovery in the global economy boosted air travel.
The airline industry, particularly in Asia, has enjoyed a strong rebound in recent months, but rising competition from Asian and Middle Eastern carriers are putting more pressure on Singapore Airlines. The carrier is also facing increasing competition from LCC revivals in the region, such as Tiger Airways (partly owned by Singapore Airlines) and AirAsia, which are rapidly growing on the back of improved travel demand amid a recovering economy. Jetstar has also stated it would boost Asia capacity by 30% this year.
SIA Group financial highlights for three months ended 30-Dec-2010
| | | |
| --- | --- | --- |
| Currency: USD | 3QFY2011 | % Change |
| Revenue (mill) | 2985.6 | +12.4% |
| Operating costs (mill) | 2589.7 | +7.6% |
| Fuel (mill) | n/a | +8.1% |
| Labour (mill) | n/a | +16.4% |
| Operating profit (mill) | 395.9 | +57.7% |
| SIA Cargo (mill) | 37.3 | +18% |
| SilkAir (mill) | 35.0 | +93% |
| SIA Engineering (mill) | 26.4 | +26.4% |
| Net profit (loss) (mill) | 244.1 | -28.6% |
| Passenger yield per RPM | 9.41 | +15.2% |
| Passenger costs per ASM (cents) | 6.68 | +3.6% |
| Traffic – passenger numbers (mill) | 4.4 | -0.9% |
| Passenger load factor (%) | 79.7% | -2.7 ppts |
| Break-even passenger load factor | 71.1% | -7.9 ppts |
| Cargo volume (tonnes) | | +1.4% |
| Cargo yield (cents) | 27.67 | +2.0% |
| Cargo cost per ASK (cents) | 16.94 | +2.3% |
| Cargo load factor (%) | 65% | -0.1 ppts |
| Cargo break-even load factor (%) | 61.2% | +0.2 ppts |
Results hit by SIA Cargo fines
During the quarter, Singapore Airlines made a SGD199 million (USD156 million) provision for cargo-related fines. SIA Cargo was fined USD48 million by the US in Dec-2010, EUR74.8 million (USD103 million) by the European Commission in Nov-2010 and KRW3.l billion (USD2.78 million) by the South Korean Fair Trade Commission. Singapore Airlines stated that while SIA Cargo has accepted the plea offer made by the US Department of Justice, it has filed appeals against the fines imposed by the EC and South Korean Fair Trade Commission.
Jet fuel prices, which are at two-year highs, also had a negative affect on earnings as fuel remains the company's largest expense. Expenditure on fuel before hedging increased by SGD154 million (USD120 million) in the quarter due to higher fuel prices. Labour costs were also up by double digits in the quarter.
Passenger yield up 15.2% for third consecutive quarter of growth
However, on a more positive note, passenger yields also increased during the period, up 15.2% to USD 9.41 cents. This marks the third consecutive quarter of passenger yield growth, following five consecutive quarters of declines.
Singapore Airlines' passenger yield growth (% change y-o-y): 1Q2003/04 to 4Q2009/10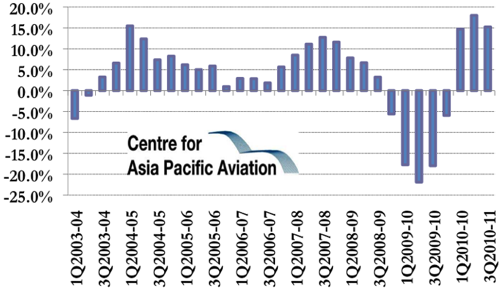 Singapore Airlines' passenger yield (SGD cents/km): 1Q2002/03 to 4Q2009/10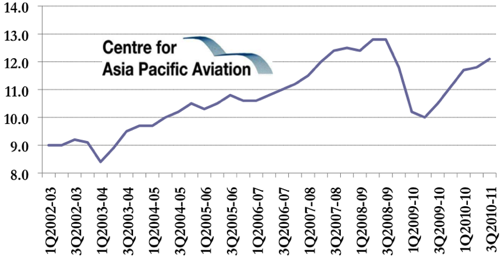 Cargo yield increased to a lesser extent, up 2.0% to USD 27.67 cents. This follows three quarters of double-digit yield growth.
Singapore Airlines' cargo yield growth (% change y-o-y): 1Q2003/04 to 4Q2009/10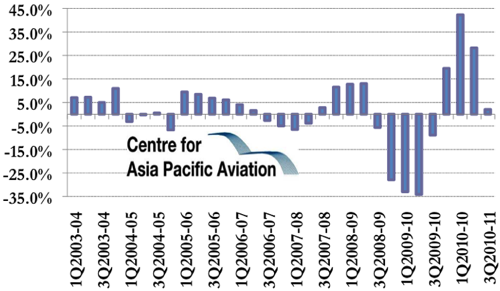 Singapore Airlines' overall yield (SGD cents/ltk): 1Q2002/03 to 4Q2009/10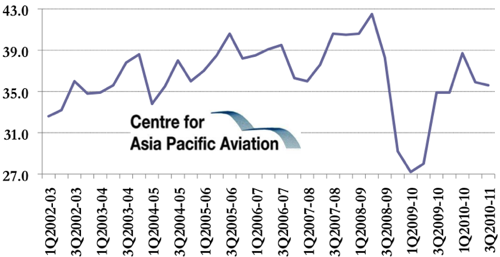 Operating profit and revenue also improve
Operating profit increased 58% to USD396 million as a 12.4% increase in revenues outpaced a 7.6% increase in operating costs. The operating margin of 9.9% in the month was the highest since 3QFY2008.
Singapore Airlines Group's operating profit margin and net profit margin: 1QFY2008 to 3QFY2011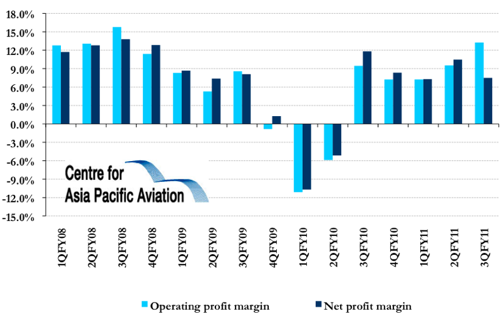 Singapore Airlines Group's revenue growth: 1QFY2008 to 3QFY2011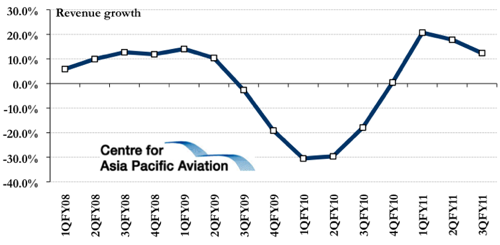 Load factors and pax decline
Also in the quarter, the carrier handled 4.4 million passengers, a 0.9% year-on-year reduction. The decline in passenger numbers contrasts with Cathay Pacific, which reported increases every month in the quarter. Singapore Airlines' load factors also declined in the quarter, by 2.7 ppts to 79.7%. However, break-even passenger load factors declined by a higher degree, down 7.9 ppts to 71.1%. This created an 8.6ppt gap between actual and break-even load factors, the best ratio in over 10 quarters.
Singapore Airlines' passenger break-even load factor and passenger load factor: 3QFY2008 to 3QFY2011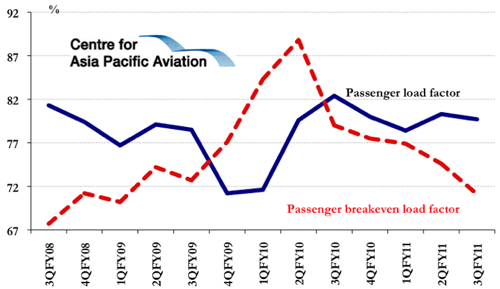 Singapore Air's advance passenger bookings for the quarter ending in March are "levelling off" with growth in air cargo also expected to slow. This has occurred as airlines, including SIA continue to inject capacity. Singapore Airlines increased passenger capacity by 3.7% in the Dec-2010 quarter.
Singapore Airlines' RPK growth and ASK growth: 2QFY2008 to 3QFY2011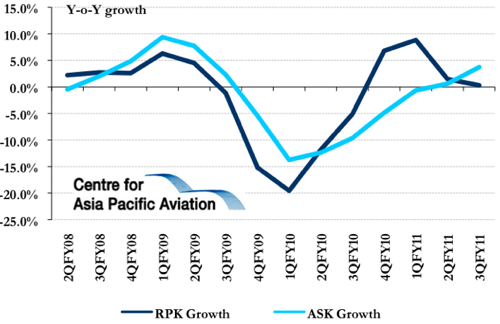 During the Dec-2010 quarter, Singapore Airlines took delivery of two A330-300s and reinstated one B747-400 and one B777. As at 31-Dec-2010, the carrier had a fleet of 109 passenger aircraft – eight B747-400s, 66 B777s, 19 A330-300s, 11 A380-800s and five A340-500s with average fleet age of six years and two months.
Outlook
The Dec-2010 quarter results were the first to be released under new CEO Goh Choon Phong after Chew Choon Seng retired as CEO at the end of last year. Mr Goh will be expected to retain the flag carrier's global superiority and continued prosperity, while simultaneously maintaining the reputation of Singapore Airlines as a premium airline, even despite a rapidly shifting industry foundation and confronts rising competition in the fast-growing yet highly competitive Asian market.
A number of challenges exist for the new CEO with the outlook for 2011 still remaining quite uncertain. As the carrier noted in its financial release: "As airlines including SIA continue to inject capacity, advance passenger bookings for the final quarter of the 2010-11 financial year are levelling off. For air cargo, regional differences will continue to be marked in 2011 with strength in Asia Pacific and uncertainties in Europe markets. Growth for airfreight is expected to continue for the rest of the financial year, albeit at a slower rate. On the cost side, jet fuel prices are at two year highs and trending up. Fuel remains the biggest expense item for the group."
APPENDIX: FINANCIAL HIGHLIGHTS
SIA Group operating statistics